'The Ron Burgundy Podcast' Coming In 2019, And You're All Invited To The Pants Party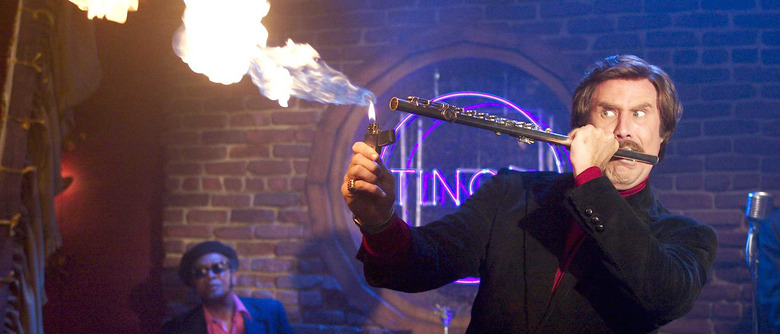 Knights of Columbus! Ron Burgundy, the world famous anchorman who owns many leather-bound books and whose apartment smells of rich mahogany, is getting his own podcast next year. Don't act like you're not impressed.
Learn about The Ron Burgundy Podcast below.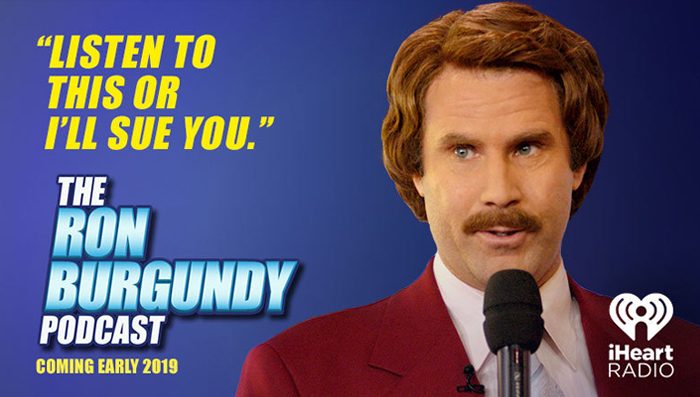 Burgundy, of course, is the blustering, buffoonish TV new personality played by actor/comedian Will Ferrell in 2004's Anchorman: The Legend of Ron Burgundy and 2013's Anchorman 2: The Legend Continues. iHeartRadio announced (via BusinessWire) that the podcast, which will be a co-production with Ferrell's Funny Or Die, has already been given a two-season order: the first twelve-episode season will debut in the first quarter of 2019, and the second is expected to hit sometime in the middle of the year.
This should be a good opportunity for Ferrell, who clearly loves this character, to keep him alive without being forced to live up to the pressure of a whole separate movie. I expect Burgundy's often-hilarious blathering will work wonderfully in podcast form. Ferrell has stepped back into the role several times on talk shows, comedy specials, and even an actual news broadcast in North Dakota since the first movie debuted.
The entire press release is written as if Burgundy were a real person:
"Listen, I don't know what a podcast is, but I currently have a lot of time on my hands and a lot to talk about," said Ron Burgundy, host of "The Ron Burgundy Podcast." "I am also broke. Therefore, I am very excited to do this podcast. It is literally saving my life."
"To be honest, we don't want to do this podcast and we just want to get this announcement over with as soon as possible," said Conal Byrne, President of the iHeartPodcast Network. "Ron quite literally forced us into making this podcast with him, first calling us more than one hundred times in a single day and then proceeding to actually show up at our doorstep and physically force himself into our studios. We do hope the podcast is well-received, but in the meantime, we hope by agreeing to do the announcement he will stay away."
Ron is still represented by his long-time agent Buzzy Chanterelle of Let's Make Magic Entertainment. Let's Make Magic is a local San Diego agency whose roster includes mostly stunt men, magicians and animal handlers. And let's not forget Lance Alworth, who he represented for six months, and Chuck Muncie!
"By the way, if iHeartRadio says that I harassed them into making a podcast, it is a lie!! A boldface lie!!" said Burgundy. "Did I call them one hundred times in one day? Yes! But that's called persistence! I have filed suit against iHeartRadio for these salacious claims. I will be representing myself legally, since I currently do not have enough money to hire an attorney."
An official trailer for the podcast will be released in the coming months. Here's hoping he doesn't immediately regret this decision.