Netflix's 'I'm Thinking Of Ending Things' Cast Adds Brie Larson And Jesse Plemons For Director Charlie Kaufman [Updated]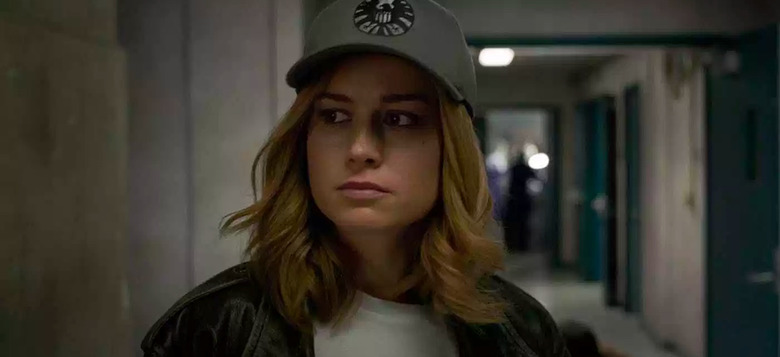 Update: Variety reports that the ever-busy Jesse Plemons, whose credits include Friday Night Lights, Breaking Bad, Game Night, FX's Fargo, and the upcoming Vice, has joined the cast of I'm Thinking of Ending Things. He will play the role of Jake, the boyfriend to Brie Larson's character. Our original article continues below.Brie Larson is jumping from the Marvel Cinematic Universe to Netflix. The Captain Marvel actress has just joined the I'm Thinking of Ending Things cast for director Charlie Kaufman. Based on the creepy novel by Iain Reid, the story concerns a woman (Larson) on a road trip with her boyfriend to meet the boyfriend's parents.Deadline has the scoop on Brie Larson joining Charlie Kaufman's I'm Thinking of Ending Things cast. This will be the first Netflix movie for Larson and Kaufman, and it's a confirmation that even though Larson has made the leap into blockbusters with Captain Marvel, she's not leaving smaller films behind. And if I'm Thinking of Ending Things stays true to the book, it's going to be very small indeed. There are only four characters featured: Jake, his girlfriend (who doesn't have a name in the book, but narrates the action), and Jake's parents. Here's how Deadline is describing the adaptation:
The plot centers on Jake, who is on a road trip to meet his parents on their secluded farm with his girlfriend (Larson), who is thinking of ending things. When Jake makes an unexpected detour leaving her stranded, a twisted mix of palpable tension, psychological frailty and sheer terror ensues.
Here's a spooky trailer for the book to get you in the mood.
I'm Thinking of Ending Things
I've read Ian Reid's novel, and it's quite good. However, I'm not entirely convinced it can work as a film. The story is told entirely from the point-of-view of the unnamed girlfriend, and much of the narrative is internalized. As the book description says, Reid is telling a story that "explores the depths of the human psyche, questioning consciousness, free will, the value of relationships, fear, and the limitations of solitude."
That said, if there's anyone who can make this work, it's Kaufman, who excels at crafting strange, cerebral stories (Eternal Sunshine of the Spotless Mind, Synecdoche, New York, Anomalisa and so on). There's also always a chance that Kaufman will alter the book significantly
"Charlie is a singular talent with a formidable artistic vision," Scott Stuber, head of Netflix's film group. "He has the rare ability to tell unique stories in a universal way. I'm Thinking of Ending Things is a chilling thriller and we can't wait to share Charlie's adaptation with audiences everywhere."
Larson has already proven herself as a wonderful actress time and time again, and I'm pleased to see she's not riding off into the blockbuster movie sunset now that she's landed a sweet Marvel gig.