'Friends' Will Still Be There For You On Netflix, Isn't Leaving Anytime Soon [Updated]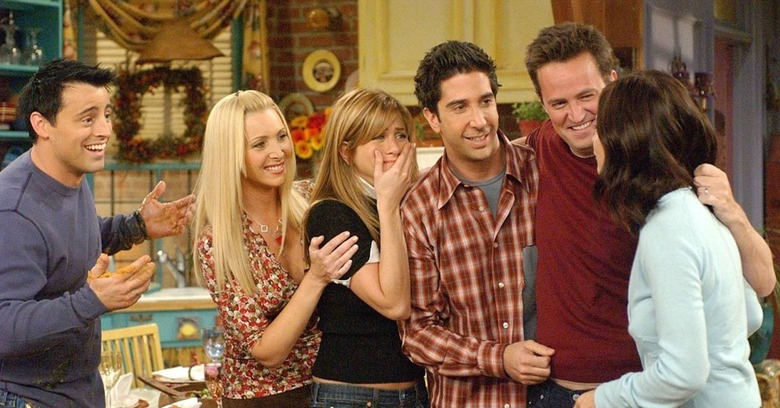 Update: Netflix is reportedly paying around $100 million to continue licensing Friends from its owner, WarnerMedia, through 2019, according to The New York Times. That's a steep jump from the $30 million a year that Netflix used to pay for streaming rights, in a deal that was due to expire by the end of 2018. The original story continues below.
The holiday armadillo has granted your Christmas wish early: Friends is staying on Netflix! Fans of the classic '90s sitcom got a scare earlier today when the streaming service suggested that Friends would be leaving Netflix in 2019. But Netflix was swift to put a stop to those reports, confirming that the show's "departure is a rumor."
Friends will be there for you on Netflix for the foreseeable future. After a brief scare this morning in which fans noticed that the show's Netflix page showed an expiration date for January 1, 2019 — prompting a slew of panicked articles and thinkpieces raving about the show — Netflix has denied that Friends will be leaving the service.
The "departure is a rumor," Netflix's chief content officer Ted Sarandos told The Hollywood Reporter. As of Monday afternoon, the expiration date has been removed from the Friends show page, which appeared to have been a glitch. However representatives for Warner Bros. TV, who produced the massively successful sitcom, did respond to THR, while a Netflix spokesperson declined to comment.
When the streaming service announced that Friends would be streaming exclusively on Netflix in January 2015, it was one of Netflix's biggest TV series acquisitions to date. But it came with a lofty price tag: Netflix shelled out $118 million (pennies for the service today) for the streaming rights and to digitally remaster every single episode for HD streaming capabilities. But it seemed like it was worth it. The mega-popular sitcom achieved new life on the streaming service, tapping into old fans' nostalgia and gaining a wave of new, young Gen Z fans who were *gasp* born after it aired. Seriously, all the teens love Friends, they think it's "quaint."
However, it may not be all smooth sailing for the Friends Netflix rights in the future. THR notes that the brief scare comes as WarnerMedia prepares to launch its own streaming service in the latter half of 2019, which could possibly pull Friends back from Netflix. It's possible that "glitch" was a premature sign of things to come. BTIG analyst Rich Greenfield suggested as much in an analyst note in October, writing "Content like Friends is likely to disappear from Netflix in 2019 as WarnerMedia launches its own SVOD service."
So use this chance to marathon as many Friends episodes as you can. They may not be there for you forever.