Bumblebee Will Speak In 'Bumblebee,' And He'll Be Voiced By 'Maze Runner's Dylan O'Brien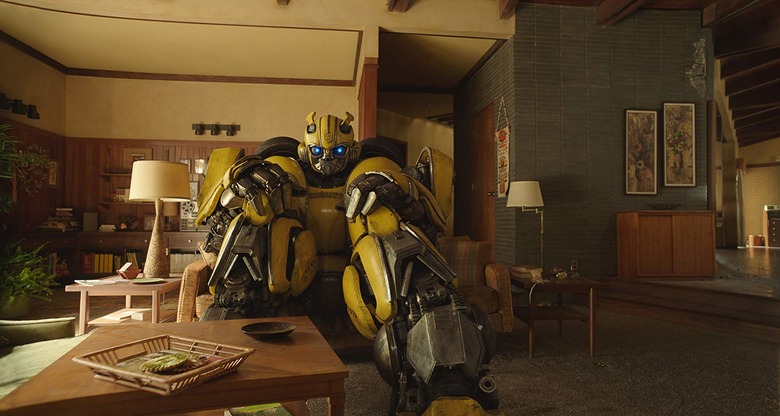 For 10 years and four Transformers movies, Bumblebee was charmingly mute, only able to communicate through the radio. It was a fun quirk that suited the iconic character, but it all changed in last year's Transformers: The Last Knight when we heard Bumblebee's voice for the first time. In that film, Optimus Prime says he hasn't heard Bumblebee's voice (voiced in The Last Knight by sound designer Erik Aadahl) since Cybertron fell, and now it sounds like audiences are going to have the chance to hear what the big yellow Autobot used to sound like.
That's right – Bumblebee is going to speak in the upcoming Bumblebee movie. And he's going to sound a lot like that guy from Maze Runner.
IGN reports that Dylan O'Brien, best known for his roles in Maze Runner and Teen Wolf, will be voicing Bumblebee in the upcoming Transformers prequel. Transformers franchise producer Lorenzo di Bonaventura revealed the piece of casting for the Bumblebee voice actor.
"Since we were approaching this as an origin story, we felt that it was appropriate that you got to hear his voice. That's the simple logic that we employed. The longer term implication of that is different. But the short-term implication of that is, since we really are resetting the mythology, essentially, of who Bumblebee is. And so, that seemed to us to be the appropriate, to get the chance to hear what he sounds like."
That's an unexpected revelation, since in the trailers and marketing for Bumblebee up until now, the titular Autobot has been using his familiar method of talking through media — this time with the added nostalgic '80s twist of cassette tapes! But it seems like at some point, we'll hear Bumblebee's real voice, and it will sound a lot like a 20-something guy around the same age as Hailee Steinfeld's Charlie Watson. Maybe this is going to be a Shape of Water situation (I'm mostly kidding). But it is pretty young casting for a character that doesn't really have a concept of age. But as di Bonaventura explained, "Dylan has that great quality in his voice of youthful exuberance, and also sort of trustworthiness. I think those are the two qualities that we wanted Bumblebee to have."
The film has already been shown to some test audiences, which reportedly gave a positive reception to O'Brien's casting.
"Thankfully, we've showed it to a few audiences, and people seem to think that it'd be right and an appropriate voice. You never know, obviously that can be a sensitive thing for people. But it turns out, they imagine his voice that way."
Bumblebee will hit theaters on December 21, 2018.
On the run in the year 1987, Bumblebee the Autobot seeks refuge in a junkyard in a small California beach town. Charlie, on the brink of turning 18 years old and trying to find her place in the world, soon discovers the battle-scarred and broken Bumblebee. When Charlie revives him, she quickly learns that this is no ordinary yellow Volkswagen.