Everything We Learned At The 'Aquaman' Press Conference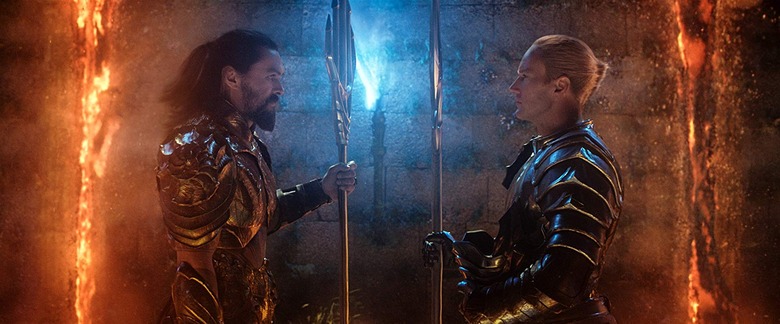 "Whoa!" Jason Momoa's deep, raspy voice exclaimed upon setting his eyes on the Madame Tussaud wax mannequin of himself at the Aquaman press conference in New York City. Suddenly, the 39-year-old actor was like a kid in a candy store, staring deeply at his incredibly accurate wax likeness with the kind of sparkle in his eyes reserved for children seeing a superhero for the first time. But he's not the only one to have that exact reaction.
"My first experience wearing the suit, it was really beautiful and I've actually never told [director James Wan] this," Momoa said. "I put it on, I didn't have a mirror, and I come out of wardrobe and I get to see his face. He's always extremely passionate and lets you know right away. But the absolute joy — he looked like a kid — he beamed, 'I did it.' He was super proud, and he didn't have to say anything, I could see it on his face."
For Momoa, director James Wan, and fellow cast members Amber Heard and Patrick Wilson, who joined them at the Aquaman press junket on Saturday, December 1 in New York City, Aquaman is about extending that childlike wonder of seeing a favorite superhero come to life to an entire movie. And no, it's not just about wax mannequins — however eerily similar they are ("I can blame everything that goes wrong on it!" Momoa exclaimed). Momoa, Wan, Heard, and Wilson discussed the personal and mythic elements that went into Aquaman, and the long road to bringing it to the big screen.
Here are some of the splashiest things we learned about the making of Aquaman ahead of the film's release on December 21, 2018.
Jason Momoa Drew From His Own Life to Play Aquaman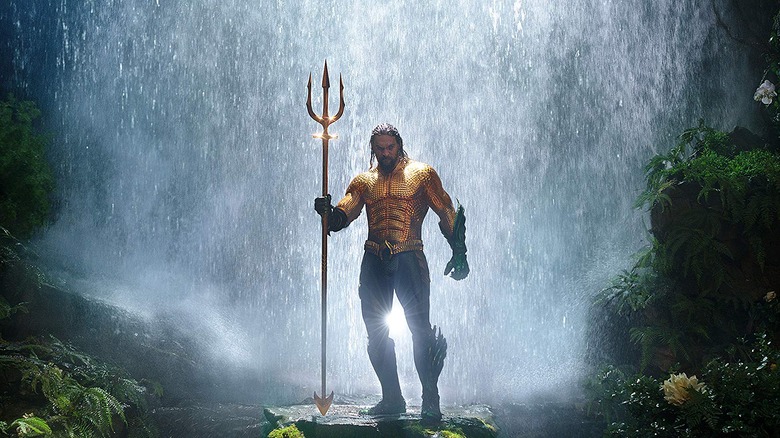 Having been born in Hawaii and raised in Iowa, Momoa knows something about being torn between two worlds. The half-Hawaiian, half-Caucasian actor may have been a bold casting choice when it was revealed that he was playing the normally blonde-haired, blue-eyed Aquaman in 2014, but the casting couldn't have been more perfect:
"The cool thing is, is just being able to relate to someone who's truly [of] two different cultures. And each of those cultures don't know about the other one. People in Hawaii definitely don't know anything about Iowa and Iowans definitely don't know about Hawaii so that was something I could draw upon."
The other thing that really helped me out was being raised by a single parent," Momoa added. "I just had just me and my mother my whole life," relating his situation growing up to Arthur Curry and being raised by a single dad (played by Temuera Morrison). Both Momoa and Morrison are of Polynesian descent, which adds another layer of cultural specificity to Momoa's casting.
"Coming from the Polynesian islands there's so many water gods we have, and so much folklore, and so much mythology around how the islands came about: Kanaloa, Tangaroa, and Maui," Momoa noted, adding:
"[With Aquaman] there's [a Poseidon-like figure] and I get to play that, and honestly be the first mixed-race superhero. In 2018, it's like, "Really? Is there not one?" And that's a huge honor. And to play it really close to who I am and all of his imperfections. I don't have to be Superman, don't judge me. I get to play it in a way where he's split between those two worlds."
Aquaman Had Some of the Hardest Stunts for Both Actors and Stunt Teams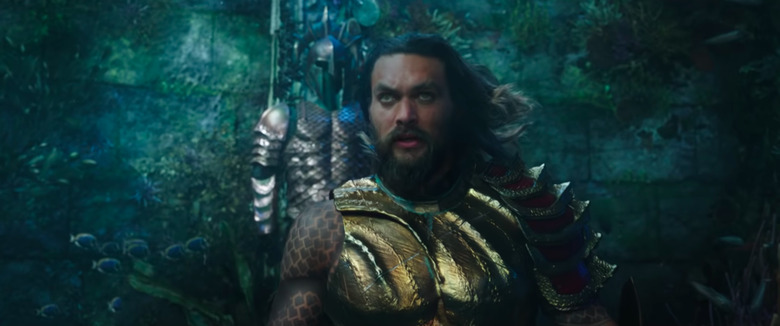 Stories of large-scale productions for superhero movies are something we're used to hearing, but Aquaman was on another level, the stars described. "Just how large the scale of this movie was, it required so many teams and participants and people," Heard described. "Sometimes we would be in the lunch tent and see four or five doubles of yourself. I did work my ass off...but I'm thankful to the stunt team, I wouldn't have been able to do it without them."
But Wilson added that even for the stunt team, Aquaman was a challenging film. Which is saying something for a crew of professionals who work on superhero movies for a living.
"We had stunt guys, saying, 'Wow, I've never been in four different types of departments in one day.' And you know when your stunt team — that by the way does superhero movies for a living — you know when they're saying that, that you're in uncharted waters, forgive the pun.
"I think we were all like that," Wilson added. "Jason's done stunts his whole professional career and you know —
"Hardest to date," Momoa interjected.
"Hardest to date, for everything," Wilson continued. "And I'd even go a step further and say at least in stunts, you're talking about a matter of seconds doing a specific action 30, 40 times. When you have to hang in different wires and harnesses and devices for minutes at a time just to talk and make it seem effortless, that weirdly took its toll even more so for me, because it was just a constant state of dangling."
But for Heard, filming Aquaman had at least one advantage. "It was the most covered up I've ever been in a set," she raved, referring to her body-covering bright green wetsuit. "He's the one who's topless all the time!" she pointed to Momoa. It's true — dangling on wires while shirtless can't be comfortable.
Most of the Underwater Scenes Were Shot "Dry for Wet"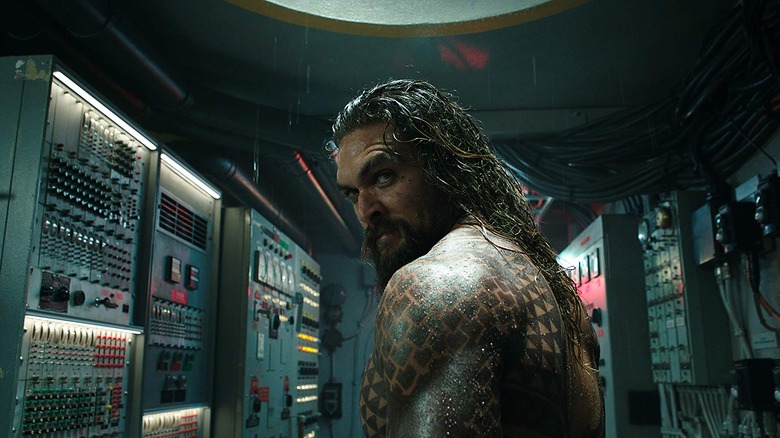 You can't have Aquaman without water — it's literally in the title. But that presented a unique challenge for Wan, who had to deal with an element that most filmmakers would avoid. "You hear it all the time from filmmakers that make movies with water. It's not the most pleasant thing, it's uncomfortable and it really just slows down the filmmaking process," Wan said. His solution: shooting everything "dry for wet," which he explained:
"The irony is, any of the stuff that is actually fully submerged underwater, that was actually shot 'dry for wet.' That's literally what it sounds like, where you use the process 'dry for wet' where you shoot, as the actors have said, in these rigs that simulate swimming, floating and all that. But we did play with water as well. I don't think you can make an Aquaman movie and not have anyone get wet. And again the irony is, when we're actually above the water, when we're dry, that's when I have to drench the actors non-stop. When they're actually out of water, that's when they're dripping wet. But when they're underwater the irony is people actually look dry and so that's why we shot it without water."
But that doesn't mean that Aquaman didn't have big, expensive sequences that proved a pain for both cast and crew. You've seen it, or maybe meme'd it. It's the splashy submarine sequence. It's a sequence that cost a lot of blood, sweat, and tears, Wan said:
"I would say that the biggest water set that we had in the film was the submarine sequence at the start of the film. That was a huge setpiece that we built a submarine over a water tank that we submerged again, and again, and again. Like we would play the scene, we would submerge it, and we would bring it out of the water tank. We would blow-dry it down, and we would do take 2. It was quite a laborious process, and it's a bit of a pain."
The Majority of the Film Was Done in Post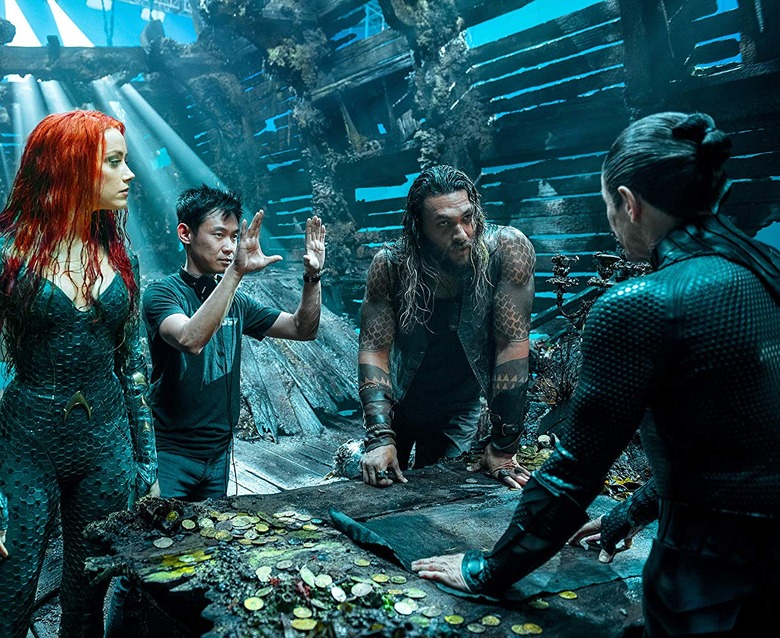 "I don't think I've ever seen a film...where so much is done in post," Wilson said. Momoa hasn't even seen the finished film yet, which Wilson said mostly existed in Wan's head for the entirety of production. It took Wan and his editing team — which included five-time collaborator Kirk M. Morri with Kelvin McIlwain and Oscar winner Charles Gibson as overall visual effects supervisors — over a year to complete post-production.
Wilson said during filming, that most of what the actors got to see was limited to concept art:
"You see all this pre-vis and what looks like a little video game. And then you see the artwork. But really it's all in that guy's head over there, so really that's what was amazing, is to see what he was doing for the past year."
"You really see it for the first time," Heard added. That's why Momoa has waited to watch Aquaman for the first time:
"I'm waiting to see it with my kids. It's the first time I'll be able to watch things with my kids for the first time. And I'm going to be really emotional and affected, and to be able to hold their hands — a 10-year-old and an 11-year-old boy — it's going to be a really cool moment."