The Creepy Christmas Film Festival Is Back With 25 Days Of Holiday Horror Short Films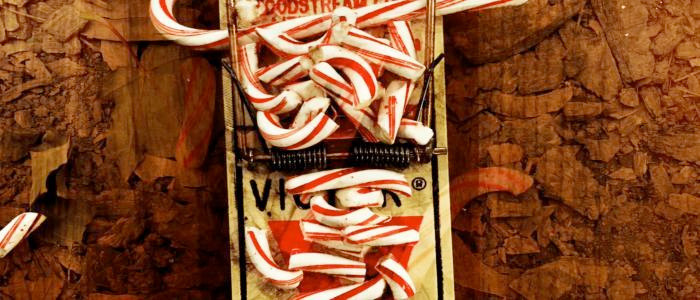 Take a deep whiff of that crisp almost-December air. Are you as excited as I am? With good tidings and thoughts of Saint Nick comes my favorite cinematic obsession – CHRISTMAS HORROR MOVIES! All that "Joyeux Noël" spirit just with sharpened candy cane daggers, bomb-rigged presents, and even professional wrestler Bill Goldberg as a stark-raving-mad killer Santa. You can keep your white Christmases; I'll take mine blood red.
This year, Glass Eye Pix and curator Beck Underwood have reanimated their "Creepy Christmas Film Festival" after a ten-year dormancy. The premise is simple. Underwood gathered a collective of ambitious genre filmmakers and asked them to create their own Christmas Horror themed short films. Every day until Christmas Day – we're talking December 1st to 25th – a new Christmas horror short will premiere online as part of a digital advent calendar withholding cheery chaos (which you can find here). Bookmark it, check back during lunch or each morning or before bedtime, unwrap a new gift.
Participating in this year's "Creepy Christmas Film Fest" are Jenn Wexler (The Ranger), Glenn McQuaid (I Sell The Dead), Graham Reznick (Deadwax), Mickey Keating (Psychopaths), Joe Maggio (Bitter Feast), James Felix McKenney (Satan Hates You), JT Petty (The Burrowers), and plenty more including Glass Eye Pix founder Larry Fessenden and Underwood herself. Filmmakers who eat, sleep, and breathe horror cinema, all coming together to get you through sleepy snow days and nights curled up by the fire. Is there more a Christmas horror fan can ask? Bite-sized snacks of peppermint and punishment.
Here's the film which kicked off the calendar yesterday, Ghoul Log by Christine Pfister:
Projects and events such as this shouldn't be understated. The big picture reality is most important: audiences can expect new Christmas horror content daily, available at viewer convenience, from creators who adore horror cinema as much as those gobbling up each advent square's surprise. Collaborations like "Creepy Christmas Film Fest" – fueled by passion and sweat – should be just as celebrated as Christmas horror feature films (which get lackluster mainstream play nowadays). Michael Dougherty's Krampus was something of a 2015 miracle.
Glass Eye Pix and Underwood are filling a spooky seasonal void (straight-to-VOD indies aside) for lunatics like me who force family watches of Gremlins instead of claymation returns to the Island of Misfit Toys.
If you'd like to check out the entire roster for 2018's "Creepy Christmas Film Fest," head on over to the festival's website listing. While you're there why not read up on how Beck Underwood sparked the premise for this macabre wonderland of deranged December goodies? It all started back in 2008 with a snowy diorama, then came the idea for short films, and now – in 2018 – Underwood's back for a second helping. Here's hoping it doesn't take another decade for a third iteration?