'You Were Never Really Here' Director Lynne Ramsay Writing An "Epic Environmental Horror" Film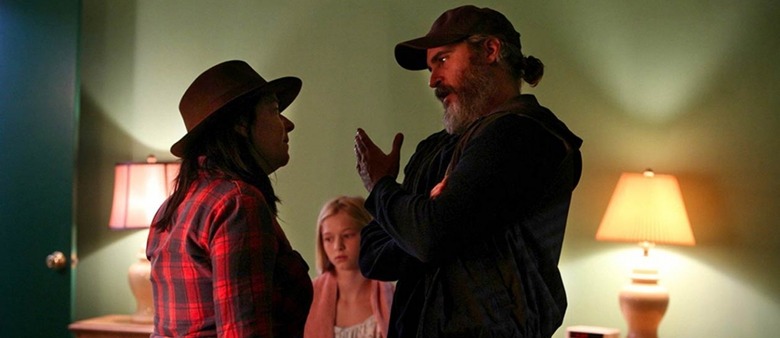 Scottish filmmaker Lynne Ramsay, who turned heads earlier this year with the Joaquin Phoenix thriller You Were Never Really Here, has revealed a few more details about her next film – and she's heading into horror territory. Read more about the upcoming Lynne Ramsay horror movie below.
In an interview with the British Independent Film Awards website (via Variety), Ramsay – whose movie is up for eight nominations and may even be heading toward an Oscar nom for Phoenix's hulking, bruised assassin – spilled some more information about what is likely to be her next movie:
"Well, I wrote 160 pages of a script just after doing all the press for You Were Never Really Here, because it's hard to keep talking about the same films. But I was really inspired by making this film, so I've started writing this epic environmental horror thing. [Laughs] I don't know what it is yet, I just kept writing and didn't look back. But I'm working on a few other projects as well. They're all quite exciting, but they're just in the writing process at the moment...I'm hoping to be up and running and shooting something sooner rather than later. I don't want a big gap, if you know what I mean. I don't really take time off, it's just that some things have worked out and some things haven't. It's just the nature of the beast, really, but you learn something from all of them, even if they don't work out. Hopefully, you're just getting better and more experienced."
It makes sense that she's looking to avoid another "big gap," because it took her seven years from 2011's We Need to Talk About Kevin to get another movie made. (She came close back in 2013, but she didn't show up for the first day of shooting on the Natalie Portman western Jane Got a Gun, which eventually found another director altogether.)
But this isn't the first time she's mentioned this new project. In fact, when we spoke with Ramsay earlier this year, we asked her if she'd be interested in making a horror movie, and she gave us a hint of information about it:
Yes. It would probably be my kind of psychological horror film, but yeah definitely. Horror is a genre where you explore a lot of fears. I look at all films as a kind of amateur psychologist. One of my favorite films, The Shining, is a horror film but it's also a film about a man having a breakdown. So yeah, I definitely would. I think I might be writing a horror film at the moment. [Laughs]
Oh, can you give a hint at what that film is you're writing?
Ah, it's just something I'm writing with my friend here [in Mexico]. I've told you as much as I can, but I'm excited for it, we've written about 160 pages. But I can't say too much at the moment. But I'd love to work with Joaquin again on it.
Ramsay and Phoenix potentially reteaming for an "epic environmental horror" movie? Yes, please.