'Welcome To Marwen' Trailer Dares You To Ask, "What Am I Watching Here?"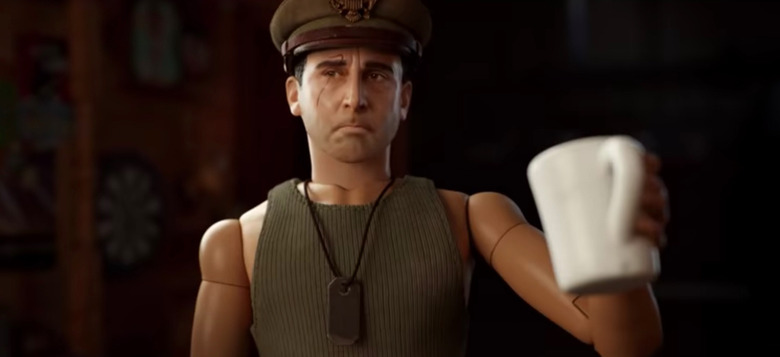 What are we to make of Robert Zemeckis' Welcome to Marwen? The film is based on a rather tragic, depressing true story, but every trailer so far has made Marwen look like a wacky, over-the-top comedy. Steve Carell plays a man who finds solace creating dolls after surviving a brutal attack. Also, the dolls come to life with creepy uncanny valley faces, and dance around. Folks, I just don't know. Watch the latest Welcome to Marwen trailer below, and see for yourself.
Welcome to Marwen Trailer 
Robert Zemeckis has made some great films, and with Welcome to Marwen, he's attracted an excellent cast: Steve Carell, Leslie Mann, Diane Kruger, Merritt Wever, Janelle Monáe, Eiza González, Gwendoline Christie, and more. And yet, Welcome to Marwen looks...off. The first trailer for the film was met with such a negative reaction that a second trailer was quickly released a few weeks later. And now we have trailer three, which, honestly, doesn't look much better. This trailer plays up the comedy big-time, leaning into Carell's natural talent for humor.
Here's the thing: Welcome to Marwen is based on the true story of Mark Hogancamp. Hogancamp was nearly beaten to death by a group of men after he told them he was a cross-dresser. Hogancamp suffered brain damage and severe memory loss. Lacking the means to pay for therapy, Hogancamp began building a miniature World War II village in his back yard, and creating dolls based on himself, his friends, and his attackers. All of this is chronicled in the 2010 documentary Marwencol.
While the basic concept – a man is attacked and builds a small village in his yard – is in place here, Zemeckis and company are taking things to a very strange place by having Hogancamp's dolls come to life, and engage in gun battles. Not helping matters is the way the dolls look. Zemeckis loves to play around with technology, but the VFX being used to graft Carell and other's faces onto these dolls is just creepy looking. In short, everything going on here looks ill-conceived. It also looks like a semi-dramatic remake of Small Soldiers.
But maybe it'll turn out okay. Maybe the film is just difficult to sell in trailer form, and will play much better in its final form. We'll know for sure when Welcome to Marwen opens December 21, 2018.
When a devastating attack shatters Mark Hogancamp (Carell) and wipes away all memories, no one expected recovery. Putting together pieces from his old and new life, Mark meticulously creates a wondrous town where he can heal and be heroic. As he builds an astonishing art installation—a testament to the most powerful women he knows—through his fantasy world, he draws strength to triumph in the real one.