'Dear Evan Hansen' Movie, With Music From 'La La Land' Team, In The Works With 'Perks Of Being A Wallflower' Director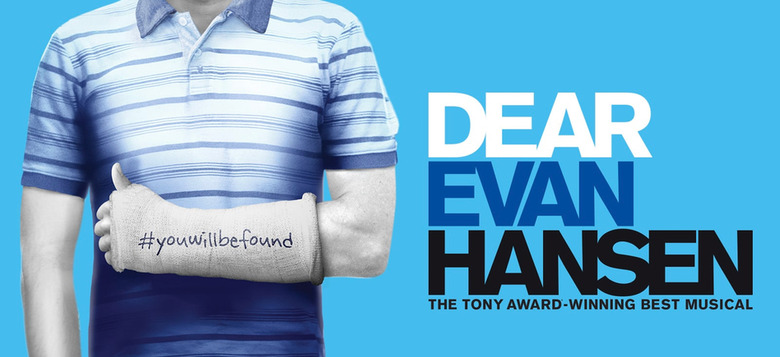 The award-winning Broadway musical Dear Evan Hansen is coming to the big screen. The musical, which features songs by La La Land and The Greatest Showman team of Benj Pasek and Justin Paul, has been running on Broadway since 2016, and took home Best Musical, Best Score, Best Actor in a Musical, and Best Featured Actress in a Musical at the 71st Tony Awards. Stephen Chbosky, director of The Perks of Being a Wallflower and the recent Wonder, is in early negotiations to direct.
It was only a matter of time before Hollywood came calling for Dear Evan Hansen, the toe-tapping musical about mental illness and suicide. Broadway musicals are a dime a dozen, but a musical that manages to last always gets attention. More often than not, the big stage musicals on Broadway will close after a few months of shows. But every now and then, something with cultural weight comes along. Hamilton is obviously the best recent example – a musical that will probably play until the end of time, due to how successful it's been.
But Dear Evan Hansen is no slouch either. The musical, which debuted on Broadway in 2016, is still going strong. One of the biggest signs of success on Broadway is recoupment – making the money invested back, and turning a profit. Dear Evan Hansen has done that, and then some. Last year, it was announced the show had "recouped its $9.5 million capitalization costs about eight months after the show began performances on Broadway." Since then, a National tour has begun, a West End production is expected to open in London next year, and the musical has been adapted into a young adult novel.
And now here comes the movie. Deadline reports Universal Pictures is making a Dear Evan Hansen movie, and that they hope to land Stephen Chbosky as a director. Chbosky has experience telling stories about teens going through troubled experience, having written the Perks of Being a Wallflower novel, and then adapting it into a film himself.
Dear Evan Hansen "tells the story of a young man with social anxiety disorder who so yearns to make a connection with his peers that he fabricates a relationship with a deceased student to become closer to the boy's family. When a classmate commits suicide, shy Evan Hansen finds himself at the center of the tragedy and turmoil. In a misguided attempt to comfort the boy's grieving family, Evan pretends that he was actually good friends with their son. He invents a fabricated email account to prove their friendship, and when a fake suicide note makes its way online, Evan finds himself the unintended face of a viral video about loneliness and friendship."
I've never seen the show, but I have heard the soundtrack, with music from Greatest Showman songwriters Benj Pasek and Justin Paul – and it's quite good, thanks very much in part to the lead performance of Ben Platt, who has one killer singing voice. Dear Evan Hansen has enough great songs, and enough of a strong message, that it could make for a fantastic film embraced by audiences young and old. Or it could end up being like the terrible Les Misérables movie directed by Tom Hooper! Who knows. In the meantime, listen to my favorite song from the show below.