'State Like Sleep' Trailer: Katherine Waterston Is Haunted By Her Husband's Death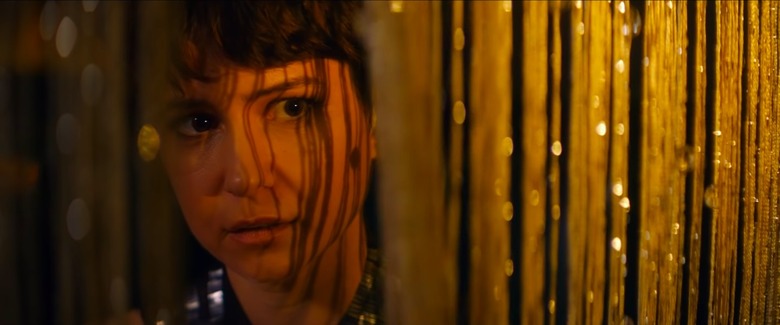 Katherine Waterston stars in the noir thriller State Like Sleep as a widow who is haunted by the mysterious death of her celebrity husband (Michiel Huisman). The first State Like Sleep trailer released by The Orchard follows her as she soon discovers a web of secrets that sends her deep into the seedy underbelly of Brussels, where she meets enigmatic characters played by Michael Shannon and Luke Evans.
State Like Sleep Trailer
Everything is sexy and terrible in the State Like Sleep trailer, which follows a young widow named Katherine (Waterston) as she investigates the mystery of her husband's untimely death one year ago after she receives a mysterious phone call. Nothing much makes sense in this fractured and moody trailer, except that Shannon and Evans both pull off the creepy-sexy look well.
Meredith Danluck directs the noir thriller which also stars Michael Shannon, Luke Evans, Mary Kay Place, Mark O'Brien, Rachel Wilson, and Bo Martyn. State Like Sleep debuted at the 2018 Tribeca Film Festival earlier this year, and is set to hit limited theaters in January of next year.
Here is the synopsis for State Like Sleep:
One year after the mysterious death of her Belgian actor husband, American photographer Katherine (Katherine Waterston) returns to Brussels, a city filled with memories of the life she's tried to leave behind. Their marriage was rocky, but Katherine's return to the city forces her to finally confront her grief as she packs up the flat they once shared. In doing so, though, she discovers a web of secrets that propel her to probe the circumstances of her husband's last days. Following in his footsteps, Katherine plunges into Brussels's underground club scene, where she encounters a mysterious woman and a secret group of friends. At the same time, she meets Edward, a fellow American, who offers the possibility of a new future as she comes to terms with her troubled past.
State Like Sleep hits digital and on demand on January 2, 2019 before opening in select theaters January 4, 2019.