'Star Wars: Galaxy Of Adventures' Animated Shorts Aim To Turn Kids Into 'Star Wars' Fans Early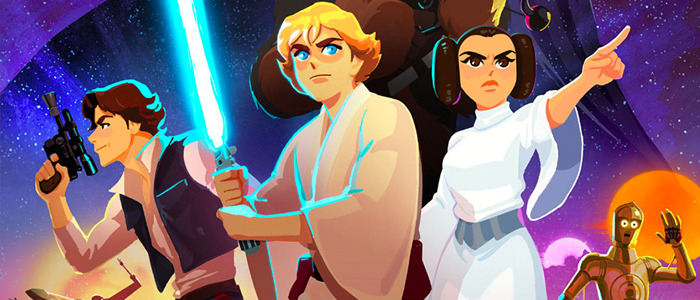 It's never too early to start drafting children into the world of fandom – at least according to Lucasfilm.
This week, the company is launching a new series of animated shorts called Star Wars: Galaxy of Adventures, which will be found at the new StarWarsKids.com and that site's dedicated YouTube channel. These shorts "will introduce the classic themes, pivotal moments, and iconic characters from the Star Wars saga to the next generation." Read more about them below.
Star Wars Galaxy of Adventures Trailer
Here's some info straight from the press release:
The first six shorts combine original dialogue, music, and sound effects with bold new animations, and fun and educational add-ons designed to help older fans, parents, and other mentors to welcome the kids in their lives to explore the galaxy far, far away. Additional shorts featuring fan-favorite characters will debut in December, with regular releases following in 2019.
The Venture Bros. director Barry Kelly is directing for Titmouse Animation, the company responsible for shows like Metalocalypse and Black Dynamite and movies like Nerdland. In addition to the new series of shorts, a new Hasbro toy line is debuting at Walmart on December 1, 2018 and then expanding to stores nationwide in January 2019.
"We're passionate about our fans, and passionate to develop content that continues the Star Wars story in a deeper way, filling in the story gaps around the movies, and expanding the universe and its characters in new and more mature directions," says James Waugh, Lucasfilm's vice president for franchise content and strategy. "But we're also passionate about what Star Wars can be for kids — to light up those early imaginations. It's a fairy tale, a mythic landscape that was designed to inspire."
From the sound of it, Waugh and his team might even be looking to expand and reimagine the classic Star Wars moments that older fans love. He praises says they "embraced the opportunity to leverage the medium and target audience to breathe new life into scenes from the original trilogy, or create new scenes, new moments that exemplify the heroism of the characters; their key traits." This sounds somewhat similar to Star Wars: Forces of Destiny, but instead of uncovering little moments that we've never seen before, Galaxy of Adventures will tackle some of the biggest and best-known moments in the saga.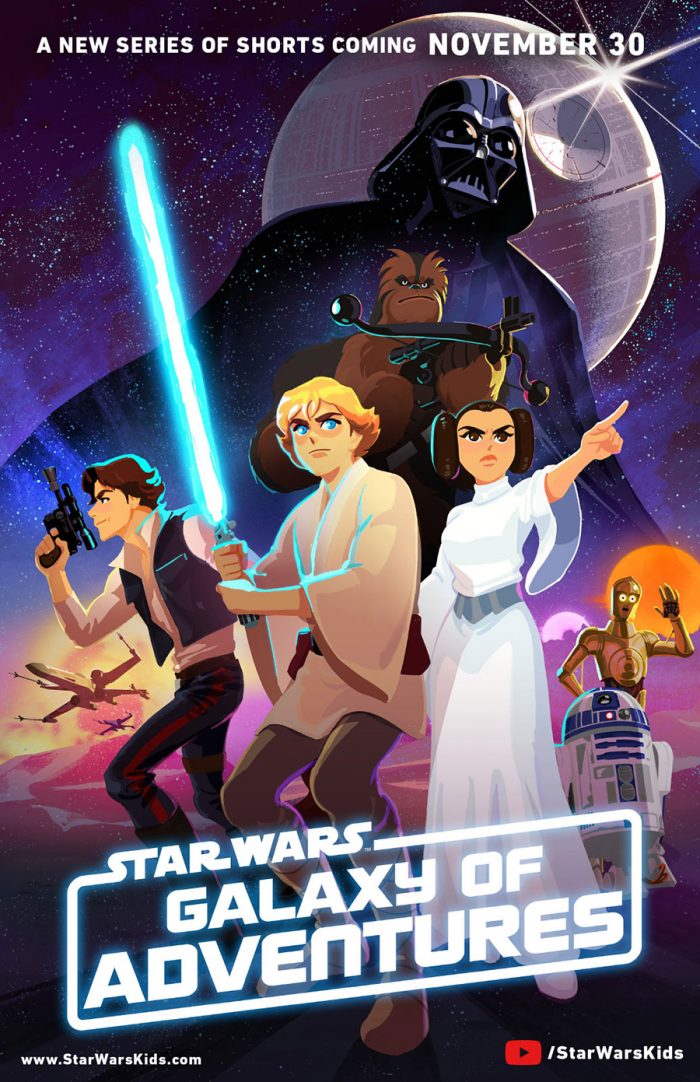 "Creating content that is unabashedly for kids in this bite-sized, unique animated form, allowed new moments to evolve out of the old, new ways to look at the content, and ultimately expanded the potential of how Star Wars should look and feel," says Waugh.
The first shorts debut on November 30, 2018.