'Spider-Man: Into The Spider-Verse' Clip: Miles Morales Meets Spider-Gwen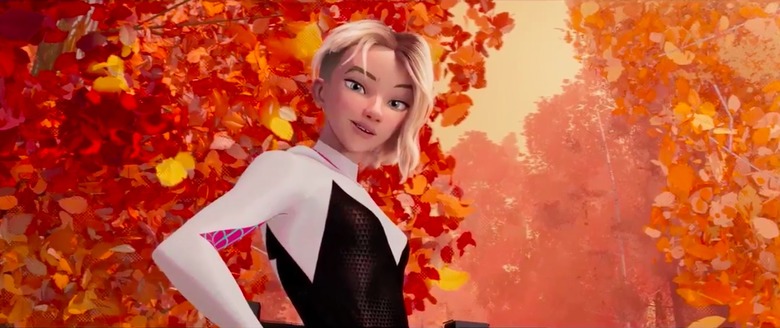 It's hard for Miles Morales (Shameik Moore) to get into the swing of being Spider-Man in the latest Spider-Man: Into the Spider-Verse clip released by Sony. So it's a good thing he's got Peter Parker (Jake Johnson) by his side to teach him the ropes (or is the webs?) of being your friendly neighborhood webslinger — as they're being pursued by evil, laser-wielding scientists. But their teaching session is cut short by the interruption of one other spider-hero: Spider-Gwen (Hailee Steinfeld).
Spider-Man: Into the Spider-Verse Clip
Peter Parker trains Miles Morales and meets Spider-Gwen in this exclusive extended clip from #SpiderMan: #IntoTheSpiderVerse. pic.twitter.com/Z9rRBaUmQq

— Fandango (@Fandango) November 28, 2018
My excitement for Spider-Man: Into the Spider-Verse is at an all time high, with the wave of rave reviews coming in for Sony's stunning animated superhero feature, and clips like this that showcase just how innovative the animation is. The design evokes a comic book in the best way, with the pop art-inspired animation creating a texture like we've never seen in 3D animation — making the little sound effect and dialogue bubbles even more cute.
But I won't rave about the animation for too long because this clip features something even more exciting: Miles Morales' first meeting with superpowered Gwen Stacy. Or rather, his capture by Gwen Stacy. Nicknamed Spider-Gwen in the comics, Spider-Man: Into the Spider-Verse's Spider-Woman gracefully steals' Miles and Peter's briefcase and captures both of them with a flick of her wrist. With a little hair flip and a smirk, she immediately captures my heart — much in the way her fan-favorite character captured the hearts of thousands of comic book readers. If you're confused why Gwen Stacy, previously played onscreen by Emma Stone in The Amazing Spider-Man series, is a superhero — she's from an alternate universe, duh. It's a fun way of bringing back a beloved character who was famously fridged when Peter failed to save her, and her return as Spider-Gwen, as she's nicknamed by comics fans, has been applauded since she made her debut in 2015.
Directed by Peter Ramsey, Robert Persichetti Jr., and Rodney Rothman, Spider-Man: Into the Spider-Verse also stars Mahershala Ali,Liev Schreiber, Brian Tyree Henry, Luna Lauren Velez, and Lily Tomlin. 
Here is the official synopsis for Spider-Man: Into the Spider-Verse:
Phil Lord and Christopher Miller, the creative minds behind The Lego Movie and 21 Jump Street, bring their unique talents to a fresh vision of a different Spider-Man Universe, with a groundbreaking visual style that's the first of its kind. Spider-Man™: Into the Spider-Verse introduces Brooklyn teen Miles Morales, and the limitless possibilities of the Spider-Verse, where more than one can wear the mask.
Spider-Man: Into the Spider-Verse swings into theaters December 14, 2018.