'Spider-Man: Into The Spider-Verse' Review Round-Up: The Best Superhero Movie Of The Year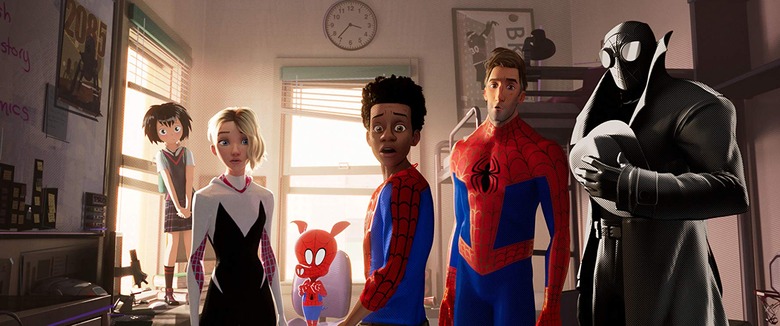 Spider-Man: Into the Spider-Verse looks unlike any Spider-Man movie we've seen before — nay, unlike any comic book movie we've seen before. The gorgeous animated Spider-Man movie follows Afro-Latino teenager Miles Morales (Shameik Moore) in his big-screen debut, as he embarks on a whirlwind adventure of alternate universes and multi-verse team-ups that sees him crossing paths with multiple spider-heroes like Peter Parker (Jake Johnson) and Spider-Woman (Hailee Steinfeld). But is the movie as good as it looks?
Yes, critics resoundingly say. All that and more. Spider-Man: Into the Spider-Verse is drawing universal rave reviews, with critics calling it the best superhero movie of the year and one of the best Spider-Man movies ever.
First up, /Film's Peter Sciretta's reaction to Spider-Man: Into the Spider-Verse couldn't be contained to one tweet: he calls it "one of the most visually exciting movies" he's seen, and the best example of a comic book brought to life.
Spider-man: Into The Spider-Verse is not only the best animated feature and best comic book movie this year, but one of the best movies of 2018 period. I don't think another movie does a better job of bringing a comic book to life on the big screen. pic.twitter.com/EeDzaaoBqD

— /Film (@slashfilm) November 28, 2018
...Miles Morales comics because I didn't want my time with these characters to end at the credits. When everyone is is trying to make cinematic universes, Into The Spider-Verse is doing the opposite: presenting a crossover event introducing a handful of separate characters...

— /Film (@slashfilm) November 28, 2018
... While I'm seriously worried about what the success of Venom & Spider-Verse could mean for Sony's Disney MCU deal, I'm hoping Spider-verse is successful so we can get more of these. And please Sony, keep Lord and Miller involved if you know what's good for you!

— /Film (@slashfilm) November 28, 2018


Polygon's Susana Polo agrees with Peter that Spider-Man: Into the Spider-Verse "brings the exuberance of comic books to life," adding that fan-favorite Miles Morales "gets one heck of a debut."
Spider-Man: Into the Spider-Verse makes humor and exhilaration the primary emotions associated with being a superhero. It never lets you forget that wittyness is among Peter Parker's greatest powers, it never misses a chance to have a character walk casually along a wall for the sake of it and when Miles finally learns to swing a web you feel the joy of his accomplishment. Superheroing is stylish in Spider-Verse, an easy thing to forget in the world of even Marvel Studios' quippy, character-forward cinematic universe.
Indiewire's David Ehrlich, who notoriously dislikes superhero movies, begrudgingly admitted Spider-Man: Into the Spider-Verse "completely reinvigorates the genre."
An eye-popping and irreverent animated experience from the marvelous comic minds who brought you "21 Jump Street," "The LEGO Movie," and roughly 75 percent of that misbegotten Han Solo movie, "Into the Spider-Verse" is somehow both the nerdiest and most inviting superhero film in a long time; every single frame oozes with fan service, and yet the entire project seems optimized for people (like this critic) who were rooting for Thanos to snap the Avengers into oblivion and put us all out of our misery. This is an origin story for viewers who didn't think they could stomach another origin story; it's an origin story about how empowering origin stories can be. However much fun it might be to watch Captain America save the world for the umpteenth time, the most basic thrill of these movies is the idea that anyone can become a superhero (an ethos that Spider-Man has always personified) and "Into the Spider-Verse" stretches that idea to hilarious new dimensions.
USA Today's Brian Truitt praises Spider-Man: Into the Spider-Verse as "the year's best animated film," writing:
In the wake of comic-book legend (and Spidey creator) Stan Lee's death, the film...acts as a loving tribute to his life lesson that there's a little hero in all of us. And it's a slightly insane, hilariously daring and often touching mashup of everything that makes super-flicks so darn popular with the introduction of a Spider-Man who's ready-made for today's generation of kids.
Alex Abad-Santos at Vox acknowledges the plethora of Spider-Man movies that have come out in the past decade have made the web-slinging superhero seem stale, but Into The Spider-Verse "makes Spider-Man feel original again."
The new animated movie is a sleek and soaring, a wonderful paean to the spirit of Stan Leeand Steve Ditko's legendary webslinger, embodying the relentless hope and optimism of its hero in such a classic way. But it also unearths exhilarating new ground — by way of spectacular deviations from the norm that the Marvel Cinematic universe and live-action filmmaking don't always allow for — that makes it feel like something tremendously innovative, while still traditionally Spidey.
The Guardian's Charles Bramesco calls Spider-Man: Into the Spider-Verse a "dazzling animated caper," praising the "expressionistic animation that evokes the look and feel of comics."
Though they occupy the same frame, each of the Spider-friends moves with their own distinct animation style informed by their home dimension, and that's just one in a smorgasbord of clever visual flourishes. Not since Sam Raimi's godly mid-2000s run has the kinetic exhilaration of web-swinging felt so tactile, and the Manhattan through which our hero sails felt so specifically realized. While the computerized cinematography roots our assorted Spiders-man in a coherent physical space, the production design gleefully sprints as far as it can in the opposite direction. The animators indulge in fits of vibrant psychedelia worthy of comparison to the Wachowski sisters' candy-colored Speed Racer, culminating in a retina-searing grand finale that crams a tempest in a lava lamp. At long last, a Spider-Man cartoon that goes well with MDMA!
IGN's David Griffin raves that Spider-Man: Into the Spider-Verse "is a visual experience unlike anything we've seen before."
Spider-Man: Into the Spider-Verse hits all the marks to be an all-around moviegoing blast. Miles Morales has a memorable big-screen debut thanks to a compelling story and strong performances from its heroes and villain. Alongside Peter Parker, Miles' journey from everyday teenager to a genuine city-saving superhero is one of the best Spider-Man movie stories ever. The addition of other multiverse characters doesn't overshadow Miles' story, though Kingpin does get a bit shortchanged. Taking a bold departure from the Pixar animation style we've come to expect from mainstream animated films, Into the Spider-Verse delivers a dynamic visual experience unlike any other.
Variety's Peter Debruge calls the film a "wild, postmodern riff on Marvel's most popular superhero," writing in his (spoiler-filled) review:
The brilliance of Sony's snappy new animated "Spider-Man: Into the Spider-Verse" shows itself in the project's uncanny ability to simultaneously reset and expand all that has come before, creating an inclusive world where pretty much anybody can be the superhero ... even you!
LA Times' Justin Chang is another critic to begrudgingly admit that Spider-Man: Into the Spider-Verse is "terrific."
On paper, the movie sounds entirely superfluous: It dreams up an entirely new storyline set in a parallel-universe New York and introduces an exhausting cross-dimensional cluster of Spidey-heroes. And to my chagrin, it's terrific — a quick-witted entertainment, daring and familiar by turns, that also proves to be sweet, serious and irreverent in all the right doses.
Entertainment Weekly's Darren Franich is one of the few critics to have a mixed reaction to the film, calling Spider-Man: Into the Spider-Verse, praising the animation's "fascinating 2.5D universe" but criticizing the film's overcrowded, and more flippant, second half.
Do these characters sound fun? They are! And the one big action number that unites the Spider-people against an onslaught of villains is very fun. But you start to feel the 10-car-pileup of this movie's intentions when the other Spideys show up. Spider-Verse has three credited directors, which seems like a lot even for a cartoon. It was co-written by Phil Lord, half the animation braintrust behind the LEGO series, and I'm not sure the resulting film ever fully decides whether it's a full-fledged LEGO Batman-y goof or a sincere attempt to Make A Statement about what Spider-Man means.
***
Spider-Man: Into the Spider-Verse managed to make even the most cynical critics admit that superhero movies can inspire the same awe in us, even in the present-day glut of comic book adaptations. Directed by Peter Ramsey, Robert Persichetti Jr., Rodney Rothman and produced by the pop culture-savvy duo behind the similarly surprising LEGO Movie Phil Lord and Chris Miller, Spider-Man: Into the Spider-Verse evokes the heart of Spider-Man and the visual style of the comic book pages in which the superhero was introduced. While its sprawling ensemble and wildly different tones and animation styles might have lost it a few points, critics seems to universally agree that Spider-Man: Into the Spider-Verse is one of the best comic book movies of the year.Spider-Man: Into the Spider-Verse swings into theaters on December 14, 2018.