New Blu-Ray Releases: 'Mission: Impossible – Fallout', 'Mile 22', 'Candyman', 'Searching', 'Lizzie'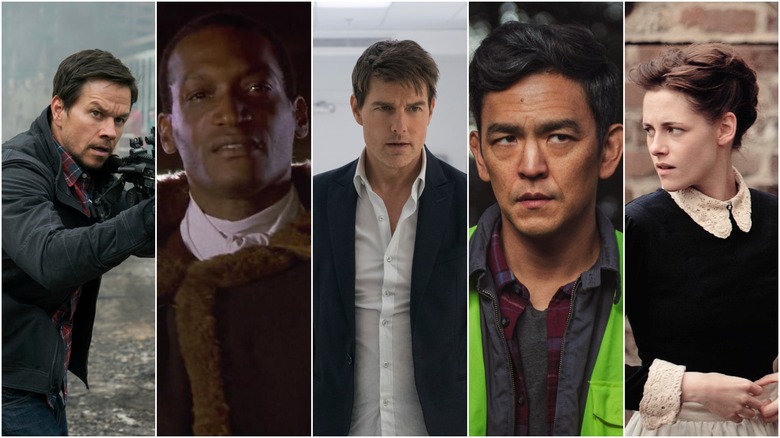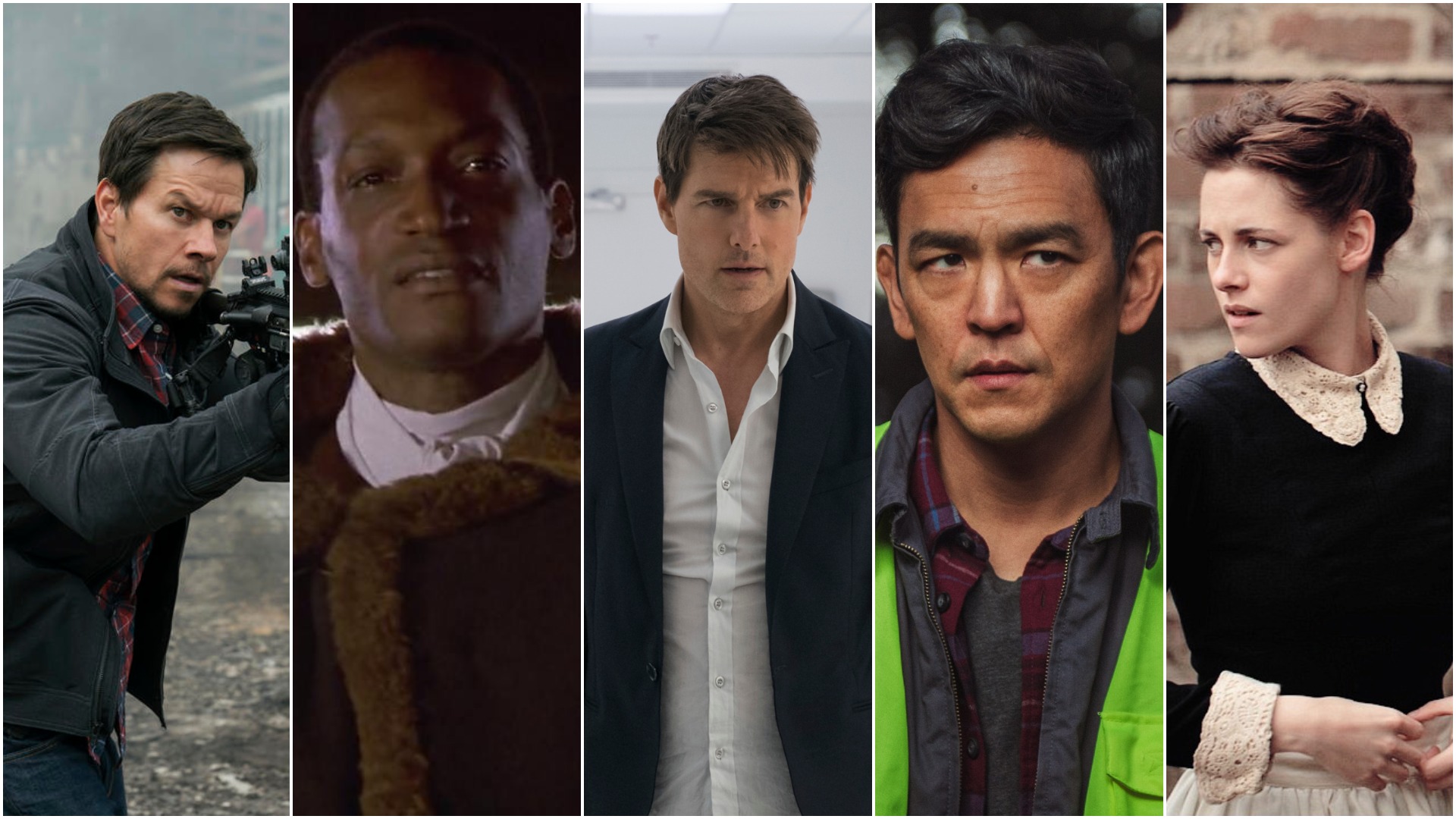 (Welcome to Not Dead Yet, a feature dedicated to new Blu-ray releases and what special features you should be excited about. Because yes, some of us still like to own physical copies of our movies.)
This week's Blu-ray round-up has the wildly entertaining Mission: Impossible – Fallout, the shockingly bad Mile 22, the horror classic Candyman, the thrilling computer screen mystery Searching, and the historical drama Lizzie. Here are the new Blu-ray releases and their special features you should check out this week and beyond.
Mission: Impossible – Fallout
Now Available on Digital; Blu-ray Arriving 12/4 
I don't know how this keeps happening, but every few years, a new Mission: Impossible sequel arrives, and it kicks major ass. While most other franchises diminish over time, Mission: Impossible has only improved. The latest, Fallout, is one of the most exciting installments yet. Director Christopher McQuarrie pulls out all the stops, crafting one of the most unapologetically entertaining movies of the year. Tom Cruise is back again as Ethan Hunt, once again engaging in crazy, dangerous, deadly stunts.
Cruise is, as usual, the center of attention. But Fallout surrounds him with great supporting players. Rebecca Ferguson is back as the alluring Isla Faust. And Henry Cavill and his mustache make an impression as brawling CIA agent August Walker. The plot involves Hunt and his team trying to track down missing plutonium cores, but Fallout also takes time to connect itself to every Mission film before it. While the other sequels virtually ignored the other films, Fallout embraces the legacy of the saga, and provides closure on several key elements. I have no idea how they're going to top this one. Maybe they'll literally kill Cruise and then bring him back from the dead. I'm sure he'd be up for it.
Special Features to Note:
The Fallout Blu-ray comes packed with so many featurettes that you might need to carve out a few days to get through them all. There's a look behind-the-scenes that runs at almost a full hour, focusing on the insane stunts, and also a breakdown of a deleted scene where Ethan has to jump down from the Grand Palais, which involves dangling from wires – a Mission: Impossible staple. 
Speaking of deleted scenes, there's a montage of a few deleted moments. These aren't your standard deleted scenes – some of them are barely a second long. Rather, they give you an idea of how the film took shape. McQuarrie isn't shy about admitting they began shooting Fallout without a finished script. As a result, several ideas were changed as the film evolved, leading to a few deleted scenes.
On top of all this, there are three commentary tracks. One with McQuarrie and Cruise; one with McQuarrie and editor Eddie Hamilton; and a final track with soundtrack composer Lorne Balfe. The Cruise/McQuarrie track is the most laid-back. The duo, who have worked together on 9 films, have an easy rapport, and it's fun to listen to them shoot the breeze about the movie. The track is informative, although Cruise frequently comes off as a bit awkward. We learn here that the opening sequence – a dream involving a nuclear blast – originally had Alec Baldwin's character present, but Baldwin wasn't available. So Sean Harris stepped in, and now it's hard to imagine the scene any other way. During the famous HALO jump scene, Cruise casually says he wasn't totally unprepared for the stunt, because he often skydives. From the way Cruise says it, it sounds as if he's out skydiving every week – which is probably true. To prepare for the scene, though, Cruise says he had to get his "skydiving game up." He and McQuarrie worked on the way to create the scene for over a year, which just sounds exhausting. But I'm sure it was a breeze to Cruise, who clearly thrives on all this madness.  
Special Features Include: 
Behind the Fallout
Light the Fuse
Top of the World
The Big Swing: Deleted Scene Breakdown
Rendezvous in Paris
The Fall
The Hunt is On
Cliffside Clash
Deleted Scenes Montage with Optional Commentary by director Christopher McQuarrie and editor Eddie Hamilton
Foot Chase Musical Breakdown
The Ultimate Mission
Storyboards
Theatrical Trailer
Commentary by director Christopher McQuarrie and Tom Cruise
Commentary by director Christopher McQuarrie and editor Eddie Hamilton
Commentary by composer Lorne Balfe
Isolated Score Track
Mile 22
Hoo-boy, what the hell happened here? Peter Berg and Mark Wahlberg have made films before, and while I wouldn't consider any of those movies great, they were, at least, watchable. The same can't be said for Mile 22, which might be one of the worst movies of the year. The film focuses on a black ops team, lead by Wahlberg, who's character is the biggest asshole in the world. That's literally it. He's just a motor-mouthed jerk constantly yelling at everyone – even people on his team. At one point, there's a scene where Wahlberg slaps one of his team member's birthday cake off a table in rage. "No birthdays!" he shouts.
Mile 22 is almost worth seeing to watch Wahlberg's horrendous character, but Berg's direction is so haphazard, so chaotic, that the movie is nearly unwatchable. Berg constantly cuts around, rendering his many action scenes incomprehensible. Worst of all, he wastes martial arts superstar Iko Uwais in a thankless role. Uwais does get to kick some ass – a hospital fight is particularly brutal – but Berg doesn't have the skill to capture it all on screen. Mile 22 was meant to launch a franchise, but I won't be surprised if that never happens.
Special Features to Note:
There are a handful of featurettes included, all of them rather brief. Mark Wahlberg says Overwatch – the name of the team in the film – operates under a methodology of "every and any man left behind" as opposed to the Marines, who leave no man behind. That just sounds like a fancy way of saying all the characters in the movie are unlikable assholes. 
The best featurette has Uwais walking us through the big hospital fight scene, from rehearsal all the way through shooting. It's clear Uwais takes his work very seriously, and works incredibly hard at it – he choreographs all his own fights. It would be nice if a better Hollywood filmmaker would hire him to do something much, much better than this.
Special Features Include: 
Overwatch: Follow the "Overwatch", the para-military division in Mile 22, and explore the background and inspiration as to why this type of team was chosen for the film.
Introducing Iko: A spotlight on world-renowned action star Iko Uwais and his experience with combat fighting, stunt work and choreographing his own scenes in the film.
Iko Fight: Interview with Iko Uwais discussing his intense fight scenes from the practice room to the final shot.
Bad Ass Women: A behind-the-scenes look with stars Lauren Cohan and Ronda Rousey along with writer Lea Carpenter, discussing stunts, intellectual smarts and the overall tenacity of the film's female characters.
BTS Stunts: An in-depth take on the creation of the action-packed stunts of Mile 22 with commentary from Director Peter Berg and the film's stars.
Modern Combat: Explore the concept of modern action cinema, where scenes are created and shot in real time with multiple cameras, mesmerizing cinematography and intense action stunts.
Colombia: Take a tour Bogota, Colombia with the cast and filmmakers discussing key filming location points.
Trailers
Candyman
Bernard Rose's Candyman is a horrifying, oddly romantic, strangely hypnotic slice of urban gothic. The film may have a reputation as a slasher movie, and indeed, it launched a lackluster franchise. But this original film is classy as hell – a cut above your standard slasher film. Grad student Virginia Madsen begins investigating a local boogeyman that allegedly haunts – and stalks – the projects. Madsen's character thinks this is an urban legend out of control, but the more she investigates, the more clear it becomes a genuine supernatural force is at work here. That would be the Candyman – played elegantly and seductively by Tony Todd – a towering, soft-voiced man with a hook for a hand and a belly full of bees. Featuring an iconic score from Philip Glass, Candyman still holds up. In fact, it might be even better now in 2018 than it was in 1992. At the time, it got lumped into the slasher movie genre. Were it released today, we'd be calling it "elevated horror."
Special Features to Note: This Scream Factory release is the definitive version of the film. It's never looked or sounded better. Features include a new interview with Tony Todd. The actor confirms something that's been reported in the past: the studio wanted Eddie Murphy to play Candyman. But Bernard Rose saw the seriousness in the film, and pushed for a different direction. He wanted a gothic elegance to the character – like Phantom of the Opera. Todd reveals that he and Virginia Madsen took ballroom dancing classes together to get closer. He also reveals that a scene near the end heavily implied a romantic, sexual moment between their characters, but the studio grew cold feet over anything involving "interracial romance.""They didn't have a problem with a tall black man covered with bees," Todd says, "but they had a problem with that." He also talks about how the bees had their own trailer (which was bigger than his).There's also a new interview with Virginia Madsen. The actress discloses that she was allergic to bees, which was understandable an issue on a film that had thousands and thousands of those buzzing suckers zipping around. She also has nothing but nice things to say about Tony Todd – despite his scary presence in the film, he's a kind-hearted, even gentle guy. 
Special Features Include: DISC ONE (THEATRICAL CUT):
NEW 2K Restoration From A New 4K Scan Of The Original Negative, Supervised And Approved By Writer/Director Bernard Rose And Director Of Photography Anthony B. Richmond
NEW Audio Commentary With Writer/Director Bernard Rose And Actor Tony Todd
NEW Audio Commentary With Authors Stephen Jones And Kim Newman
Audio Commentary With Director Bernard Rose, Author Clive Barker, Producer Alan Poul And Actors Tony Todd, Virginia Madsen And Kasi Lemmons
Audio Commentary With Bernard Rose, Moderated By The Movie Crypt's Adam Green And Joe Lynch
"Sweets To The Sweet: The Candyman Mythos" Featuring Interviews With Writer/Director Bernard Rose, Executive Producer Clive Barker, Actors Virginia Madsen, Tony Todd, And Kasi Lemmons
"Clive Barker: Raising Hell" – An Interview With Author/Artist/Filmmaker Clive Barker
Interview With Actor Tony Todd (2014)
Bernard Rose's Storyboards
Theatrical Trailer
TV Spots
Still Gallery
Screenplay (BD-ROM)
DISC TWO (UNRATED CUT):
NEW 2K Restoration From A New 4K Scan Of The Original Negative With High Definition Inserts For The Uncut Footage From An Archival Film Print
NEW "Be My Victim" – An Interview With Tony Todd
NEW "It Was Always You, Helen" – An Interview With Virginia Madsen
NEW "Reflection In The Mirror" – An Interview With Actor Kasi Lemmons
NEW "A Kid In Candyman" – An Interview With Actor DeJuan Guy
NEW "The Writing On The Wall: The Production Design Of Candyman" – An Interview With Production Designer Jane Ann Stewart
NEW "Forbidden Flesh: The Makeup FX Of Candyman" – Including Interviews With Special Makeup Effects Artists Bob Keen, Gary J. Tunnicliffe And Mark Coulier
NEW "A Story To Tell: Clive Barker's The Forbidden" – Writer Douglas E. Winter On Clive Barker's Seminal Books Of Blood And Candyman's Source Story, The Forbidden
NEW "Urban Legend: Unwrapping Candyman" – A Critical Analysis Of The Film With Writers Tananarive Due And Steven Barnes
Searching
Aneesh Chaganty's Searching is the latest example of a ScreenLife movie – a film set entirely on computer and phone screens, a la Unfriended. While this concept could easily backfire, Searching is the best entry into the subgenre yet. Part of this is due to how engrossing the plot is, in which John Cho plays a widower trying to find his missing daughter, Margot. Cho is charismatic and sympathetic – a movie star, for sure. But the real reason Searching works so well is because Chaganty remembers to make the movie cinematic. The camera isn't just set up in front of a screen – it moves. It zooms, it pans, it focuses on details. Film is a visual medium, and many ScreenLife movies often feel like screenshots – static, unmoving wide shots of a screen. Searching bucks this trend, and creates something thrilling in the process. At the same time, the film takes the time to set its characters up, and make us care about them. An opening montage – which is clearly inspired by the heart-wrenching montage opening of Up – will suck you in immediately, and might make you shed a tear or two.
Special Features to Note:
Before I get into the special features, I just want to highlight the fact that the Blu-ray menu for searching is set up to look like a laptop screen, complete with a mouse-clicking sound every time you select an option. That's a nice touch, especially in this day and age when most studios have bland, uninspired menus. In keeping with this theme, pointing the UP arrow button on your Blu-ray's remote will take you out of the main menu, and into a secret folder that contains a feature called "Searching For Easter Eggs." Here, writer-director director Aneesh Chaganty and co-writer Sev Ohanian break down some of the many easter eggs hidden throughout the film. For instance: the mascot for Margot's school is a catfish – a reference to the film Catfish. Some other easter eggs: when John Cho is searching YouTube, in the bottom corner you can spot a video that's an Honest Trailer of Searching. There are a lot more easter eggs, but almost all of them are big spoilers that help set up the film's big twists.
In Changing the Language of Film, writers Aneesh Chaganty and Sev Ohanian disclose that Searching was originally intended to be an eight minute movie, but the company they pitched it to liked it so much, they wanted it to be a feature. Chaganty also reveals that he quit his job at Google to make the movie, which was obviously a big gamble. That work at Google also inspired the creation of the film – working there taught Chaganty how to "emote" with computers.
Chaganty and company went on to make a complete version of the movie featuring him in every single role, along with screenshots of computer screens, in order to show the rest of the crew the type of film they were trying to create.
Special Features Include:
"Changing The Language Of Cinema"
"Update Username: Cast and Characters"
"Searching For Easter Eggs"
"Audio Commentary with Aneesh Chaganty & Sev Ohanian"
Arriving on Blu-ray and Digital 12/11
Lizzie came and went without much fanfare this year. But it's worth seeking out – primarily for the two lead performances. Chloë Sevigny is Lizzie Borden, the spinster accused of hacking her father and step-mother to death. Kristen Stewart is the family maid, Bridget Sullivan. Lizzie attempts to deconstruct the story, and explain why Lizzie did it (if she did it – she was acquitted of the crime, but virtually everyone agrees she was the killer at this point). As the film explains, Lizzie's father was an abusive monster who kept his family in terror. Sevigny sometimes seems a bit too modern for this 1800s-set movie, but she brings fire and dignity to the part. Stewart is the real draw here, playing Bridget as timid, shy and awkward. Lizzie theorizes that Lizzie and Bridget were engaged in a love affair, and while that could've easily lead to something tasteless or exploitative, Lizzie handles the romance delicately.
Special Features to Note: There's only one feature here: Understanding Lizzie, which delves into the true story of Lizzie Borden, with the actors talking about their characters. Kristen Stewart appears via voice-only for some reason, and very briefly, while Chloë Sevigny gets the most screen time, talking about how the film parallels women's circumstances today. Writer Bryce Kass goes on to add that Lizzie Borden wasn't crazy, she was trapped – and she would do whatever it took to free herself. Kass goes as far as to call Lizzie a proto-feminist icon. Make of that what you will. 
Special Features Include: 
"Understanding Lizzie" Featurette