'Aquaman' Early Buzz: This Wild, Weird, Fun Movie Proves The DCEU Isn't Going Anywhere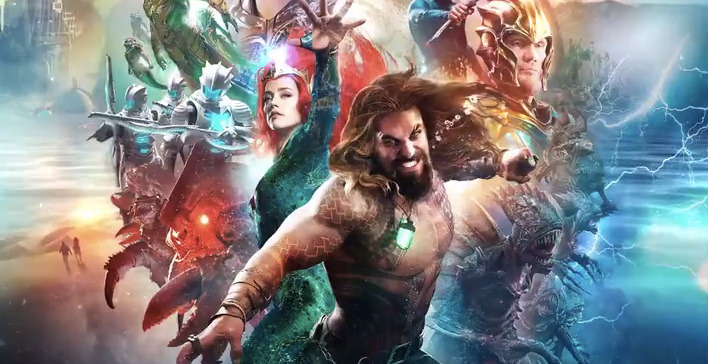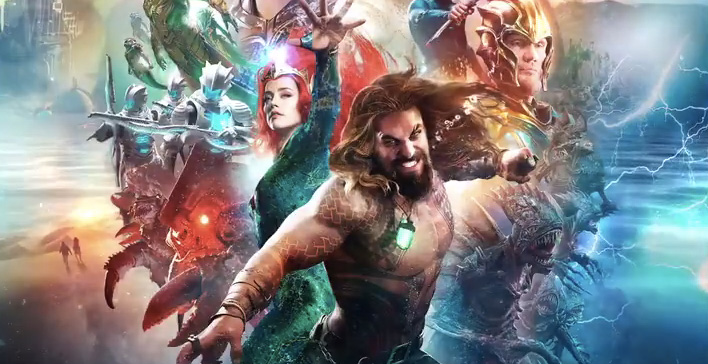 An argument could be made that James Wan has already directed a superhero movie because he helmed 2015's Furious 7, but Aquaman, his first official comic book blockbuster, is set to arrive next month. The social media embargo has officially lifted, so check out what critics – including /Film's Peter Sciretta – are saying about the latest Warner Bros./DC offering below.
Aquaman Reviews
After some iffy trailers and a mixed response out of San Diego Comic-Con, the jury was out about Aquaman. Would Jason Momoa's waterlogged hero be able to lead his own adventure? It turns out the answer is a resounding "yes," because the brief Aquaman reviews that have hit the internet so far are overwhelmingly positive.
Here's the reaction from our own Peter Sciretta:
Third act battle that doesn't devolve into the typical comic book movie blah trap, and is surprisingly ambitious. A lot of the aspects I didn't like can probably be traced back to decisions Snyder made that were inherited by Wan (casting, chemistry between Heard/Mamoa...etc).

— /Film (@slashfilm) November 26, 2018
Peter's reaction is pretty measured, and the only other tweets I saw that even remotely hinted at negativity were this one from Meg Downey...
...and this one from Brandon Davis (who also called the movie "great," so his problems clearly weren't enough to ruin the experience for him):
There were moments where I felt #Aquaman might be running a little long but it has SO much to unpack in building its own isolated world.

Huge, epic, unique, and stylish action-sequences balance the heavy exposition.

Movie isn't out yet but I want more from Wan, Momoa, & co.

— BD (@BrandonDavisBD) November 26, 2018
The rest of the internet seems to have had a wholly terrific time with this one. Here's a fun game: count how many times critics allude to the movie being weird or use a variation on the phrase "an absolute blast." Spoiler alert: it happens a lot!
Aquaman is a big, fun, wild ride. It's unabashedly melodramatic and over the top with the largest, most ambitious sense of scale imaginable. Parts of it are kind of bad but they are not the majority and, oddly, still fit in with the cartoony tone. 2nd best DCU movie. YEEEAAHH! pic.twitter.com/3GLlK3uQJ3

— Germain Lussier (@GermainLussier) November 26, 2018
#Aquaman is the best DC movie since The Dark Knight.@creepypuppet delivers a swashbuckling epic full of big emotion, gorgeous undersea visuals, exciting action, and lots of laughs.

WB should be handing the DCEU reins to James Wan, he's proven he can, ahem, right the ship. pic.twitter.com/4hjxdmNLDf

— Tom Jorgensen (@Tom_Jorgensen) November 26, 2018
Chalk up a big, wet win for DC. @creepypuppet's #Aquaman is an epic, swing-for-the-fences adventure that plunges fans into incredibly creative worlds. Goofy in spots, but it's rollicking fun. See it on the biggest screen possible! pic.twitter.com/ahODJ4mJAI

— Sean O'Connell (@Sean_OConnell) November 26, 2018
#Aquaman is great. James Wan made a really unique super hero origin film, often crossing into fantasy-epic territory, but grounded in family and discovery.

The world is visually incredible. Jason Momoa as Arthur Curry is a total bad-ass. @yahya and @patrickwilson73 stand out! pic.twitter.com/2IvDCEq7VU

— BD (@BrandonDavisBD) November 26, 2018
#Aquaman is ... good! It's certainly greater than the sum of its parts. It's chock full of ridiculous elements but it's all so inherently bonkers that you'd have to be an utter killjoy to not get caught up in it pic.twitter.com/VV5PMGT9er

— Jim Vejvoda (@JimVejvoda) November 26, 2018
#Aquaman is the most ambitious DC movie to date — a big, sprawling visual spectacle that is gorgeous, crazy, stuffed with terrific action, and a lot of fun to watch. James Wan, in my opinion, is the true star – he elevates the material, makes it entertaining and conquers it. pic.twitter.com/gDFjiAWICA

— Erik Davis (@ErikDavis) November 26, 2018
#Aquaman is like an 80s cartoon, with all of the fun and the problems that come with that. A good adventure movie that acknowledges exactly what it is from the start, which is a meal made almost entirely of ham.

— Spencer Perry (@TheSpencerPerry) November 26, 2018
AQUAMAN is bonkers! Ambitious, campy & so much fun. James Wan embraces the source material by creating a one-of-a-kind superhero origin story that stands out in a sea of other superhero films. It is a relentless visual spectacle that knows what it is & doesn't hold back. #AQUAMAN pic.twitter.com/RyS1b3ioiE

— Scott Menzel (@ScottDMenzel) November 26, 2018
Aquaman is a breathtakingly beautiful, weird, badass, FUN idea of a modern superhero fantasy (anime) and makes zero apologies. Second half's one cheer/laugh after another.

Imagine '80s Schwarzenegger starring in "Hideo Kojima's AVATAR" and you're most of the way there. #Aquaman pic.twitter.com/nmZYjcUm5q

— Andrew Dyce (@andrewbdyce) November 26, 2018
#AQUAMAN is an absolute blast! James Wan creates a thrilling story & makes a worthy entry in the DCEU

Full of spectacle & highlighted by creatures of the abyss, Wan creates an engaging adventure. The heart/emotion of the film resonated most, amplified by strong cast performances pic.twitter.com/GVj7tnO51o

— Cinema Debate (@CinemaDebate) November 26, 2018
#Aquaman is an epic fantasy adventure on the high seas! It's packed with thrilling action in a dazzling underwater world like nothing I've ever seen in superhero movies, or anywhere else. I had a total blast watching this movie & so will you. See it on the biggest screen you can! pic.twitter.com/uRWXDTE48K

— Sean Gerber (@MrSeanGerber) November 26, 2018
#Aquaman was an absolute blast, from the charm of Momoa's Arthur Curry, to the spectacular visuals to the fun that it was clear that everyone was having. It was exactly what I was hoping for and I can't wait to see it again! I'll give you more details when I'm allowed! pic.twitter.com/FyeczAJJIJ

— Jenna Busch-Henderson (@JennaBusch) November 26, 2018
#Aquaman is Avatar meets Jupiter Ascending, with hints of The Lord Of The Rings, Indiana Jones and a triple AAA video game. There's also an Octopus who plays the drums. I loved it. 🐙🥁

— Sam Clements (@sam_clements) November 26, 2018
Excited I can now say how much I enjoyed #Aquaman! It's a cool adventure built on some tremendous action sequences and set pieces, with a great hero arc/performance from Jason Momoa as the glue. There's fun world building, and it looks wonderful. A great step for the DCEU. pic.twitter.com/Z5iPdilMIR

— Eric Eisenberg (@eeisenberg) November 26, 2018
Short & sweet reaction to #Aquaman is that I loved it. It's a comic book movie through & through with great action, iconic moments & visual spectacle to spare. Momoa makes the character his own & Wan honors the traditional aspects, but elevates it to the modern era. It's a blast.

— Arctic Ninja (@arcticninjapaul) November 26, 2018
#Aquaman is AWESOME & absolutely delivers! Not only is @prideofgyypsies the King of Atlantis, but also the newly crowned King of the DCEU! 🔱👑 I can't wait to see it again! pic.twitter.com/boVAKdcNIA

— Umberto Gonzalez (@elmayimbe) November 26, 2018
Julie Andrews voices a giant kraken in #Aquaman and if that's not the best endorsement I can give for this movie then don't know what is. pic.twitter.com/33ucO34cV0

— Terri Schwartz (@Terri_Schwartz) November 26, 2018
If "a little long" and "buckwild" are the worst descriptions out there so far, I have a feeling I'm going to like this movie way more than I thought. Things were looking creatively dire for the DCEU in the wake of films like Suicide Squad and Justice League, but it seems like Aquaman is joining Wonder Woman as the rare DC movie that both critics and fans will enjoy.
Here's the movie's official synopsis:
From Warner Bros. Pictures and director James Wan comes an action-packed adventure that spans the vast, visually breathtaking underwater world of the seven seas, "Aquaman," starring Jason Momoa in the title role. The film reveals the origin story of half-human, half-Atlantean Arthur Curry and takes him on the journey of his lifetime—one that will not only force him to face who he really is, but to discover if he is worthy of who he was born to be...a king.
Aquaman is directed by James Wan and stars Jason Momoa, Amber Heard, Willem Dafoe, Temuera Morrison, Dolph Lundgren, Yahya Abdul-Mateen, Patrick Wilson, and Nicole Kidman. It splashes into theaters on December 21, 2018.