'Modern Love': Anne Hathaway, John Slattery, Tina Fey, And More Join 'Sing Street' Director's Anthology Series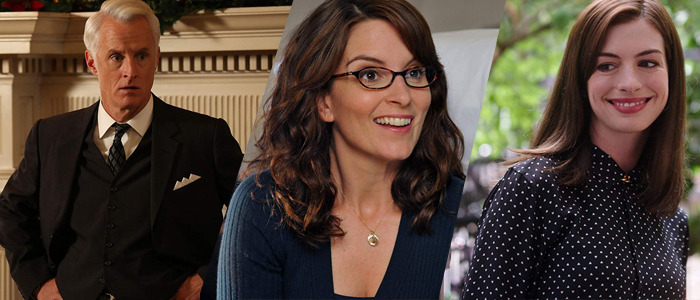 Once and Sing Street director John Carney hasn't directed anything in two years, but he'll soon be back behind the camera with Modern Love, a new anthology series based on the New York Times column and podcast. While most of his crowd-pleasing movies have focused on music thus far, Carney has assembled a new band this time: a "band" of high-profile actors like Anne Hathaway, Tina Fey, John Slattery, and many more to star in this new Amazon series. Check out the full cast list below.Modern Love is based on the weekly New York Times column, which has entry titles like "I Would Have Driven Her Anywhere" and "Destined to Marry the Cute Bartender." The press release says each episode of the eight-episode, half-hour anthology series "will explore love in all of its complicated and beautiful forms" – so it's not only romantic love, but other types as well. For me, that last part is good news: I trust Carney as a storyteller, but a show with such a topical premise runs the risk of feeling instantly out of touch. Opening up the possibilities beyond just stories about dating apps and ghosting gives the show room to become more timeless.
Here's the Modern Love cast: Oscar winner Anne Hathaway (Les Miserables), Emmy winner Tina Fey (30 Rock), Emmy nominee John Slattery (Mad Men), Oscar nominee Dev Patel (Lion), Oscar nominee Catherine Keener (Get Out), Oscar nominee Andy Garcia (Ocean's Eleven), Emmy nominee Brandon Victor Dixon (Power), Tony Award winner John Gallagher, Jr. (The Newsroom), Cristin Milioti (Black Mirror), Olivia Cooke (Ready Player One), Andrew Scott (Sherlock), Julia Garner (Ozark), Shea Whigham (Homecoming), Gary Carr (The Deuce, Downton Abbey), and Sofia Boutella (Kingsman: The Secret Service).
"It's like I woke up in the actor candy store," Carney said in a statement. "We've managed to assemble a dream cast of my favorite actors. It's a testament to the reach of the original column and of how, now more than ever, love is the only certainty." Carney will write, direct, and executive producer the series (serving as the showrunner), but he'll also be joined by a few other directors stepping behind the camera.
Emmy Rossum (Shameless), Sharon Horgan (Catastrophe, Divorce), and Tom Hall (Sensation) will each direct an episode. Horgan will helm the episode led by Tina Fey and John Slattery, which she also wrote, and Hall wrote the episode he'll direct. Meanwhile, Rossum will direct an episode that was written by the late Audrey Wells (Under the Tuscan Sun, The Hate U Give).
There's no word when this will debut on Amazon Prime Video, but filming is currently underway in New York, so I imagine it'll arrive sometime in 2019.