Nicolas Roeg, Legendary Director Of 'Don't Look Now' And 'The Witches', Dead At 90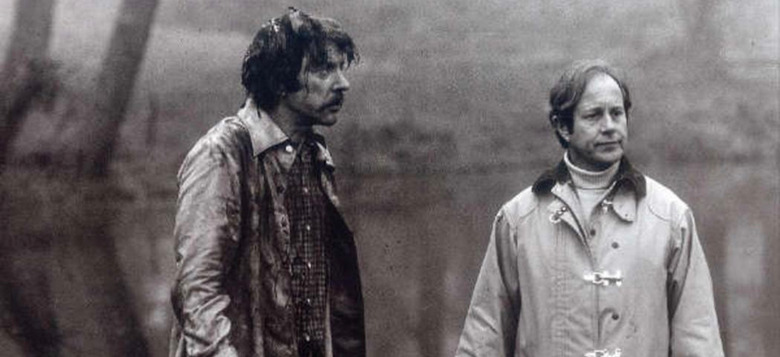 Nicolas Roeg, who directed such memorable films as the psychological horror film Don't Look Now, the gross-out Roald Dahl adaptation The Witches, and the David Bowie flick The Man Who Fell to Earth, died on November 23, 2018 of natural causes. Roeg's eclectic filmography was often bold, and sometimes shocking. In the words of Donald Sutherland, who worked with the director on Don't Look Now, Roeg was a "fearless visionary."
The long, unique life and career of Nicolas Roeg came to an end last week, when the acclaimed director died at the age of 90. Roeg's career in film began in the 1940s, when he broke into the business first as a "tea boy" on film sets – literally bringing tea to the crew – before graduating up to the camera department. By the 1960s, he was working as a second-unit cinematographer on David Lean's epic Lawrence of Arabia. Lean then hired Roeg to shoot Doctor Zhivago, but fired the cinematography over creative differences.
Don't Look Now
Roeg's feature debut was the 1970 crime thriller Performance, starring Rolling Stones frontman Mick Jagger. It would not be the last time Roeg worked with a rock star leading man. After Performance came Walkabout, about two English children abandoned in the Australian Outback. His Walkabout follow-up earned Roeg a certain notoriety. In the thriller Don't Look Now, Donald Sutherland and Julie Christie play a couple grieving the death of their child. The movie is loaded with creepy, foreboding atmosphere. It also featured an incredibly intimate, realistic sex scene between Sutherland and Christie. Roeg's direction, and Sutherland and Christie's performances, managed to convince people that the sex scene was real, and not simulated. "It was pretend sex, (but) it was tough on both Donald and myself," Julie Christie said later. "We did the scene at the beginning of the film and we were dreadfully embarrassed. After the film came out, my stepfather said to me, 'I hope you're not doing any writhing in your next one.'"
Following Don't Look Now, Roeg helmed The Man Who Fell to Earth, starring David Bowie in the role he was perhaps born to play – an alien lost on earth. Filmmaker Duncan Jones, Bowie's son, posted the following image in the wake of Roeg's passing.
Just heard another great storyteller, the inimitable Nicolas Roeg left us today. What an incredible body of work he's left us with!
All my love to his family.
Thank you for making so many brave choices, & giving this strange little lad in pajamas an ongoing love of filmmaking. pic.twitter.com/QVg2znq3Rs

— Duncan Jones (@ManMadeMoon) November 24, 2018
Other Roeg credits include Bad Timing, featuring musician Art Garfunkel; Eureka, starring Gene Hackman as a prospector; the oddity Insignificance, in which actors playing Marilyn Monroe, Joseph McCarthy, Joe DiMaggio, and Albert Einstein all meet in a hotel room; Castaway (no, not the Tom Hanks one); and Track 29. In 1990, Roeg released one of his most famous films – The Witches, an adaptation of the Roald Dahl novel of the same name. Featuring memorable (and often disgusting) special effects from Jim Henson Productions, The Witches underperformed at the box office, but has since gone on to have cult appeal.
The Witches
"Going to the cinema was an adventure," Roeg said, regarding his discovering movies around the age of eight. Years later, after working in movies for decades, his opinion hadn't changed. "You know," he said in 2013, "film remains completely mystical and mysterious to me."