'Antlers' Set Photo Previews A Creepy Fire-Breathing Creature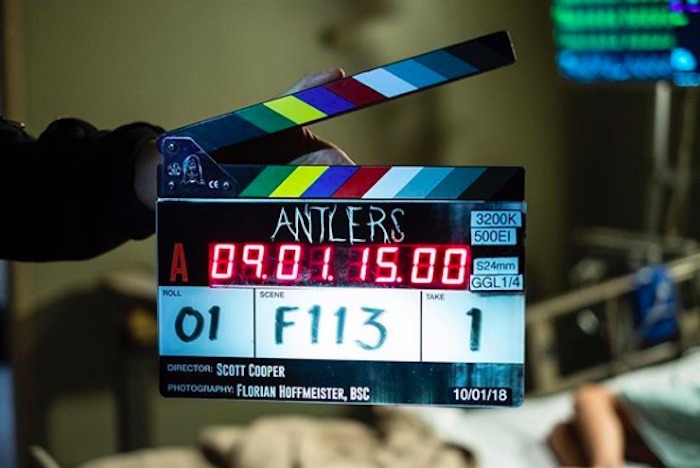 In early October, Fox Searchlight announced the start of shooting for the horror-thriller Antlers, a mysterious project produced by Guillermo del Toro and directed by Scott Cooper (Hostiles). The film stars Keri Russell in her first major horror feature role, as well as Jesse Plemons and young actor Jeremy T. Thomas. The production remains under an intriguing veil of secrecy, except for a handful of images posted on the production's Instagram teasing a haunting, eerie film. And the latest Antlers set photo is the creepiest one yet.
A new image from the set of Antlers previews a potential new creature that will terrorize Russell, Plemons, and Thomas in the horror-thriller. The latest image in a series of on-set teaser images shows the concept art for this fire-breathing creature, which is shown with an emaciated humanoid body and a skull-like head.
What does it mean! I don't know, but it looks not unlike the grotesque fantastical creatures that Guillermo del Toro is known for. Though the Oscar-winning filmmaker is not directing Antlers, I wouldn't be surprised if his visual style seeps through into the film.
The film stars Russell as a small-town Oregon teacher "who takes an interest in a mysterious and withdrawn student. Only too late does she discover that the boy is harboring a deadly secret that is key to their town's survival." Plemons plays Russell's brother, the local sheriff, while Thomas is the mysterious young student.
Graham Greene (Molly's Game), Scott Haze (Venom), Rory Cochrane (Hostiles) and Amy Madigan also star.
The film is based on a short story The Quiet Boy by Nick Antosca, and was adapted into a screenplay by Henry Chaisson (Open 24 Hours) and Antosca (The Forest, "Channel Zero") with revisions by Scott Cooper.
No word yet on a release date for Antlers, which looks more intriguing by the minute. But check out the rest of the cool set photos on the production's Instagram page.