Daily Podcast: The End Of Physical Media, The Best Visual Cinema Experience, Star Wars, Aquaman, Rocky III & Great Gatsby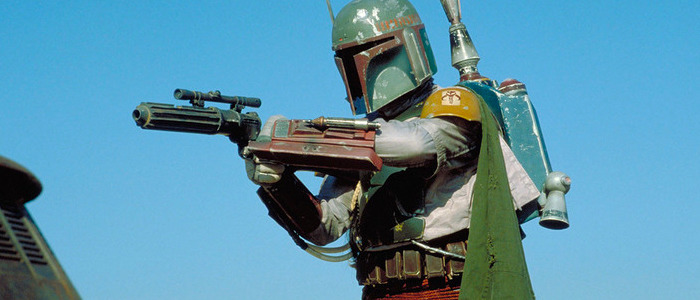 On the November 20, 2018 episode of /Film Daily, /Film editor-in-chief Peter Sciretta is joined by /Film writers Hoai-Tran Bui and Chris Evangelista to talk about the latest film and tv news, including Star Wars, Aquaman, Rocky III and Great Gatsby. And in the Mail Bag we'll talk about your television show recommendations and answer questions about physical media and movie theater presentation.
You can subscribe to /Film Daily on iTunes, Google Play, Overcast, Spotify and all the popular podcast apps (here is the RSS URL if you need it).
Opening Banter: Staff is traveling, hopefully, we'll have a water cooler tomorrow.
In The News:
Chris: Mark Hamill Pitched George Lucas The Idea To Have Boba Fett Revealed As Luke Skywalker's Mother
Chris: The Original 'Rocky III' Idea Involved Rocky Hanging Out with the Pope
HT: 'Gatz': A 'Great Gatsby' Origin Series Featuring a Young, Hot, Mixed-Race Gatsby is Coming to YouTube Premium
In The Mailbag:
Yesterday we were talking about YouTube's ad supported movies. Don H writes in "Did you now VUDU has been doing this for quite some time now?  I'm not sure how long, but I found old marketing e-mails from them going back to March 2017 offering free TV shows with ads. They have over a 1000 movies and TV shows to choose from and they change up the selection monthly."  
Peter asked for TV show recommendations, here are some of the responses:
Jacob Chandler Mississippi: "Hey Peter, I heard you were looking for a new show to watch and you have a list of criteria for what kind of show you want it to be. I'm not sure if this show meets all the criteria but it's definitely worth checking out if you haven't already. I would highly recommend looking at

Amazon Prime's Patriot. It's a dark comedy about a U.S. spy coming to Luxembourg to interfere with the Iranian election. And as generic and uninteresting as that sounds, it is actually one of the better shows in the "sad hitman" genre. It's really quirky with a very complex plot and a whole lot of ridiculousness somehow wrapped up in a decent emotional struggle. Check out at least the first three episodes and if you don't like it by then you probably won't be able to get into it.

But I highly recommend it.  Love the show"
Matt Y: "Long time listener, first time writer as they say. Love the show! Last week you guys discussed super hero one-offs and a couple of other examples of one of style shows like Black Mirror.

I wanted to recommend that you check out an episode or two of Room 104 on HBO. The first season from the Duplas brothers was zainey and unexpected.  Each half hour episode takes place in the same nondescript motel room. The era, visitors, and metaphysical rules are always different. The first season episodes split pretty evenly into a third of the episodes as junk, another third as a "good sit", and a third of truly inspired story telling. I'd recommend you check out episodes 2 (Pizza Boy), 5 (The Internet), and 7 (The Missionaries). Season two is three episodes in and they have all been great! Last night Michael Shannon played a Russian diplomat who sets up a date with a woman he met on the Internet, played by Judy Greer.

You don't get these strange stories anywhere else! Anyways, have a great weekend."
Fred from Chattanooga,TN says "Of course you may have seen all of these but I thought I'd throw a few out there that I really like and these could keep you busy for a little while

 Six Feet Under The Shield The Knick – the show was directed by Stephen Soderbergh and is fantastic. So underrated Banshee – another fantastic show that not a lot of people talk about  Mad Men, The Leftovers, Deadwood.

"
Roger writes in: "you might want to check out one of the greatest sci fi shows of all time!!! babylon 5!!! it's free on amazon prime.  the first season is a tad a slow build, but it's just incredible. You might also want to check out misfits , it's on hulu right now"
Sean from Missouri writes in "Hey Peter, I thought I might suggest the X-Files or Gilmore Girls for shows with a decent amount of seasons that you could watch if you haven't seen those yet. I guess there's also the various Star Trek series which have a lot of seasons if you put them all together. Hope that helps!"
Errol L writes in "Hey Peter! Errol from LA. Looking for some binge worthy completed shows? Well strap in!  
Banshee is my first suggestion. I would argue it's the greatest action television show ever made. The fight scenes throughout this show get progressively more insane and unbelievable in all the best ways. The only thing I'll say is you just need to get over the initial premise, and if you can do that you will have so much fun with this show, and the final season (not only was chosen to end by the creator instead of being cancelled) brings everything home in truly the best way it all can.  
Rectify is another option if you're open to a bit of a slow burn that will literally make you cry every episode, and not for the reasons that Parenthood or This is Us do. The dialogue and the uniqueness of the main character makes this show very much worth the time to invest.  
Man Seeking Woman. Hilarious and unique sketch type show that also is able to tied together a coherent story from season to season and again I feel the way they choose to end the show is just perfect   Those are my top 3, at least of current shows.

Hope you check em out and can't wait to hear you talk about how awesome Lucas Hood and Kai Proctor are!"
Peter Freeman from Gainesville, VA writes in "You mentioned you were looking for a suggestion for a serialized TV show.

Have you tried Person of Interest. This show ran 5 seasons and stars Jim Caviezel and Michael Emerson. Jonathan Nolan was the show runner   The first season initially was procedural with an over arching storyline but by season two it became a full blown serialized show. I believe it's available on Netflix.

"
Amber-T writes in "In terms of shows with lots of seasons that are available and fun to watch... (and you're right, I don't know what you've seen)

 The Good Wife, The West Wing, Doctor Who, 30 Rock, Parks & Recreation, Mad Men, Supernatural, Friday Night Lights.  I also recently watched an indie horror film called Sick For Toys that's super dark and weird, about a brother who kidnaps a guy for his sister for her present every Christmas. Deals with a lot of #metoo stuff without being too on the nose. Flew really under the radar, but worth checking out.

"  
Key Chung writes in: "just heard the latest /film daily pod.

You should mos def check out The Expanse! It starts off very good and gets better as it goes along. Last season was best season of sci-fi currently on TV imho.

"
Mike T writes in "Hey—if you're looking for a show to binge,

I would suggest Peep Show.  It's a British comedy, 9 seasons (each better than the last), and it's serialized.  Very dark, and one of the few comedies that warrants repeat viewings. It's on Hulu and Amazon Prime.

"
MovieGeekBlog tweeted "Peter, if you are looking for serialised stories #theAmericans or #TheGoodWife are some of the best. Also, have you seen #MurderOne?"
David Chen tweeted: "just heard the most recent Slash Daily. If you have Hulu, I think you should check these out. It truly was groundbreaking and probably still holds up."

Classic ER Episodes
Michael O. from Nashville TN writes in to ask: "This is more a question about physical media and less about film. But how many more years do you give to retail stores like GameStop? When will that suffer the same fate as Blockbuster?"
Hashim (pronounced like wash-em) writes in "Hello gang,  Enjoying your podcast which I recently discovered. You asked for film related questions on a recent podcast.  

I'm wondering what the best movie going experiences you can recommend when it comes to visually enjoying a film.   Super large screens really don't matter much to me, I feel like I can always sit closer if I want everything projected large. It's mainly about contrast, color, clarity and deep blacks and overall brightness.  Are the premium offerings from standard digital projection really worth it when it comes to the visuals? If so, which theater chains stand out?

 We currently do not have a true Imax screen in the entire state of Michigan.It's all about MJR, Cinemark and AMC in the Detroit area.  

Essentially, can you rank based on visuals and not necessarily on sound, food, seats, etc?"
All the other stuff you need to know:
You can find more about all the stories we mentioned on today's show at slashfilm.com, and linked inside the show notes.
/Film Daily is published every weekday, bringing you the most exciting news from the world of movies and television as well as deeper dives into the great features from slashfilm.com.
Send your feedback, questions, comments and concerns to us at

peter@slashfilm.com

. Please leave your name and general geographic location in case we mention the e-mail on the air.
Please rate and review the podcast on iTunes, tell your friends and spread the word!
Thanks to Sam Hume for our logo.