New 'Watchmen' Photos Show Off More Of The Police Department's Unusual Uniforms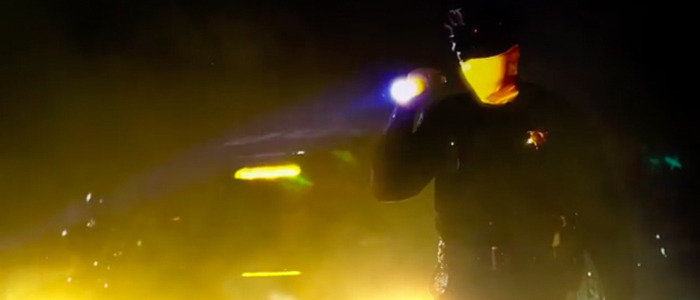 We're intensely curious about what Damon Lindelof is cooking up over at HBO with his new Watchmen TV series, but in true mystery box fashion, the creator/showrunner is keeping us largely in the dark about the specifics of what he's doing. Instead, the Watchmen Instagram account has revealed two new looks at some of the show's characters, giving us a better view of the masked police officer characters seen in last month's first look photo. Take a look below.
New Watchmen Photos
These photos (or weird Ken Burns-style videos) don't reveal much, but if you look closely, you can see the words "Tulsa Police" on the arm patches of the officers in the corridor and the same words painted onto the side of the squad car. So the new Watchmen takes place in...Oklahoma? Wasn't expecting that.
Masked heroes have been outlawed in this universe, but it seems as if the Tulsa police department may be trying to co-opt the imagery of vigilante crime fighters by wearing their own masks. It's an extension of the idea of superheroes as fascists, something writer Alan Moore and artist Dave Gibbons explored in their iconic 1980s graphic novel.
But this version of Watchmen won't be another retelling of that story. Instead, it's a continuation that's set in the same world of the comic, but picking up decades later. We'll see a whole bunch of new characters, but some familiar faces, too – we broke the news that Jeremy Irons is playing an older version of Ozymandias.
"We have no desire to 'adapt' the twelve issues Mr. Moore and Mr. Gibbons created thirty years ago," Lindelof said in a lengthy Instagram post. "Those issues are sacred ground and will not be retread nor recreated nor reproduced nor rebooted. They will however be remixed....This story will be set in the world its creators painstakingly built...but in the tradition of the work that inspired it, this new story must be original. It has to vibrate with the seismic unpredictability of its own tectonic plates. It must ask new questions and explore the world through a fresh lens. Most importantly, it must be contemporary."
Watchmen will arrive on HBO sometime in 2019. (I'm guessing it'll be after Game of Thrones wraps up, which will theoretically be in early June.)