Most Of 'Aquaman' Will Be Presented In Full Screen IMAX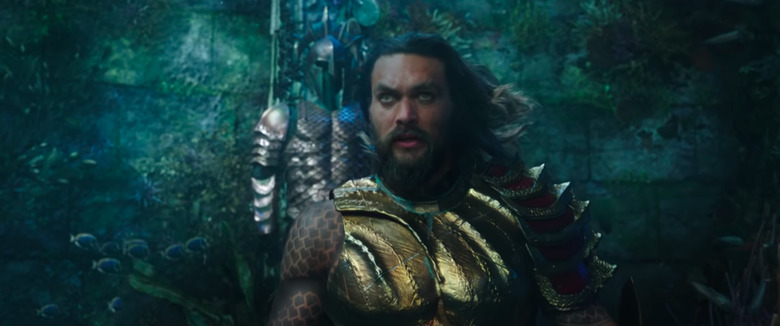 Aquaman director James Wan confirmed that almost 90% of the comic book movie is in full IMAX aspect ratio. The visually eye-popping technology has been used more frequently in blockbusters since Christopher Nolan helped spearhead the use of IMAX technology in big action sequences in 2008's The Dark Knight. Usually IMAX is used for a few key action sequences, but it seems that the Aquaman IMAX scenes will take up the majority of the movie.
A fan took to Twitter to ask Wan if there any scenes in Aquaman that were filmed in the full IMAX aspect ratio — meaning the frame expands to the full screen in crisp, high rseolution without those pesky black bars. Wan responded, "Roughly 90%. Nearly the whole movie. Seriously."
So in addition to seeing Aquaman a week early, it will probably be worth seeing the solo superhero movie starring Jason Momoa in IMAX. However, it remains unknown whether that IMAX aspect ratio will be maintained in the DC film's home video release.
The use of IMAX technology in blockbuster films is becoming more frequent since Nolan radically shot 30 minutes of The Dark Knight with IMAX cameras. The feat seemed daunting as first, as the few IMAX cameras that existed in the world were incredibly heavy to lug around. But since then, Zack Snyder has partially shot Batman v. Superman: Dawn of Justice and Justice League in IMAX-friendly aspect ratio, while this year's blockbuster behemoth Avengers: Infinity War also used the supersized screen ratio. Some select sequences in Patty Jenkins upcoming Wonder Woman 1984 will reportedly be shot using the large-format cameras.
Here is the official synopsis for Aquaman:
From Warner Bros. Pictures and director James Wan comes an action-packed adventure that spans the vast, visually breathtaking underwater world of the seven seas, "Aquaman," starring Jason Momoa in the title role. The film reveals the origin story of half-human, half-Atlantean Arthur Curry and takes him on the journey of his lifetime—one that will not only force him to face who he really is, but to discover if he is worthy of who he was born to be...a king.
Aquaman, starring Jason Momoa, Amber Heard, Willem Dafoe, Patrick Wilson, Dolph Lundgren, Yahya Abdul-Mateen II, and Nicole Kidman, will swim into theaters on December 21, 2018.