'Wayne' Trailer: Deadpool Writers' YouTube Originals Show Is A Gritty Action-Comedy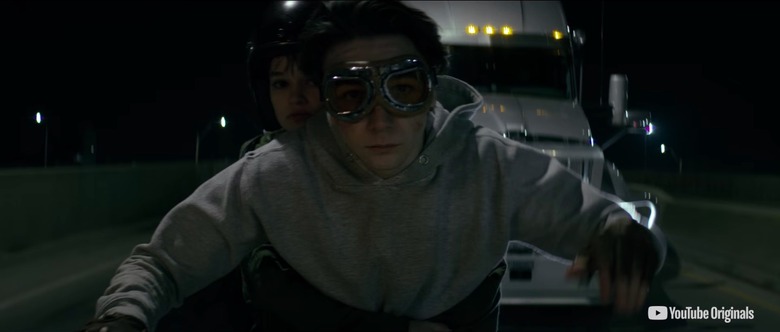 Disgruntled teens on the run from oppressive adults, expressing their nihilistic worldview through wry wit and brutal violence, seems to be a popular template these days for a TV show. It worked for Netflix's critically acclaimed The End of the F***ing World, and now the new YouTube Premium series Wayne looks to capture that lightning in a bottle again.
Produced by Deadpool writers Rhett Reese and Paul Wernic, Wayne follows a teen malcontent (Sing Street's Mark McKenna) who sets off on the road with his new crush (Ciara Bravo) to take back the vintage car stolen from his dad before he died. See the first Wayne trailer below.
Wayne Trailer
Wayne follows the titular 16-year-old Wayne (McKenna), a stoic-faced teen with a strong sense of righteousness and a short, violent temper, who embarks on a road trip on a dirt bike with his new crush Del (Bravo) riding with him to find the 1978 Pontiac Trans Am that was stolen from his father. Both are precocious and both a little hyper-violent, with the trailer introducing us to Wayne as he beats a convenience store thief with a metal bat. Think End of the F***ing World meets Kick-Ass, meets the kind of gritty action-comedy series that you'd expect from the writers of Deadpool.
Rhett Reese and Paul Wernick display their penchant for chaotic violence and vigilantism in the 10-episode series written and created by Shawn Simmons. The Deadpool screenwriters executive produce the YouTube Original series alongside Greg Coolidge (Ride Along) and Kirk Ward. Iain B. MacDonald (Shameless) directed the pilot.
I'll have to admit that I'm intrigued by this series, mostly by the presence of McKenna, who was one of many scene-stealers in the spectacular John Carney indie Sing Street. He's got an earthy grit to him that he lends to the titular character, and he could very well carry this YouTube series to success — following in the footsteps of surprise hit Cobra Kai and the well-received Jumper spin-off Impulse. Plus, I'm always rooting for all the kids from Sing Street to do well, because they deserve the best after that film was so rudely snubbed at awards season (yes, I'm still bitter).
Here's the official synopsis for Wayne:
From the writers of "Deadpool" and "Zombieland" comes the gritty and sometimes bloody tale of WAYNE. Sixteen year-old Wayne sets out on a dirt bike with his new crush Del to take back the 1978 Pontiac Trans Am that was stolen from his father before he died. It is Wayne and Del against the world. WAYNE will star Mark McKenna ("Sing Street," "Kat and Alfie: Redwater") as "Wayne" and Ciara Bravo ("Big Time Rush," "Red Band Society") as "Del." Joshua J. Williams ("Mudbound") will also recur as "Orlando."
Wayne will debut on YouTube Premium on January 16, 2019.