YouTube Offering 'The Terminator', 'Rocky' And Dozens More Movies For Free (With Ads)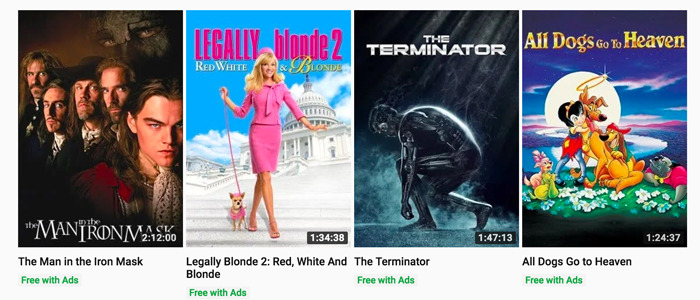 Maybe you're familiar with this scenario: you really want to see a certain movie, but it's not streaming anywhere online. You just paid rent, so you can't afford to buy it right now. Maybe, in a moment of desperation, you turn to YouTube to see if a version has been uploaded there. It's not your best moment, but damn it, you really want to watch that movie.
Now YouTube is offering you an alternative to watching a garbage copy of the movie that only takes up half of the screen because it was uploaded illegally. The world's largest streaming video platform is now offering legitimate versions of nearly 100 films to audiences for free – movies like The Terminator, Legally Blonde, the first five Rocky films, and Hackers.
AdAge (via The Verge) reports that YouTube quietly rolled out these streaming titles for free last month, and the only catch is that viewers have to watch ads that pop up during the movie. This is a new tactic for YouTube, which has long offered films and TV shows for purchase but never experimented with an ad-supported free model. Rohit Dhawan, YouTube's director of product management, wouldn't reveal the deal he's struck with studios like MGM to offer their movies for free to audiences, but he said the limited selection will be expanding in the future and that advertisers may eventually be able to pay to sponsor a particular movie.
YouTube is seeing competition from places like Tubi, Hulu, Roku, and Amazon, all of which are either currently implementing or developing ad-supported video on demand content, so this seems like a nice way for them to create a way to keep potential audiences engaged on their platform instead of having them go elsewhere.
Right now, there are 99 movies available to stream in the "free to watch" section of YouTube's Movies & Shows section. There are plenty of bad movies to be found, but here are some of the best titles they have to offer at the moment:
Rocky, Rocky II, Rocky III, Rocky IV, Rocky V
The Terminator
Legally Blonde 1 & 2
All Dogs Go to Heaven
Grand Piano (an under-seen thriller written by Damien Chazelle)
Saved!
Dirty Rotten Scoundrels
Monsters (Rogue One director Gareth Edwards' low-budget theatrical feature debut)
Jiro Dreams of Sushi
Four Weddings and Funeral
Europa Report
There's also a documentary called With Great Power...The Stan Lee Story that's presumably available because of the comic book legend's recent death. And I'd highly recommend rewatching Rocky IV if you have an interest in seeing Creed II, because the sequel makes some direct references to it that are better appreciated if Rocky IV is fresh in your mind.