Paramount Ranch, Which Burned In California Fire, Aims To Be Completely Rebuilt In Two Years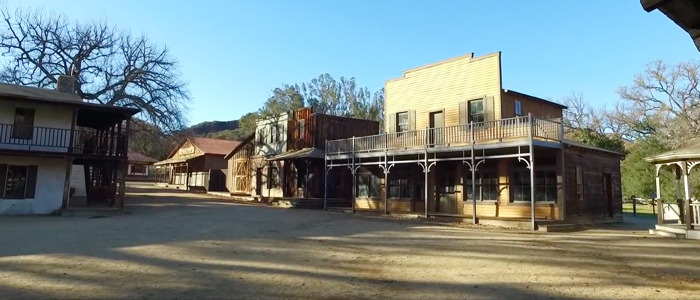 A large portion of Paramount Ranch, the filming location for hundreds of films and television shows over the years (including HBO's Westworld), burned to the ground in one of the devastating fires that have swept through California this month. And while the future is unfortunately still depressingly dire for many residents of the state, at least there's a sliver of good news: officials have announced a plan to rebuild Paramount Ranch's old western town in the next two years.
California has been going through a rough time lately. 80 people have been killed so far and nearly 1,000 are still missing thanks to the two major fires that independently appeared in early November, the Camp Fire and the Woolsey Fire. The latter spread across Southern California's Santa Monica Mountains and consumed much of the Paramount Ranch's western town set – although the train station area and the white church seen prominently in Westworld went untouched.
But it sounds like the rest of the filming area, which was built in 1927 and served as a home for TV and film productions like American Sniper, The Lake House, The Great Outdoors, Gunsmoke, Dr. Quinn Medicine Woman, and Gunfight at the O.K. Corral, should be back to normal relatively soon. Curbed attended a press conference at the site on Friday in which State Assemblymember Richard Bloom said, "Let's today begin to make that commitment to restore this place. It is so important to the history, not just right here of this spot and the Paramount Ranch, but really, to the industry that it's so much a part of."
David Szymanski, superintendent of Santa Monica Mountains National Recreation Area, explained that the non-profit Santa Monica Mountains Fund hopes to have the film set completely rebuilt within two years. On a recent episode of /Film Daily, we talked about how it would be nice if HBO could assist with the rebuilding process, and it seems like similar plans are actually in place – Szymanski says the reconstruction will happen with backing from Hollywood studios.
The reconstruction will have to abide by new building guidelines, and the non-profit says they'd "like to make whatever renovations or changes would be possible to make it more useful to the local film community." Until then, a temporary set is being built so filming can continue unabated.
This is cool and everything, but the fact that a film set is being rebuilt pales in comparison to the devastation that these fires have wrought for thousands of people across this state. Northern California's Camp Fire isn't even halfway done burning yet. If you're feeling generous during this holiday season, here's how to help the victims of the fires.