Epic Final 'Aquaman' Trailer Wants You To Go Deeper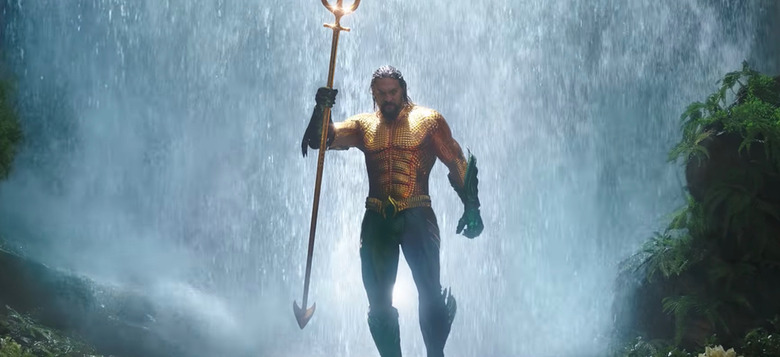 The final Aquaman trailer is here, and it's suitably epic. Moving at lightning speed, this trailer gives us the most in-depth look at James Wan's superhero film yet, filling in backstory, giving us more Willem Dafoe than any previous trailer, and letting Nicole Kidman kick some ass. Will this be enough to seal the deal and net audiences? Watch the final Aquaman trailer below and decide for yourself.
Aquaman Trailer
I've been underwhelmed with the Aquaman footage released so far. But this? I like this. The exciting, propulsive music coupled with the fast-paced footage works, and it's clear that no matter how this movie turns out, director James Wan is going for broke. The filmmaker isn't pulling his punches – he's creating a big, bright, possibly weird action movie full of world building. There's a distinct Wonder Woman vibe here, particularly in the moments we see a young Aqauman learning the ropes. This makes sense: Wonder Woman is the most well-received film in the DCEU, so following in its footsteps certainly couldn't hurt.
Aquaman "reveals the origin story of half-human, half-Atlantean Arthur Curry and takes him on the journey of his lifetime—one that will not only force him to face who he really is, but to discover if he is worthy of who he was born to be...a king." Jason Momoa plays the eponymous hero, leading a cast that includes "Amber Heard as Mera, a fierce warrior and Aquaman's ally throughout his journey; Willem Dafoe as Vulko, council to the Atlantean throne; Patrick Wilson as Orm/Ocean Master, the present King of Atlantis; Dolph Lundgren as Nereus, King of the Atlantean tribe Xebel; Yahya Abdul-Mateen II as the vengeful Black Manta; and Nicole Kidman as Arthur's mom, Atlanna; as well as Ludi Lin as Captain Murk, Atlantean Commando; and Temuera Morrison as Arthur's dad, Tom Curry."
I like Wan's films, so I'm willing to give Aquaman a shot. I mean, it can't be any worse than Justice League, right? Plus, it's hard to resist a movie where Nicole Kidman whips around at lightning speed, kicking the shit out of bad guys. Plus, I love the colorful world building on display here. Some of the underwater fights looks a bit strange, but the visuals are impressive.
Earlier today, word came that Amazon Prime members will have a chance to catch Aqauman one week early. If you don't have Prime, you can buy regular tickets for the film now as well.
Aquaman opens December 21, 2018.