'Ralph Breaks The Internet' Clip: See The Full Disney Princesses Scene In All Its Glory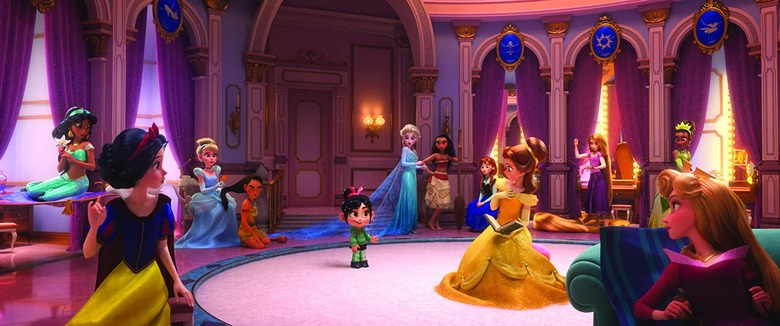 Ralph Breaks the Internet is one of Disney's most hotly anticipated animated projects this year, riding high off the acclaim and success of the nostalgic 2012 film. But as highly anticipated as Ralph Breaks the Internet is, nothing from the Wreck-It Ralph sequel has made more buzz than the Disney Princess scene.
The scene has been talked about since it debuted at last year's D23 Expo, and has been the source of most of the hype (and some of the controversy) around the film. The marketing has smartly included a little of that scene in nearly every trailer, but until now, we've only seen snippets. Now, just a few days before Ralph Breaks the Internet hits theaters, it's going to do a little internet-breaking of its own with the release of the full Disney Princess Ralph Breaks Internet clip.
Ralph Breaks the Internet Clip: Disney Princesses
Vanellope von Schweetz runs into Cinderella, Snow White, Moana, Ariel and more in this EXCLUSIVE clip from @Disney's #RalphBreaksTheInternet: https://t.co/AbQrjBSGUD pic.twitter.com/8bK5TAJnkL

— USA TODAY Life (@usatodaylife) November 19, 2018
It's fascinating to think that the Disney Princess scene almost didn't come to be, since it seems like the most obvious piece of fan-service in a movie that is essentially Disney fan-service. But we have it now, and once Ralph Breaks the Internet opens in theaters at the end of this week, we'll have the new and improved version following Disney's tweaks in response to the whitewashing controversy.
The full clip debuted at USA Today, which goes into the crazy dynamics taking place in this short and delightful scene. The sequence follows Vanellope (Sarah Silverman) as she stumbles into a lounge filled with Disney royalty, including everyone from Moana to Mulan. But her arrival in the Disney Princess lounge causes a ripple effect as they immediately accept her as one of their own (after wielding a broken glass slipper or two) and she encourages them to let their hair down a little. We don't get to see all of them change into Vanellope-inspired casual wear, but they've gotta save something for the movie.
Silverman told USA Today that she was proud to show Vanellope as a new kind of Disney princess, the kind with "an attainable waist in comfortable clothes."
"No matter how great and iconic all the princesses were and are, you see how Disney has kind of grown and changed and become more inclusive and reflects more our world," Silverman said. "It's why they're not a relic or dated, because they're always evolving."
Ralph Breaks the Internet hits theaters on November 21, 2018.
Video game bad guy Ralph and fellow misfit Vanellope von Schweetz must risk it all by traveling to the World Wide Web in search of a replacement part to save Vanellope's video game, "Sugar Rush." In way over their heads, Ralph and Vanellope rely on the citizens of the internet — the netizens — to 

help navigate their way, including an entrepreneur named Yesss, who is the head algorithm and the heart and soul of trend-making site BuzzzTube.