Ben Wheatley Dreams Of Manderley, Will Adapt 'Rebecca' For Netflix With Armie Hammer And Lily James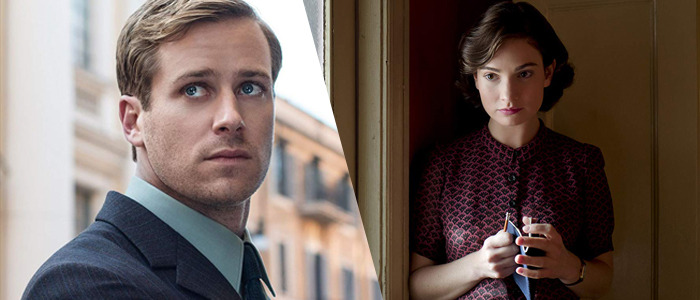 "Last night I dreamt I went to Manderley again." That's the iconic opening line of Daphne du Maurier's 1938 novel Rebecca, a gothic thriller which largely takes place in an English estate called Manderley. The book has been adapted several times over the years (Orson Welles once starred in a radio version), but its most famous adaptation is the 1940 movie that stands as the only film Alfred Hitchcock directed which won Best Picture at the Oscars.
Hollywood has been trying to get another version made for years, and now director Ben Wheatley (High-Rise, Free Fire) is the latest to take on the challenge. Learn more about the Rebecca Netflix adaptation below.
The Hollywood Reporter brings word about the new riff on du Maurier's classic novel from writer Jane Goldman, who's also tackling the new Game of Thrones prequel series for HBO. Rebecca "tells the story of a young woman who, on arriving at her husband's imposing family estate on a bleak English coast, finds herself battling the shadow of his dead first wife, the mysterious Rebecca, whose legacy continues to haunt the house."Lily James (Mamma Mia! Here We Go Again, Baby Driver) is set to star as the unnamed young woman at the center of the tale, and Armie Hammer will star as Maxim de Winter, the suave husband who sweeps her off her feet and takes her to Manderley, where the new wife can't seem to step out from Rebecca's looming legacy. Hitchcock's version of Maxim de Winter was played by Laurence Olivier, so Hammer has some big shoes to fill, but he seems like a solid choice. Lily James is stepping into a role originally portrayed by Joan Fontaine; the Baby Driver actress can play naiveté and wide-eyed wonder with the best of 'em, so she's an excellent choice for this part.
Wheatley isn't the first person I'd have chosen to direct this story, and he wasn't Hollywood's first choice, either. Eastern Promises scribe Steven Knight wrote an adaptation for DreamWorks back in 2012, and a year later, A Royal Affair director Nikolaj Arcel was hired to direct it, but that version never materialized. Still, Wheatley's previous films have proven that he's a master at creating atmosphere and sustaining mood, whether it's the utter dread that permeates 2011's Kill List, the psychedelic madness of A Field in England, or the dark comedy of Free Fire (which marked his first time working with Armie Hammer).
That atmospheric mastery will be an asset for this story – especially in the creation of Manderley, which du Maurier's editor once said "is as much an atmosphere as a tangible erection of stones and mortar." It'll be interesting to see how literal an adaptation Wheatley and Goldman have in mind here, and whether they'll try to modernize the narrative or keep it as a period piece.
The big remaining question is who will play Mrs. Danvers, Manderley's housekeeper who psychologically tortures Maxim's new wife? Judith Anderson played that role in the Hitchcock film, and all three of the actors in that movie earned Oscar nominations for their performances. Could it be another Ben Wheatley collaborator – maybe Sightseers star Alice Lowe, or even High-Rise's Sienna Miller? We'll keep you posted when we hear more. In the meantime, here's the trailer for Hitchcock's Rebecca: