Amazon Will Stream Eight Exclusive Blumhouse Features From Diverse Directors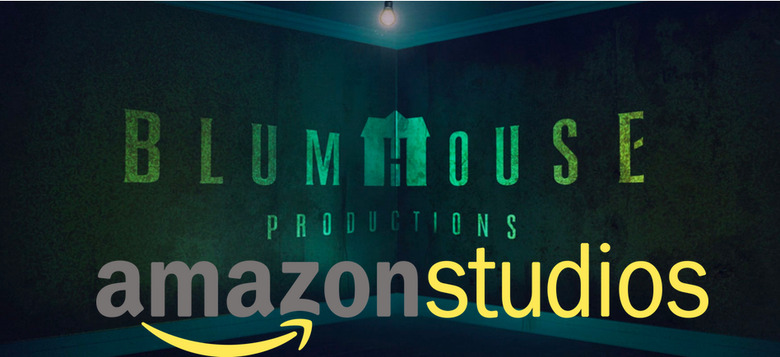 Amazon has just closed a deal with the frightmasters at Blumhouse to create eight films exclusively for Amazon Prime Video. Each of the entries will be from diverse filmmakers, and marks Amazon's first foray into feature-length properties created strictly for their streaming service. Details are what the individual features will be are slim, but since Blumhouse is involved, you can bet jump-scares will feature in somewhere. More on the Amazon Blumhouse movies below.
This could be very cool, although I immediately have a bone to pick. The official press release for this news describes the eight feature-length productions as "elevated thriller[s]/darkly-themed", which is just a fancy-pants way of saying horror. Just say horror! Horror isn't a dirty word! Especially here in 2018, where horror movies (particularly ones from Blumhouse) continue to clean up at the box office.
But I digress. Regarding the news, Jennifer Salke, Head of Amazon Studios, said:
"Jason Blum has built an empire based on fear, shock and all things spinetingling. He has redefined the horror genre for fans who are hungry for high concept scares. Whether it's found footage, a socially conscious terror comedy or a pure sinister adrenaline ride, he reinvented and infused the genre with cultural relevancy. We can't wait to see the nightmares he brings direct to service for our Prime Video global audience."
Blumhouse big cheese Jason Blum added:
"We are delighted Amazon is entrusting Blumhouse to deliver its signature thrills and chills to its global audience through this deal. This is a great opportunity for Blumhouse Television to empower underrepresented filmmakers offering a fresh take on the dark genres loved by fans the world over," said Blum, founder of the indie television studio. 
This is a big step for Amazon. While Netflix has been producing features strictly for streaming for years now, Amazon's movies have been headed to theaters first. That was the main difference between the two – Amazon offered a theatrical experience, while Netflix was content being streaming-only. But Amazon has had a rough year at the box office. – their features Beautiful Boy and Suspiria are both underperforming. Perhaps this development lead Amazon to consider the direct-to-streaming option for a change.
Blumhouse has a similar deal going on with Hulu with the original series Into the Dark, with each feature length episode revolving around a different holiday. We'll hopefully learn more about these feature length productions for Amazon soon. As of now, we just know that the subject matter is going to be dark, and that Amazon Studios and Blumhouse Television are "committed to attaching diverse and underrepresented filmmakers to direct and bring these titles to life." Hiring diverse filmmakers to helm these titles is a great idea, and will hopefully help make each project unique.