'Gotham' Season 5 Trailer: Batman Is Finally Coming To The Fox Series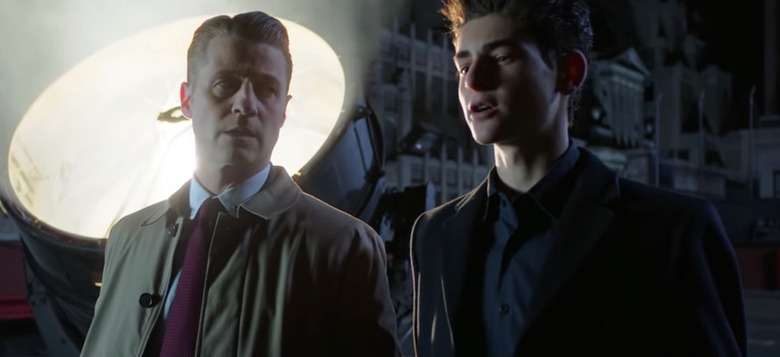 Batman will apparently finally show up in Gotham season 5, but first we'll have to put up with CGI explosions, the Joker who doesn't go by the name Joker, and of course, the goofy new Bane. You don't get to see the Gotham version of Batman in the latest trailer for the final season, and I have a feeling Bruce Wayne wont don his famous costume until the last possible moment. For now, though, you can get hyped by watching the Gotham season 5 trailer below.
Gotham Season 5 Trailer
I don't watch Gotham, so I have nothing to offer you in terms of quality of the show. I can tell you that, based on this trailer at least, the series has become the equivalent of someone using Final Cut Pro in a Spirit Halloween store. The final season is going all-out, continuing a story inspired by the comic series "No Man's Land", in which Gotham has been cut off from the rest of the world (this was also the partial inspiration for The Dark Knight Rises).
This season will also introduce Bane, as played by Shane West. Much has already been made of this Bane's costume, from his clear oxygen mask to his baggy pants. Perhaps he'll look better in action! The big draw this season, though, is Batman himself. Up until now, young Bruce Wayne has not worn his famous Batman suit. But word has it that he'll finally slip on his cape and cowl before all is said and done. This is pure speculation, but I have a feeling we won't see this until the very last episode. But I could be wrong! Maybe Bruce will be running around as Batman for a good chunk of this final season.
Gotham season 5 premieres January 3, 2019 on Fox.
GOTHAM will witness the emergence of the criminal landscape for which Gotham City is best known, with JIM GORDON (Ben McKenzie) and HARVEY BULLOCK (Donal Logue) at the forefront of the fight against the most depraved and unhinged villains. While Gotham City fights for normalcy, a new hero will rise, as BRUCE WAYNE (David Mazouz) begins to assume responsibility for the city's well-being. As the city sinks deeper into chaos, GOTHAM will continue to follow the evolving stories of the city's most malevolent villains: THE PENGUIN (Robin Lord Taylor); EDWARD NYGMA/the future RIDDLER (Cory Michael Smith); SELINA KYLE/the future CATWOMAN (Camren Bicondova); BARBARA KEAN (Erin Richards), TABITHA GALAVAN/TIGRESS (Jessica Lucas) and BUTCH GILZEAN (Drew Powell). The series also will catch up with the future POISON IVY (Maggie Geha), who, after an encounter with a monster from Indian Hill, finds herself reborn as a young woman who's harnessed the full power of her charms.