'Wallace And Gromit' Animation Studio Now Belongs To Its Employees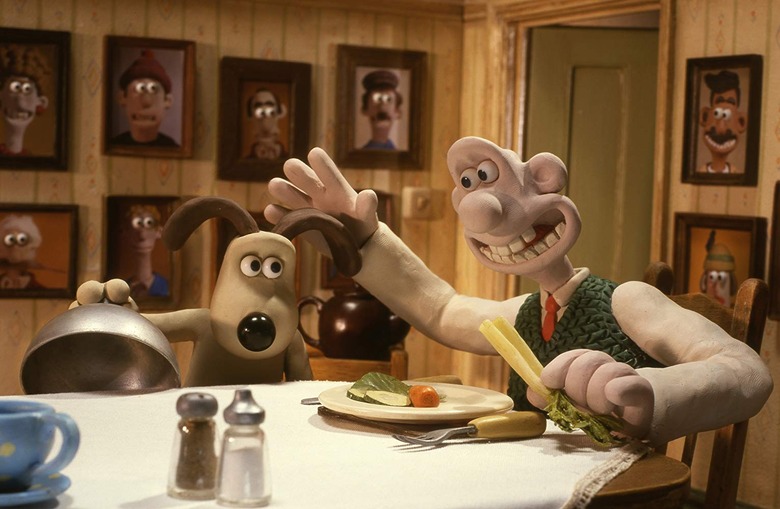 In 2018, huge media corporations are like those rolling cities in Mortal Engines: they're always on the hunt for a smaller company to consume. But Aardman Animations, the stop-motion animation company responsible for projects like Wallace and Gromit and Chicken Run, isn't interested in being eaten up by a behemoth like Disney, Comcast, or WarnerMedia. In a preemptive move to make sure they don't become the next 20th Century Fox, the founders of the company have given a 75% stake in Aardman to the people who deserve it most: its own employees.
Aardman Animations co-founders Peter Lord and David Sproxton explained to The Guardian (via The Mary Sue) that the decision to hand over 75% of the company to its workers came about largely to protect the company's independence.
"In an age of uncertainty there is a sense of security as [our staff] know their job is safe as long as they come up with ideas," Sproxton said. "If we sold Aardman [to a big studio] it would just become an asset on the balance sheet to be traded. They could say, let's turn it all over to CGI and shoot it in Singapore."
Aardman Animation is the biggest animation production company in the United Kingdom, and they're responsible for movies like Chicken Run, Wallace and Gromit: Curse of the Were-Rabbit, Shaun the Sheep Movie, Arthur Christmas, and this year's Early Man. They currently have sequels to Shaun the Sheep and Chicken Run in the works. Here's how the new deal will shake out:
Employees will own their majority stake in the business via a trust, similar to the way the John Lewis Partnership is organised.
The 140 employees, and freelancers, of which there are currently 180 working for Aardman, will also continue to receive a share of profits. Anyone who has worked for the company for at least three months of any financial year is entitled to a bonus.
The co-founders are both set to receive a multi-million pound payoff in this deal, but Aardman's staff will be a part of a workers council that gives them input into the direction of the company, and senior leadership will sit on a new board of directors, which will include Nick Park, the creator of Wallace and Gromit and longtime director at Aardman.
Lord and Sproxton founded the company in 1972 and will eventually be ramping back their involvement – though they're not stepping away just yet. "Our desire is to produce British animated films," Lord said. "The world audience have got American films coming out of their ears. We believe in a different voice, a different culture with different references and sense of humour, aimed at a global market but British."