'Mortal Engines' Featurette Promises Something You've Never Seen Before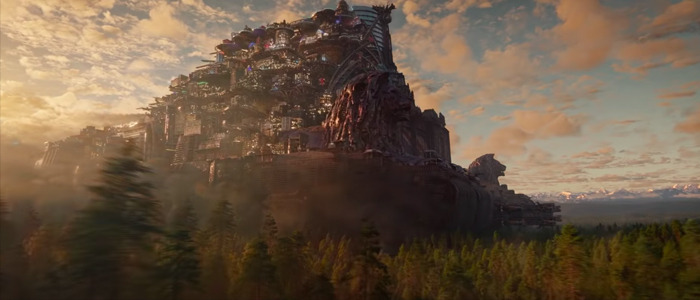 "How often do we go to the movies today and see things that we've genuinely never seen before?"
Producer and co-writer Peter Jackson wants to give audiences a fresh new spectacle with Mortal Engines, Universal's film adaptation of Philip Reeve's popular young adult novel. And Jackson is actually delivering on that promise, showing us a post-apocalyptic world in which cities roam across a barren wasteland and eat other cities.
These rolling monstrosities – and who's running them, how they're organized, and just how the heck they physically consume smaller cities – are the subject of a brand new featurette, which you can check out below.
Mortal Engines Featurette
Here's a legitimate question: is anyone here actually looking forward to this movie? I'm not trying to be snarky. I'm genuinely curious. Personally, I'm kind of into this movie's aesthetic from first-time director Christian Rivers – an acolyte of Jackson's who has worked on several of his movies in the past. This whole film looks like something out of a Wachowski fever dream: the unique premise, huge scope, the crazy lighting, all the way down to Hugo Weaving as a sneering villain.
But even though these filmmakers are making good on their promise to deliver a concept we've never seen in a movie before, will general audiences show up for it? Yes, the specifics of this tale are new and compelling (did I mention the cities EAT OTHER CITIES?), but are crowds growing weary of the familiar tropes of young adult movies? It seems like for every Harry Potter or Hunger Games, there's a Divergent or I Am Number Four. I'm rooting for this one, but I wouldn't be surprised if it turns into a box office bomb for Universal.
/Film's Jacob Hall visited the film's set in New Zealand last year, where he learned tons of details about the production and spoke to the key players involved. Here's the official synopsis:
Hundreds of years after civilization was destroyed by a cataclysmic event, a mysterious young woman, Hester Shaw (Hera Hilmar), emerges as the only one who can stop London — now a giant, predator city on wheels — from devouring everything in its path. Feral, and fiercely driven by the memory of her mother, Hester joins forces with Tom Natsworthy (Robert Sheehan), an outcast from London, along with Anna Fang (Jihae), a dangerous outlaw with a bounty on her head.
Mortal Engines opens in theaters on December 14, 2018.