Contest: Win 'Mile 22' On Blu-Ray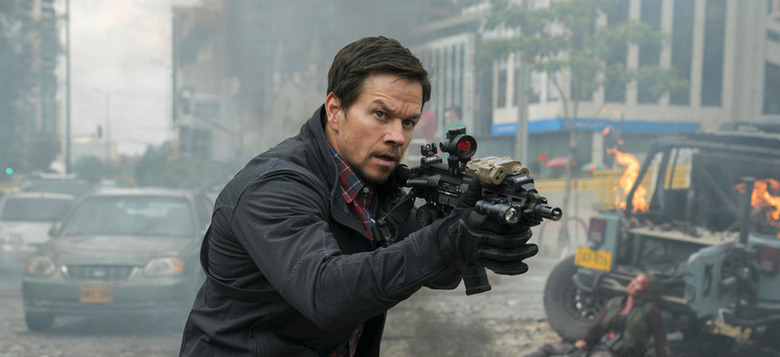 Mile 22, the latest Mark Wahlberg/Peter Berg action extravaganza, is hitting Blu-ray this week. And if you like free stuff (who doesn't?), we've got something for you: a chance to win a free Blu-ray copy of the flick. And that's not all! We're also giving away a hat – that's right, you can be the proud owner of a Mile 22 hat. All your friends will think you're really cool! Details below.
Christmas is right around the corner, and if you're in need of a stocking stuffer, I'm here to help. Literally every single member of your family – from kids to grandma – is itching for a Mile 22 Blu-ray and Mile 22 hat for the holidays. In Mile 22, "Mark Wahlberg plays James Silva, an operative of the CIA's most highly-prized and little-known unit. Aided by a top-secret tactical command team, Silva must transport an asset (Iko Uwais) who has vital information to an airfield for extraction before the enemy closes in." Lauren Cohan, Ronda Rousey, and John Malkovich also star.
Mile 22
The Blu-ray comes packed with the following special features:
Overwatch: 
Follow the "Overwatch", the para-military division in 

Mile

 

22

, and explore the background and inspiration as to why this type of team was chosen for the film.
Introducing Iko: 
A spotlight on world-renowned action star Iko Uwais and his experience with combat fighting, stunt work and choreographing his own scenes in the film.
Iko Fight: 
Interview with Iko Uwais discussing his intense fight scenes from the practice room to the final shot.
Bad Ass Women: 
A behind-the-scenes look with stars Lauren Cohan and Ronda Rousey along with writer Lea Carpenter, discussing stunts, intellectual smarts and the overall tenacity of the film's female characters. 
BTS Stunts: 
An in-depth take on the creation of the action-packed stunts of 

Mile

 

22

 with commentary from Director Peter Berg and the film's stars.
Modern Combat:
 Explore the concept of modern action cinema, where scenes are created and shot in real time with multiple cameras, mesmerizing cinematography and intense action stunts.
Colombia: 
Take a tour Bogota, Colombia with the cast and filmmakers discussing key filming location points.
Trailers
So how do you get your hands on this sweet, free Blu-ray (and hat! Don't forget the hat)? Simple: jump on down into the comments, and tell us what your favorite Wahlberg/Berg movie is. Here are the options: Lone Survivor, Deepwater Horizon, Patriots Day and of course, Mile 22. A winner will be chosen at random. Good luck!