'Detective Pikachu' Trailer: Ryan Reynolds Is A Lonely, Mystery-Solving Pokemon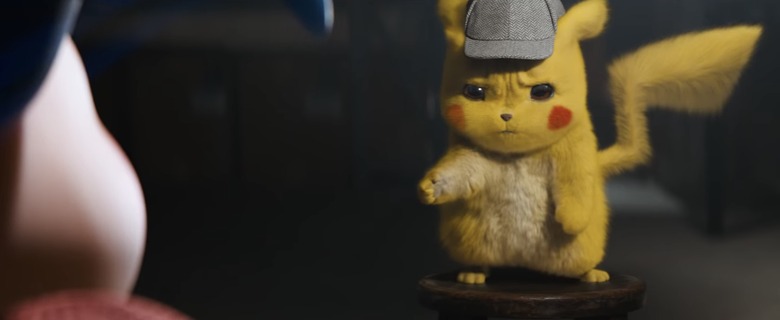 This is not a dream (or a drug-induced nightmare) – Detective Pikachu is a real movie. Somehow. For some reason. Twenty years of Pokemon's world-wide domination and pop culture legacy, and the first live-action movie we get for the franchise is about a smart-talking Pikachu voiced by Ryan Reynolds. Warner Bros. has released the first Detective Pikachu trailer, and now we can no longer deny the reality. We're about to Pokemon Go to the movies.
Detective Pikachu Trailer
Even as this film tapped a star-studded cast (Ken Watanabe, what are you doing!) and officially went into production, I was still convinced that this was one long con from Warner Bros. And even now I'm not sure if this isn't some long April Fool's joke.
But this is no joke. Ryan Reynolds is voicing a furry, talking CG version of the omnipresent Pokemon mascot in a live action Pokemon movie starring Justice Smith from Jurassic World: Fallen Kingdom. Which calls to mind that one iconic Jurassic Park line: You were so preoccupied with whether or not you could that you didn't stop to think if you should. And now we have this blended live-action/animated blockbuster that looks like Who Framed Roger Rabbit meets Pokemon meets...Blade Runner? Sure, there are sci-fi elements in the Pokemon games, but I just can't get over the very weird image of a Pikachu in a detective's hat strolling through a cyberpunk Chinatown. I just...I don't know.
At least the Charizard looked cool.
Detective Pikachu is directed by Rob Letterman and also stars Kathryn Newton.
Here is the official synopsis for Detective Pikachu:
The story begins when ace detective Harry Goodman goes mysteriously missing, prompting his 21-year-old son Tim to find out what happened. Aiding in the investigation is Harry's former Pokémon partner, Detective Pikachu: a hilariously wise-cracking, adorable super-sleuth who is a puzzlement even to himself. Finding that they are uniquely equipped to communicate with one another, Tim and Pikachu join forces on a thrilling adventure to unravel the tangled mystery. Chasing clues together through the neon-lit streets of Ryme City—a sprawling, modern metropolis where humans and Pokémon live side by side in a hyper-realistic live-action world—they encounter a diverse cast of Pokémon characters and uncover a shocking plot that could destroy this peaceful co-existence and threaten the whole Pokémon universe.
Detective Pikachu opens in theaters on May 10, 2019.