Mickey: The True Original Exhibition Celebrates 90 Years Of The Head Mouse In Charge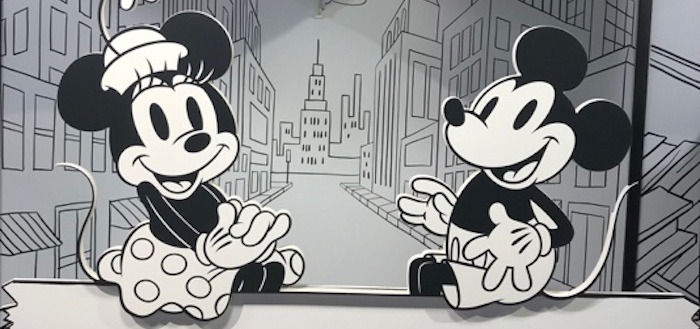 Walt said it best: it was all started by a mouse.
Disney is celebrating their most iconic character in an interactive way, with an 16K square-foot exhibition in NYC called Mickey: The True Original Exhibition that's a fun commemoration of Mickey's influence on art and pop culture. Darren Romanelli, curator & creative director of the exhibition, was on hand for press previews of the space, speaking about how this experience came to life: "I have a unique relationship with Mickey Mouse."
/Film had a chance to walk through the entire exhibition and see how that unique relationship comes to life, with archive moments and original pieces from a variety of different artists.
***
You are here: entering the exhibition in anticipation after seeing a large Mickey decal on a glass building. You have a rush of nostalgia and excitement, and are ready to entire this world of Disney. You got your mouse ears and you're ready for the journey.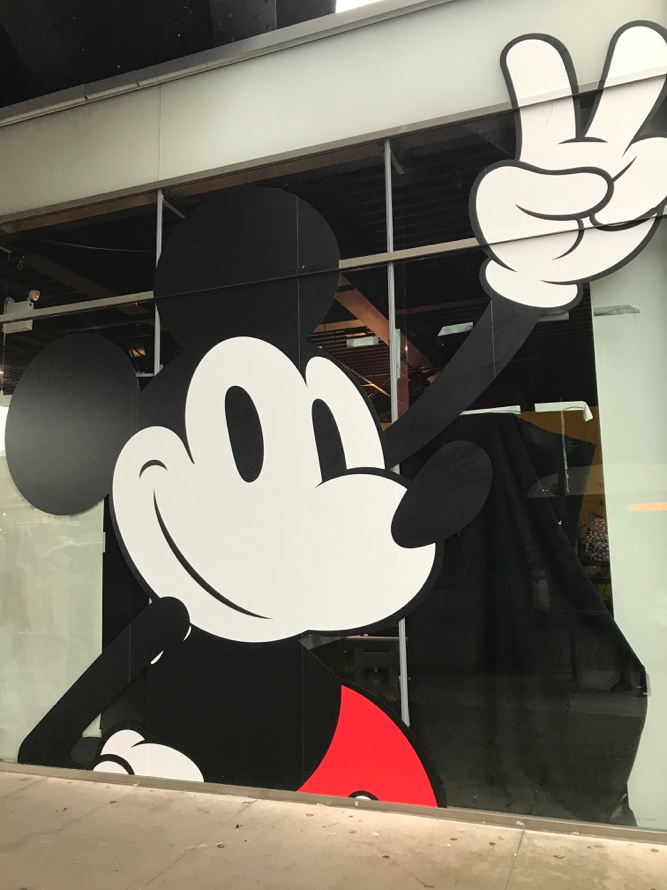 Side of the Exhibition Building
You enter a door to the Welcome Room that shows a video of some of Mickey's greatest highlights over the last 90 years.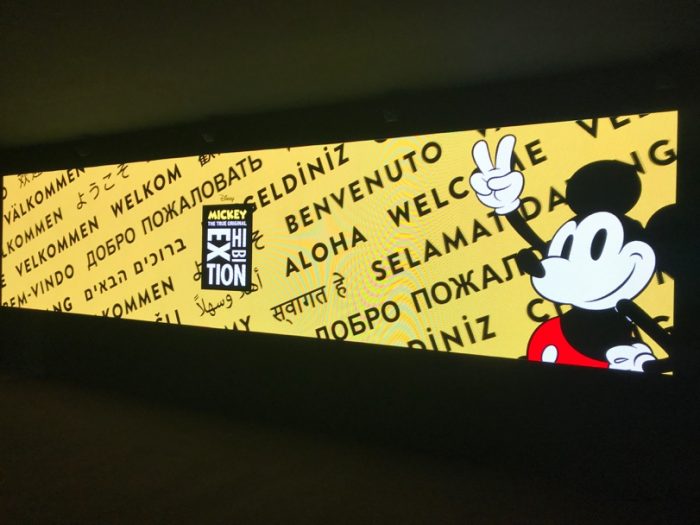 Welcome Room: Before the Highlight Reel
After the video, you enter the first stop on the Mickey tour: Hello Mickey! This room pays homage to Mickey and Minnie Mouse's first appearance on the silver screen: 1928's animated short "Steamboat Willie." The room has neon art, a remix video version of the original short, the real Academy Award that Walt Disney won for the creation of Mickey, and of course: a replica of the famous steamboat. Like the rooms to come, there's plenty of places to take photos to remember the day.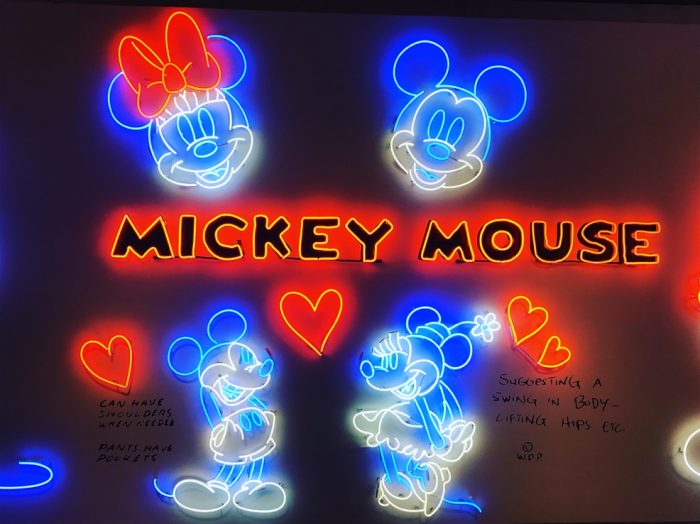 Artist: Jeff Shelley
On to the next room: Iconic Design. It's a small way (in a large art piece) to remind fans that Mickey's design, whether with color or without, is still memorable.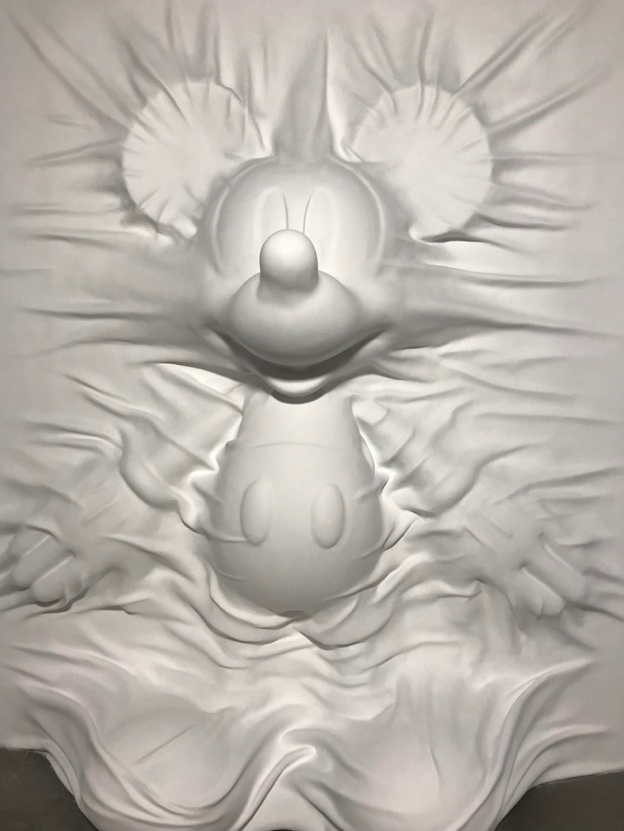 Artist: Daniel Arsham
Now you go off to the It's Black & White room. Entirely (yes, you guessed it) black and white, this room takes the fan back to Mickey's animation days without color, inspired by 1929's Plane Crazy and 1933's Building a Building. Comic strips, dioramas, and optical art, oh boy!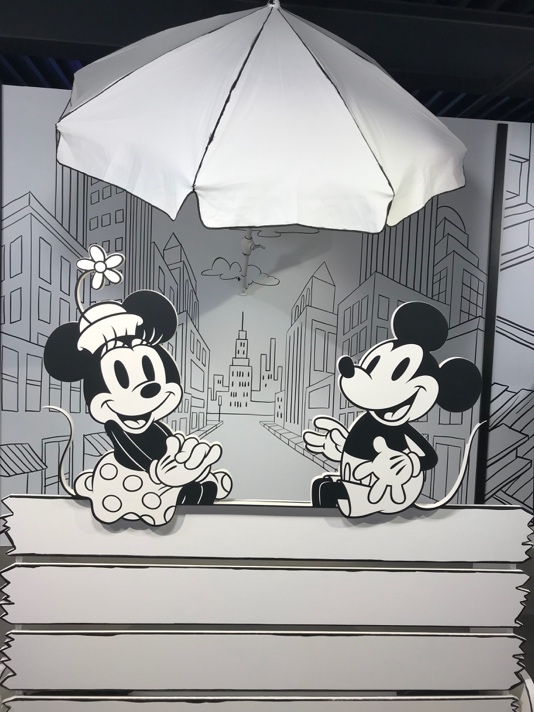 Building a Building diorama
The next room is both bright and endearing: Ink & Paint. Inspired by Mindy Johnson's book Ink & Paint: The Women of Walt, this room (really a long hallway) celebrates the unsung heroes of Disney Animation. In the 1930's and 40's, the women of the Ink & Paint Department gave Mickey and Minnie their color – literally – in future animated films. These women had bright and colorful careers and this hallway reflects that.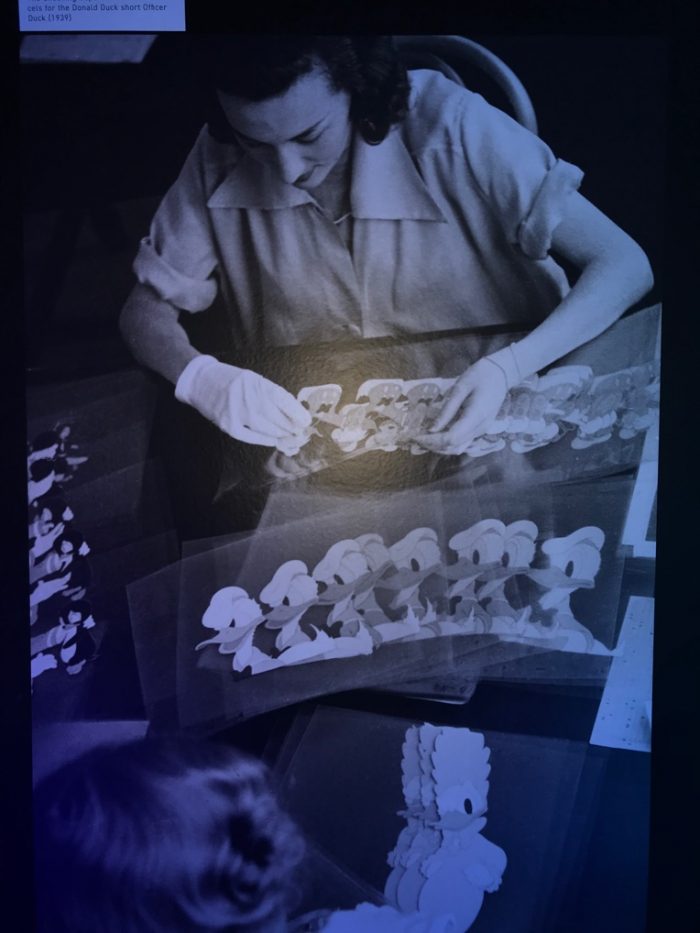 The inking of Donald Duck by a Female Artist
It's only logical that after we've gotten inked and painted, we Burst Into Color. This room celebrates the first time Mickey ever appeared in vivid color: 1935's animated short The Band Concert. The room is full of art inspired by the short, from digital iPads to a crochet wall with rich hues of yarn.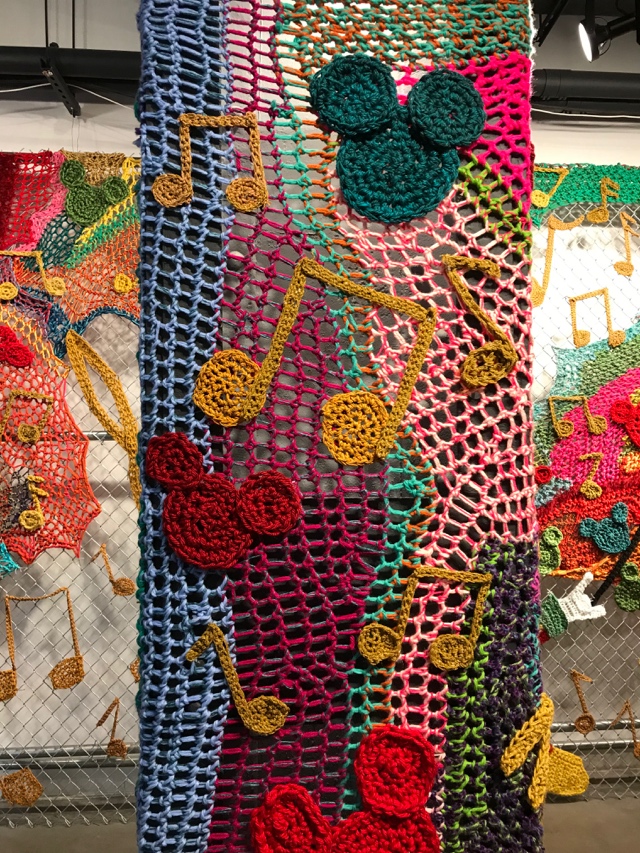 Artist: London Kaye
You can't talk about Mickey without celebrating the 1940 iconic animated film, Fantasia. We step into the light and enter Sorcerer's Way, a darker room that doesn't diminish the magic being conjured.
The Sorcerer's Apprentice: Bringing Magic Broom Coming To Life
Once you step out of the darkness, you're back into the light on the next stop of the experience: Mickey Mouse Club. This room in particular comes with a sweet treat: Ample Hills Creamery gives out Mickey and Minnie inspired ice cream – choose between Triple Chocolate Surprise and Confetti Celebration. The desert sets the tone for the room, since both are a staple of childhood. You're transported back to 1955 when the first Mickey Mouse club first premiered and surrounded by a jukebox, a 50's café and original Mousekeeters outfits.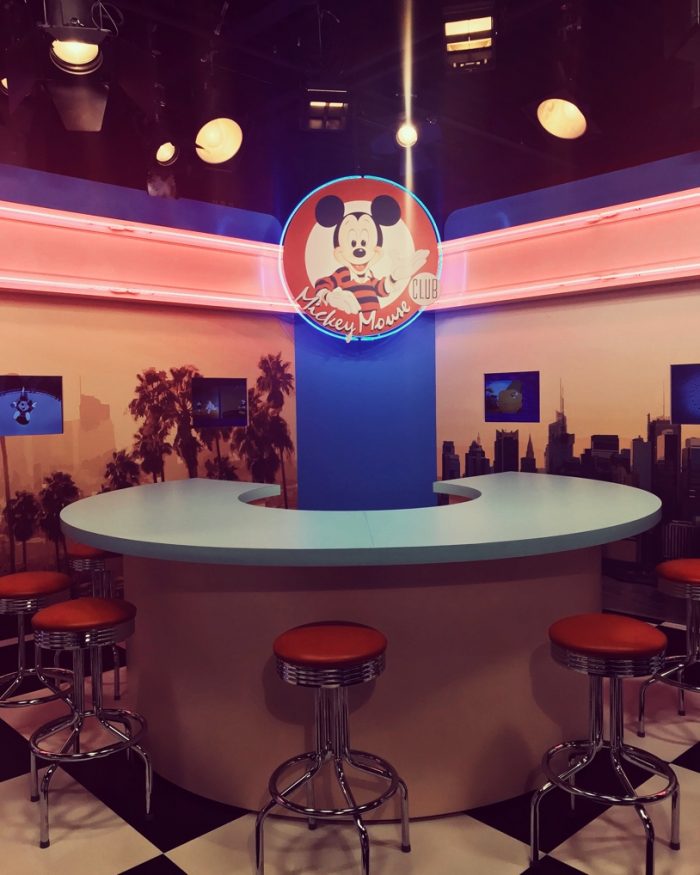 Mickey Mouse Parlor
Mickey has been a part of pop culture for so long that he's inspired and influenced art globally. Going to The Muse room, you see how the mouse has become a symbol of contemporary art, like for legendary NYC artist Keith Haring.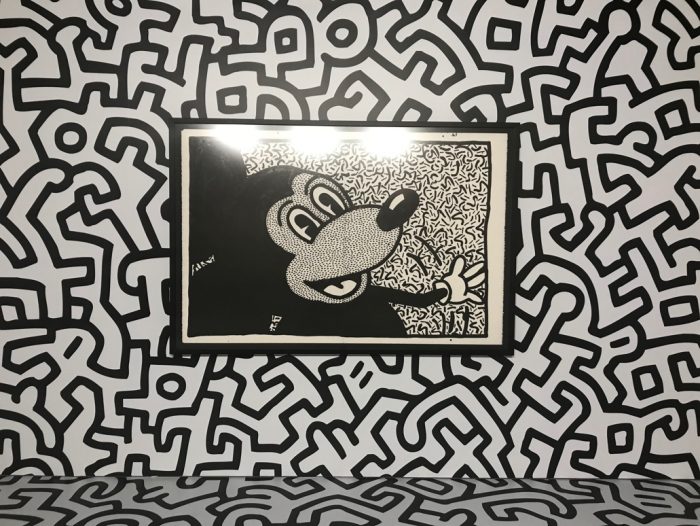 Artist: Keith Haring
Beyond being a muse for art, Mickey has also been a symbol of collectables – with so much merchandising created of his likeness for the past 90 years. In The Collection room, you get deep into unique (and oddball) items that has Mickey's face on it over the years.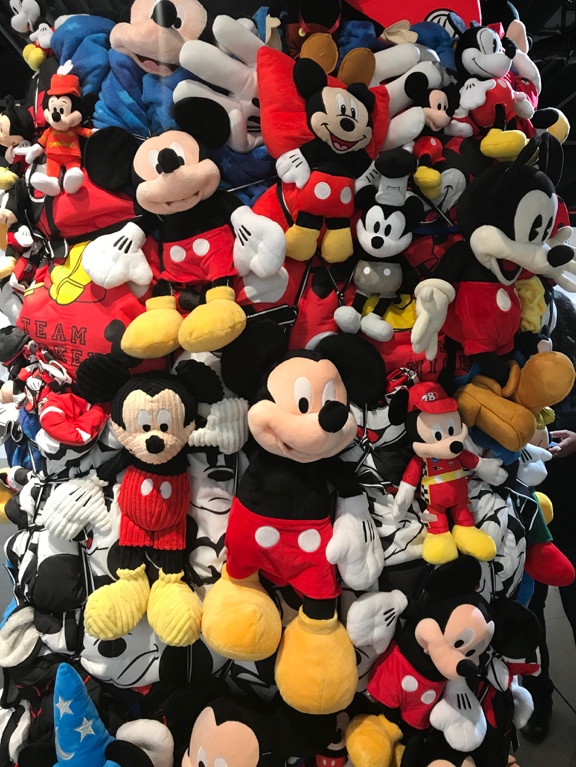 Mickey Plushies Over the Years
Mickey is still a hot IP in the 21st century, and everyone is cashing in. In both the Mickey's Live Game Show room & The Lounge room, you see what Mickey collaborations look like in the age of tech. Google Home and Beats, respectively, are investing in the mouse in new ways.
Google Home | Disney & Beats / Disney
After you play with some tech toys make sure to head to Mickey's Maker Shop, where you can buy a bunch of Mickey merch by Vans, Funko, and other brands. There, you can also go to the Customization Station and shirts or your Mickey ears customized.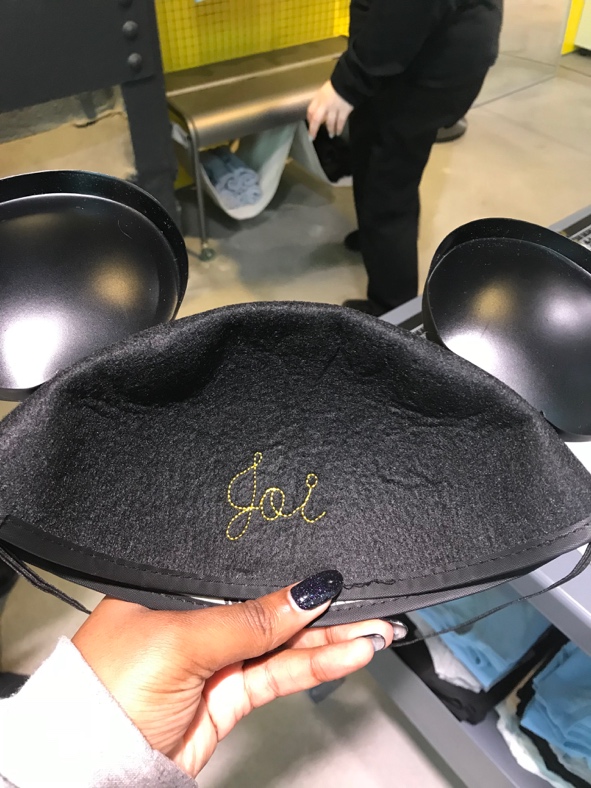 My Embroidered Mickey Ears
Before the journey ends, make sure to go to undoubtedly the most outrageous room there is: Cosmic Cavern. Created by Kenny Scharf, here's no words to describe the room beyond "Instagrammable."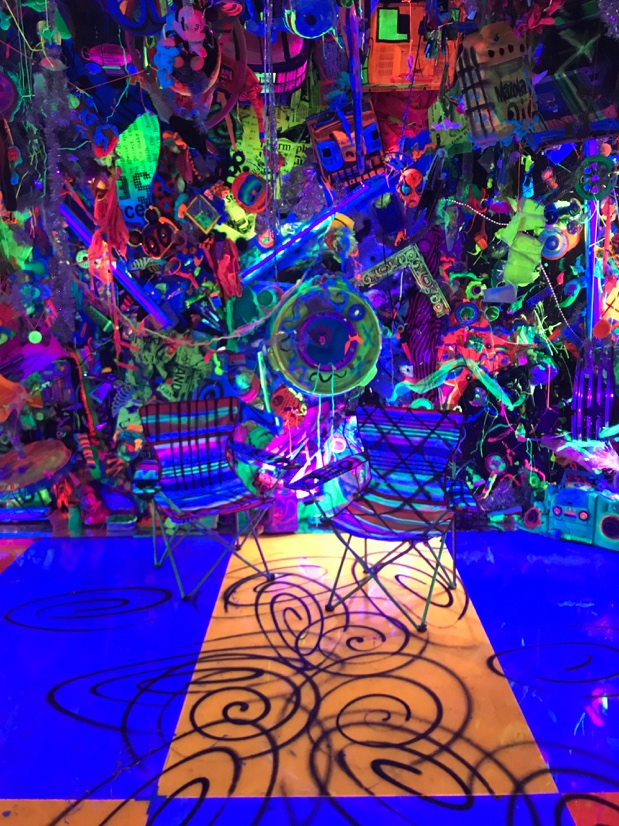 Artist: Kenny Scharf
***
Mickey: The True Original Exhibition is open in New York City now. You can reserve tickets HERE.