'Frozen 2' Has Four New Songs, One Of Which May Be An "Evolution" Of 'Let It Go'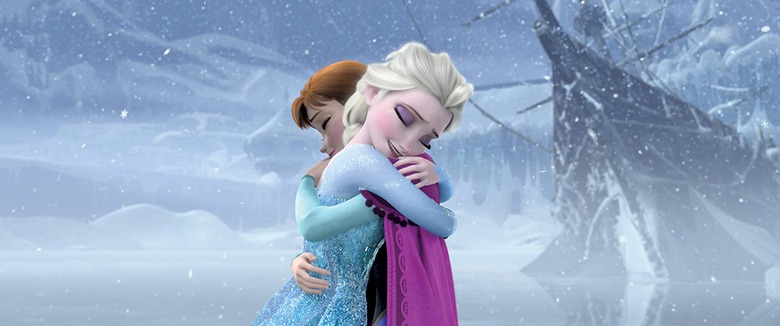 You're going to have to let go of "Let It Go" soon: a new Frozen 2 song will take its place. Co-director Jennifer Lee confirmed that four new Frozen 2 songs have already been written for the highly anticipated Disney sequel, one of which she described as the "evolution" of the insanely successful "Let It Go." So get ready for this potential earworm to play at every department store ad nauseam for the next 50 years.
Jennifer Lee, who co-directed the first Frozen and is set to co-direct Frozen 2 with Chris Buck, revealed to Variety at the Ralph Breaks the Internet premiere in LA that four new songs have already been penned and submitted by songwriters Bobby Lopez and Kristen Anderson-Lopez. One of which the team is already eyeing as the next "Let It Go," she teased:
"We have a new song that I think is an evolution. It's its own song...Bobby [Lopez] and Kristen [Anderson-Lopez] just delivered it three weeks ago. We've been working with them for two years and this song just came in and I love it."
Lee said the song is one of four already chosen for the movie. "We have three more to go," she said, confirming early reports that the sequel to the beloved 2013 hit would feature four new songs. Though it's likely that this won't be the last we've heard from "Let It Go" — you can probably count on at least one reprise of the massively popular hit song.
Frozen 2, which is penned by Lee and Hidden Figures screenwriter Allison Schroeder, will still focus on Elsa (Idina Menzel) and Anna (Kristen Bell), but it will be "bigger, more epic" than the first, Lee teased. "They're going to go far out of Arendelle." Other than, plot details are being kept tight under wraps, with only confirmation of returning cast members Menzel and Bell, as well as Jonathan Groff, Josh Gad, and Disney regular Alan Tudyk.Frozen 2 will now be released in theaters on November 22, 2019, a week earlier than its original date.