The 'Call Me By Your Name' Long Take Was Actually Armie Hammer's Idea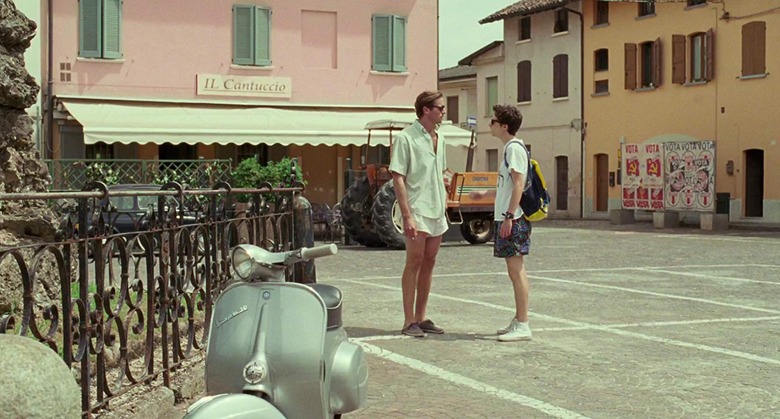 The peach scene has gotten all the press for Call Me By Your Name, but perhaps no other scene better encapsulates the film's hazy, dream-like atmosphere than the languid long take following Elio (Timothée Chalamet) as he declares his feelings for Oliver (Armie Hammer) while they circle a World War I memorial in Pandino, Italy.
This Call Me By Your Name long take scene seems like it would have sprung from the mind of director Luca Guadagnino and cinematographer Sayombhu Mukdeeprom, but Chalamet recently revealed that this wasn't the case. It was actually Hammer's idea.
Chalamet and pop star-turned-actor Harry Styles show us how a celebrity interview can be done in a chat published in i-D Magazine. Aside from being perfect fodder for their rabid tumblr fanbases, the interview turned up some fascinating tidbits about Chalamet's breakout film, Call Me By Your Name. Namely, how that pivotal long-take scene where Elio finally confesses his long-simmering feelings came to be.
"The book is so genuine, so accomplished and well written," Chalamet said, "and I felt like that one scene would be a barometer for whether we would pull it off or not."
It turns out that Guadagnino struggled with how to frame that scene for those very reasons as well. But Hammer suggested that the sequence be filmed in one long take, which all three men agreed made the moment feel more honest:
"On the day, Luca Guadagnino didn't quite know how he wanted to shoot it, and it was actually Armie Hammer who had the idea to do it in one take and in a wide shot. It took away the whole cringey Hollywood feeling. If you mute the movie you can't tell it's somebody telling somebody else that they are in love with them."
Styles added that the long take made the moment feel "much more real," to which Chalamet replied, "I think so, you might scare someone away if you went too big."
So you have Armie Hammer to thank for that incredible long-take scene and for the brief return of tracksuits. Perhaps he'll play an even larger part in helping to shape the potential Call Me By Your Name sequel that Guadagnino has expressed interest in making. Both Hammer and Chalamet are on board, though Hammer has said that the film might be a few years away.