'The Girl In The Spider's Web' Review: Lisbeth Salander's New Movie Is 007-Lite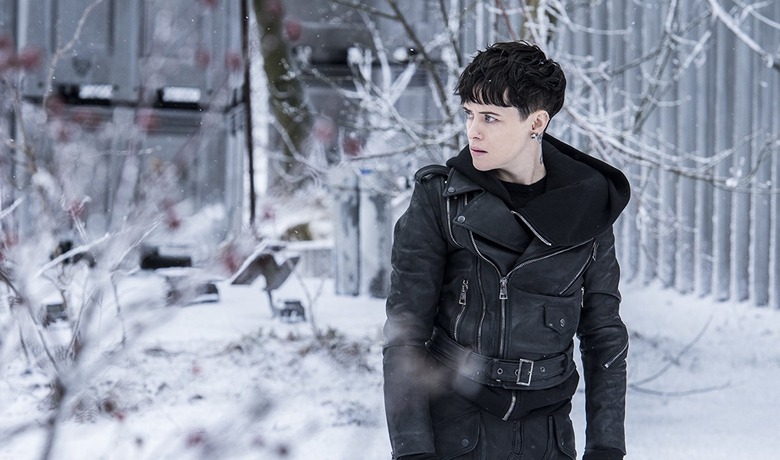 The great surprise of The Girl in the Spider's Web: A New Dragon Tattoo Story (aside from that mouthful of a title) is that director Fede Alvarez wasn't hired to direct the new James Bond movie. Though Spider's Web couldn't be confused with the high-quality entertainment largely evinced by the Daniel Craig era of 007 films, it's mounted in extremely stylish fashion and lead character Lisbeth Salander is presented as a hybrid of 21st-century Bond and the villains he combats. Spider's Web is essentially high-toned trash, a slick piece of cinema that's the filmic equivalent of the novel you read on a cross-country flight and forget about the day after.
Though Spider's Web is technically a sequel, none of the cast of David Fincher's The Girl with the Dragon Tattoo returns. (Fincher is credited as an executive producer.) This time around, Claire Foy dons the spiky, cropped hair and dour demeanor as Lisbeth; years after the events of Dragon Tattoo, she's still a dangerous, hyper-intelligent hacker who works as an angel of revenge to attack men who beat and otherwise demonize women. When Lisbeth is hired to help steal a powerful missile-control software by the man who created it (Stephen Merchant), she finds herself ensnared in a massive conspiracy that leads her back to journalist Mikael Blomkvist (Sverrir Gudnason).
There are flashes of a truly entertaining film in Spider's Web; when they peek through, it's enough to keep you going from scene to scene. Of course, most of the flashes belong to Lakeith Stanfield, as an NSA agent who travels to Sweden to figure out who stole the missile-control software from his agency. His character is rote (and appears to not have a boss, because his trip to Sweden is entirely his own choice), but Stanfield gives each line reading a quirky enough take that each time he's onscreen, the film improves. Foy, taking over for Rooney Mara, does a good enough job; it's less her performance than what the script gives her to work with that's eye-rolling. The pre-credits scene, depicting young Lisbeth's escape from her cruel criminal father, sets up the notion that every time Lisbeth sees a parent embrace their young child, she'll have a case of The Sads; Foy's a fine actress, but you can only make that work so many times before it becomes goofy.
But then, Lisbeth is almost exhaustingly goofy in how she is apparently omniscient if a scene requires her to be. To wit: in one setpiece, she's attempting to help Stanfield's character escape Swedish police custody and begins by breaking him out of an airport jail cell, then remotely gifting him a phone and a blackjack. A few minutes later, the American and Swede come face to face, at the exact time that a Swedish cop has Lisbeth at gunpoint. And look what the American has: a blackjack with which to knock out the cop! It's almost as if...Lisbeth knew this is why he would need a blackjack, which suggests a comical amount of pre-planning. This is the heroic inversion of all those Marvel bad guys (as well as The Joker in The Dark Knight) planning to get caught simply so they can break out by somehow knowing exactly how their captors will act.
This trope also cropped up in Skyfall, the best modern Bond film that also feels like a very deliberate touchstone for the final third of Spider's Web. In both films, our hero is drawn back to their old stomping grounds, both for a face-off with the bad guy and to think back to their fractured family past. Though this film doesn't go for a Straw Dogs-influenced climax, its slick filmmaking feels like a hollow remix of what Sam Mendes brought to the Bond franchise. Spider's Web looks fancy enough, but the Bondian elements only serve to make this feel like a weird, failed superhero reboot.
Aside from Foy, the other actors who have replaced the leads of Dragon Tattoo (including, what a coincidence, Daniel Craig) do their jobs well enough without managing to feel like second-run actors taking over the parts of a major Broadway production. Gudnason tries as much as possible, even though Blomkvist is much more of a supporting character now than he was in the 2011 film, but the notion that the journalist is dependent on Salander emotionally as well as for great journalism is barely explored. This time around, Blomkvist's editor is played by Vicky Krieps, which I mention primarily because it's depressing to see one of the leads of last year's remarkable Phantom Thread in such a slight role. Do better by Vicky Krieps, Hollywood.
The Girl in the Spider's Web: A New Dragon Tattoo Story is, quite simply, a few years too late. Maybe if Fincher, Craig, and Mara could have been brought together to tell this story, or some Lisbeth Salander saga, it might have been more enjoyable. Fede Alvarez isn't trying to copy Fincher here — the opening credits are more James Bond-like than the striking and grim opening to Dragon Tattoo — but all the style in the world can't paper over what's largely a very goofy and nonsensical story that tries and fails to elevate Lisbeth Salander to almost god-like status.
/Film Rating: 4 out of 10