'Fantastic Beasts' Featurette Introduces You To Hot Dumbledore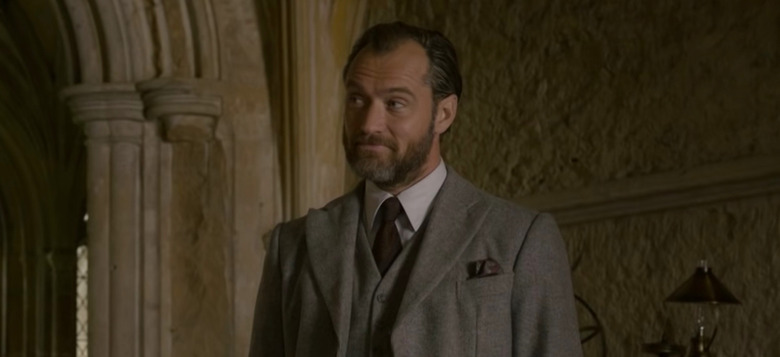 The clumsily titled Fantastic Beasts: The Crimes of Grindelwald is about to take audiences back to J.K. Rowling's Wizarding World. Early reaction to the film has been positive, and the trailers look fun. But let's be honest: the only thing we care about here is young, hot Dumbledore, played by Jude Law. Long before Dumbledore became an elderly man in a flowing robe he was a handsome young specimen, fond of waistcoats and smoldering looks. A new Fantastic Beasts featurette prepares you for the arrival of hot Dumbledore.
Fantastic Beasts Feturette
Next week, hot zaddy Dumbledore is going to strut into movie theaters and work his magic. In the video above, J.K. Rowling, creator for Dumbledore and all-things Harry Potter, comments that when she first met Jude Law, she told him everything about the character to help him get to the heart of the character. "He's slightly mysterious," Rowling says, neglecting to add "and handsome" for some reason. Rowling goes on to say "Dumbledore" at least 400 times, and even throws out the phrase "Dumbledorishness" at one point, because she can do whatever she wants.
Rowling also adds that a key to Dumbledore's character is his relationship with Grindelwald. Anyone familiar with the Potter mythos knows that Dumbledore and Grindelwald had a romantic relationship in the past, and there have been several stories so far about how The Crimes of Grindelwald might address this. This video has perhaps the most explicit confirmation of that relationship yet, where we see a scene with someone commenting to Dumbledore that he and Grindelwald "were as close as brothers," to which Dumbledore immediately adds – with a somewhat choked voice – "We were closer than brothers." I have a suspicion that this is as explicit as the film is going to get regarding this relationship, but we'll have to wait until November 16, 2018 to find out.
Warner Bros. Pictures' "Fantastic Beasts: The Crimes of Grindelwald" is the second of five all new adventures in J.K. Rowling's Wizarding World™. At the end of the first film, the powerful Dark wizard Gellert Grindelwald (Johnny Depp) was captured by MACUSA (Magical Congress of the United States of America), with the help of Newt Scamander (Eddie Redmayne). But, making good on his threat, Grindelwald escaped custody and has set about gathering followers, most unsuspecting of his true agenda: to raise pure-blood wizards up to rule over all non-magical beings. In an effort to thwart Grindelwald's plans, Albus Dumbledore (Jude Law) enlists his former student Newt Scamander, who agrees to help, unaware of the dangers that lie ahead. Lines are drawn as love and loyalty are tested, even among the truest friends and family, in an increasingly divided wizarding world.