'The Color Purple' Musical Movie Adaptation In The Works From Steven Spielberg, Oprah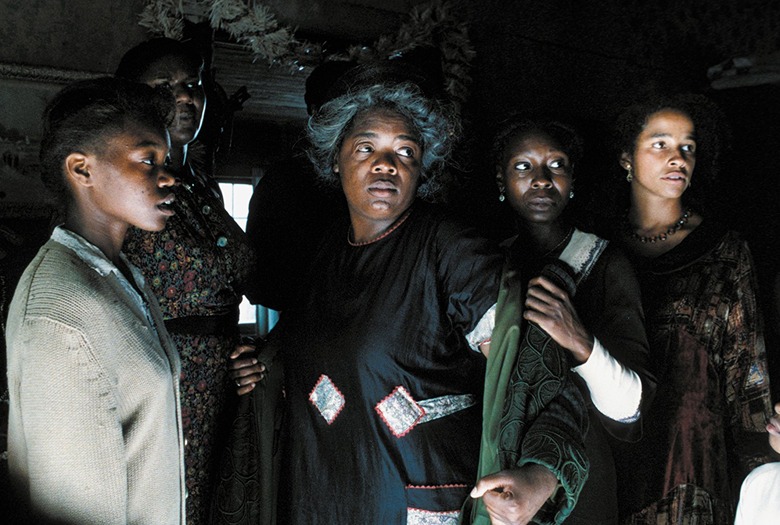 The Color Purple is getting remade into a feature film again, but this time as a movie musical. The powerful Alice Walker novel was first adapted to the big screen by Steven Spielberg, whose 1985 Oscar-nominated film featured an all-star cast that included none other than Oprah Winfrey. Now, the duo are teaming up again to develop the musical version, based on the Tony Award-winning Broadway show.
From book, to feature film, to musical, to feature film again, The Color Purple has come full circle. And fittingly, two of the high-profile names attached to the 1985 movie are back to develop The Color Purple movie musical. Spielberg, Winfrey, Quincy Jones and Broadway veteran Scott Sanders are teaming up to produce a feature adaptation of the Tony Award-winning musical for Warner Bros., according toThe Hollywood Reporter.
"We're really excited to create a film that translates the heart and emotion we found in telling this generational story on stage," Sanders said. "This is an incredibly powerful drama that needs to be shared."
The Color Purple chronicles the life of a black woman named Celie growing up in the mid-20th century Deep South, as she grows up in poverty and endures four decades of abuse at the hands of her stepfather, husband, and others. Against all odds, she overcomes her hardships through faith in herself and God.
The musical, with book by playwright Marsha Norman and music and lyrics by Brenda Russell, Allee Willis and Stephen Bray, is also based on Alice Walker's 1982 Pulitzer Prize-winning novel (the first for a black woman) of the same name. The musical was an immediate sensation when it hit Broadway in 2005, earning 11 Tony nominations. The 2016 revival starring Cynthia Erivo went on to win two Tonys as well as a Grammy and an Emmy. According to THR, The Color Purple musical has grossed more than $350 million nationwide, with the help of multiple touring versions across the country.
The Color Purple is in early stages of development, with no writer or director yet attached. It's uncertain whether Spielberg would step into the director's chair after helming the 1985 feature film, though he is now trying his hand at a musical. It's possible that Winfrey could take on another acting role in The Color Purple musical after earning a best supporting actress nod for her turn in the first film, but it's likely she'll only stay on as producer. But perhaps Erivo, who is on track to be this year's breakout Hollywood star following scene-stealing turns in Bad Times at the El Royale and Widows, could reprise her Tony-winning role.