'Don't Breathe 2' Script Is Ready, But Don't Hold Your Breath For 'Evil Dead 2'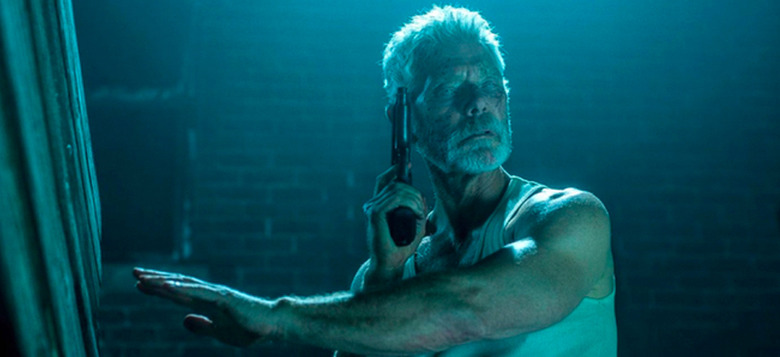 Fede Alvarez is out hyping his new film, the Dragon Tattoo sequel The Girl in the Spider's Web, but his fans are more curious about sequels to two of his other films: Don't Breathe and the Evil Dead remake. According to Alvarez, Don't Breathe 2 script is in good shape – but you probably shouldn't get your hopes up for Evil Dead 2 anytime soon.
Director Fede Alvarez has been teasing a Don't Breathe sequel since 2016, and now he's provided an update. According to the filmmaker, the script is ready, and he's begun the planning stages to get it made very soon. At the same time, Alvarez tempers expectations for Evil Dead 2. While he doesn't swear off a possible sequel entirely, he makes it pretty clear that there's no real movement on that front. Which makes sense – Alvarez's 2013 Evil Dead remake was technically a box office success, but Don't Breathe was a bonafide blockbuster due to its relatively low budget.
Speaking with Movieweb, Alvarez said:
"We do have a script for Don't Breathe 2...We don't have a script for Evil Dead 2. But we do have a script for Don't Breathe 2 that we wrote. Once I'm done with [The Girl in the Spider's Web] we're gonna start thinking of ways to bring that story to the screen. Me directing or me producing. It really depends on the time that we'll have. I'm particularly excited about that because it's a really different sequel, when it comes to sequels. It's a very different approach and I'm excited about that."
The "different approach" is a good idea, since the first Don't Breathe didn't leave much room for a sequel, when all is said and done. I enjoyed Don't Breathe for the most part – it's incredibly well-directed, and has some genuinely thrilling moments. But a third-act twist robbed the movie of a lot of its power, and sent it down a really icky path that I could've done without. In the film, a trio of young robbers break into a house to pull off a job, only to discover the house is occupied by the deadliest blind man on earth (played by Stephen Lang).
As for Evil Dead, Alvarez's brutal remake of Sam Raimi's low budget horror classic, I loved the visual style of the film, but the characters were forgettable at best and annoying at worst. I'd like to see Alvarez take another crack at that world with a much better script, but I won't lose any sleep if it never happens.