Brie Larson Dressed As Samus For Halloween, Wants To Make 'Metroid' Movie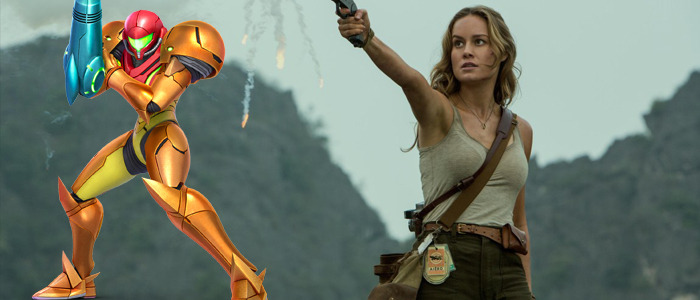 Nintendo lovers will immediately recognize the name Samus Aran, the protagonist of the long-running Metroid video game series. Oscar-winning actress Brie Larson counts herself as a fan: she dressed up as Samus for Halloween, and she's also interested in playing the character in a movie. Hear that, Hollywood? You may want to start dusting off those Metroid movie scripts and see if there are any hidden gems waiting to be found.
Brie Larson Samus Aran Halloween Costume
As you can see, Larson suited up as Samus Aran for Halloween this year, generating a lot of love from fans of the franchise. You may be more familiar with the character as she appears in her full armor in the header image of this article, because that's primarily what she's looked like since the character was first introduced in the original Metroid back in 1986. But Larson chose to dress as Zero Suit Samus, a design that debuted in 2004's Metroid: Zero Mission.
And it turns out, Larson's love for the character goes beyond a Halloween costume: she told a fan on Twitter that she wants to make a Metroid movie:
I hope not. I want to make that movie. https://t.co/6ZneOLu2Wh

— Brie Larson (@brielarson) November 2, 2018
Larson would make an excellent cinematic Samus. The character is a feminist icon in video games – gamers played through the whole first game before the reveal that the protagonist was actually a woman – and Larson is an outspoken supporter of women and is currently playing one of Marvel Studios' first major female superheroes. (She's also a great actress with a wide dramatic range, and I think she could really make this her own.)
Nintendo has been flirting with the idea of getting back into making movies after they were burned with Super Mario Bros. back in 1993. We're theoretically supposed to see an animated Nintendo movie featuring a popular character sometime in the next few years. Could that be Metroid, perhaps with Larson voicing the lead role? I imagine she's going to be pretty busy playing Captain Marvel in the Marvel Cinematic Universe for a few years, so maybe if Nintendo makes an animated Mario or Zelda film first, that'll give Larson enough time to find some breathing room between franchises and make the leap into wearing the suit on the big screen.
The problem with making a Metroid movie is that the original game was heavily inspired by the Alien film franchise, so it may be difficult to A) overcome the video game movie curse and B) do so while also making Metroid its own unique thing. This fan-made short film may give us an an idea of what a live-action movie could look like: