Dozens Of 'Haunting Of Hill House' Hidden Ghosts Busted In New Video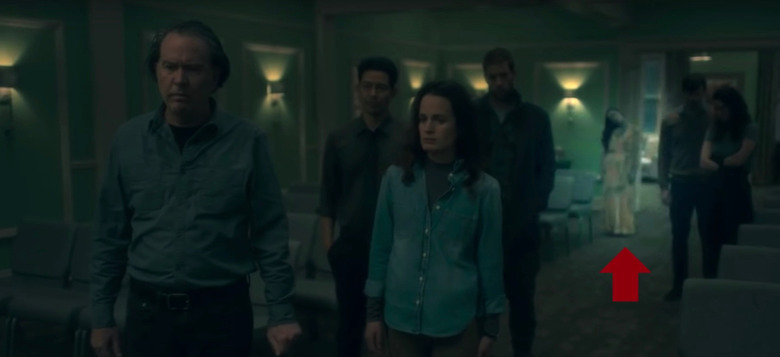 Mike Flanagan's wonderful Netflix series The Haunting of Hill House has plenty of ghosts front-and-center. But there are even more specters hidden in the background. Flanagan has confirmed that there are hidden ghosts in almost every single episode of the series, and now, a video put together by IMDb has managed to spot 43 of them. You could say these hiding ghosts were...busted. (I'm sorry). Watch the Haunting of Hill House hidden ghosts video below. If you have yet to see the show yet, beware of possible spoilers.
Haunting of Hill House Hidden Ghosts
Did you spot the hidden ghosts peppered throughout The Haunting of Hill House? Some are very obvious – you see them peeking out of windows, or standing directly behind characters. But some are better hidden – more elusive, harder to spot, tucked away in the corner of the frame. Thankfully, this IMDb video is here to help. The makers of this video go so far as to say they've highlighted every hidden ghost in the series. That's a pretty bold claim, but as they've managed to find 43 ghosts in total, they might be right. Perhaps Mike Flanagan will weigh-in at some point to confirm.
Some qualms here: while it's fun to see all the spooks and specters highlighted, IMDb chose to score the entire video with some very goofy music that's a bit distracting. They also count one ghost twice, and they highlight a ghost who isn't hidden at all, because a character on screen reacts to it. So really, this should be called 41 Hidden Ghosts You Missed In The Haunting of Hill House.
Those complaints aside, I love this. It demonstrates the lengths director Mike Flanagan went to to make Hill House extra spooky. Even if you don't notice the hidden ghosts, your eyes might register something out of place on the screen, which only heightens the creepiness subliminally. It's a neat trick, and I imagine more horror filmmakers are going to start trying it going forward.
The 

Haunting

 of Hill House is a modern reimagining of Shirley Jackson's legendary novel of the same name, about five siblings who grew up in the most famous 

haunted

house in America. Now adults, they're reunited by the suicide of their youngest sister, which forces them to finally confront the ghosts of their own pasts... some which lurk in their minds... and some which may really be lurking in the shadows of the iconic Hill House.