'Five Feet Apart' Trailer: 'Riverdale' And 'Columbus' Stars Fall For Each Other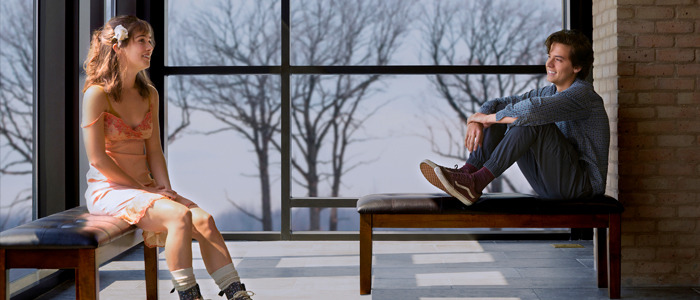 Who knew that the "sick teen weepy" would become an automatic greenlight for Hollywood studio executives? After The Fault in Our Stars made over $300 million worldwide in 2014, there have been several attempts to recapture that lightning in a bottle.
The latest is Five Feet Apart, which stars Columbus and Edge of Seventeen's Haley Lu Richardson as a girl with cystic fibrosis. She meets a character played by Riverdale hunk Cole Sprouse who also has that condition, and even though doctors dictate that they must keep a certain amount of distance between them for their own safety...well, love is a powerful thing. Check out the first trailer below.
Five Feet Apart Trailer
The Fault in Our Stars made serious bank, and since then, we've gotten films like Me and Earl and the Dying Girl, Everything Everything, and Midnight Sun – all of which touch on love stories between characters with medical conditions or even terminal diagnoses. (You could even throw Me Before You in that category as well, even though the protagonists are a little older in that one.)
Look, I'm not a doctor, and I swear I'm not purposefully trying to find a reason to jump all over this movie, but...isn't this premise a little, I don't know, irresponsible? We talk so much about how representation is important on screen, but if the people being represented are being sold a message that it's okay to ignore medical advice as long as it's in the name of love? That's kinda messed up, isn't it? I know depiction doesn't equal endorsement, but I feel like that argument becomes less valid when a movie is so clearly aimed at a younger crowd.
Actor/director Justin Baldoni (Jane the Virgin) is making his feature directorial debut here. In the acting pool, Richardson and Sprouse are joined by Moises Arias (The Kings of Summer), Kimberly Hébert Gregory (Vice Principals), Paraminder Nagra (ER, Bend it Like Beckham), and Claire Forlani (Mallrats).
Here's the official synopsis:
Stella Grant (Haley Lu Richardson) is every bit a seventeen-year-old...she's attached to her laptop and loves her best friends. But unlike most teenagers, she spends much of her time living in a hospital as a cystic fibrosis patient. Her life is full of routines, boundaries and self-control – all of which is put to the test when she meets an impossibly charming fellow CF patient named Will Newman (Cole Sprouse).
There's an instant flirtation, though restrictions dictate that they must maintain a safe distance between them. As their connection intensifies, so does the temptation to throw the rules out the window and embrace that attraction. Further complicating matters is Will's potentially dangerous rebellion against his ongoing medical treatment. Stella gradually inspires Will to live life to the fullest, but can she ultimately save the person she loves when even a single touch is off limits?
Five Feet Apart hits theaters on March 22, 2019.