Pop Culture Imports: 5 Classic Foreign Films To Watch Before Filmstruck Shuts Down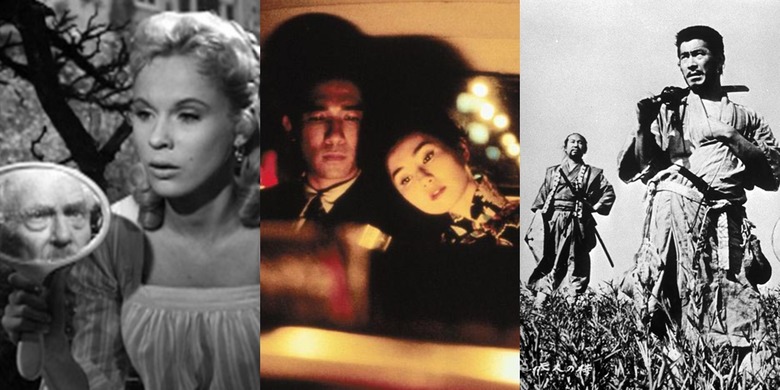 (Welcome to Pop Culture Imports, a column that compiles the best, wackiest, and weirdest foreign-language movies and TV shows streaming right now.)
I'm doing something a little different this week in honor of a titan of streaming services. Earlier this week, we learned that the cinephile's dream service and home of the beloved Criterion Collection, Filmstruck, is set to close down at the end of this month. Which means you have a ton of classic films on your watch queue to speed through over the next 27 days — many of which are probably some foreign films that you never got around to.
I'm dedicating this week's column to Filmstruck by listing five essential classic foreign films to watch before the service shutters on November 29, 2018.
In the Mood for Love
Country: Hong KongGenre: Romantic dramaDirector: Wong Kar-waiCast: Maggie Cheung, Tony Leung.Wong Kar-wai's gorgeous 2000 romantic drama is a sensuous — and sensual — display of restraint, and a visual flex from a master of his craft. The use of color so striking. The smallest gestures so tender. Set in 1962 Hong Kong, In the Mood for Love follows the relationship of a married woman and a married man who move in next door to each other and slowly realize that their spouses are having affairs with each other. Rather than confront their significant others, they try to come to terms with the infidelity by re-enacting how they think the affair began, the film slowly drifting in and out of their play-acted imagination and their actual growing bond. Watching In the Mood for Love is like having a handsome man croon to you in the world's tiniest café. Mrs. Li-zhen (Maggie Cheung) and Mr. Chow (Tony Leung) are two inhumanly beautiful people whose sexual chemistry is palpable, and yet would never be allowed, or could never allow themselves, to act on their urges. Thus, the entire melancholic film is a a series of yearning glances and missed connections, all enveloped in Wong's warm, sumptuous visuals.Watch This If You Like: Moonlight, Before Sunrise, Atonement, looking sadly out a bus window in the rain.
Seven Samurai
Country: JapanGenre: Historical epicDirector: Akira KurosawaCast: Toshiro Mifune, Takashi Shimura, Keiko Tsushima, Isao Kimura, Daisuke Kat?, Seiji Miyaguchi, Yoshio Inaba, Minoru Chiaki, Yoshio Tsuchiya.Seven Samurai was named the greatest foreign-language film ever in BBC's critics poll, and it wholly deserves that place. Akira Kurosawa's black-and-white samurai epic may run for three-and-a-half hours, but there is not a minute wasted, and not a character that isn't richly realized. The film has a classic story that you may have heard of by now, or at least seen the multiple remakes in the form of the Western The Magnificent Seven: a desperate farming village seeks out the help of master-less samurai to protect them from bandits. When they earn the sympathy of a wise, aging samurai (Takashi Shimura, practically oozing gravitas), he gathers six other ronins to defend the village and teach the villagers to fight. Seven Samurai has the best "assembling the team" sequence ever put to film, taking the time to fully introduce each wildly different character and give clarity to their circumstances. The cowering villagers too are handed rich backstories and additional sympathy thanks to a powerhouse monologue delivered by the unmatchable Toshiro Mifune. But the film is more than just set-up and backstory — the final battle is a majestic paragon of dramatic storytelling through action, and Kurosawa's brisk pacing and undersold comedic touch make Seven Samurai's three-plus hours fly by.Watch This If You Like: Magnificent Seven, A Bug's Life, Star Wars, literally everything that has been influenced by Seven Samurai.
Wild Strawberries
Country: SwedenGenre: DramaDirector: Ingmar BergmanCast: Bibi Andersson, Ingrid Thulin, Gunnar Björnstrand.Wild Strawberries is my entry for the best Ingmar Bergman movie, fight me. The seminal Swedish director is mostly known for his cold, impersonal interrogations of the human condition, but Wild Strawberries stands in stark opposition to that. The Swedish title, Smultronstället, (which literally translates to "the wild strawberry patch") is an idiom referring to a treasured place with sentimental or personal value. That wistful nostalgia seeps through Wild Strawberries, which follows an aging professor as he embarks long road trip through the countryside and through his own memories. Played by Victor Sjöström in his final screen performance, the egotistical Professor Isak Borg recalls a young woman he once loved in his childhood named Sara (Bibi Andersson), whose likeness he begins to see in every other person who crosses his path. Dreamlike and yet brimming with life, Wild Strawberries communicates that its titular nostalgic utopia isn't found in a particular place, but in a particular feeling. It's a profoundly personal film from Bergman (who definitely used Wild Strawberries to explore his own connections to his childhood), anchored by a luminous performance from the great Sjöström.Watch This If You Like: Call Me By Your Name, A Room With a View, moping over how low Wild Strawberries was on the BBC foreign films list.
The 400 Blows
Country: FranceGenre: DramaDirector: François TruffautCast: Jean-Pierre Léaud, Albert Rémy, Claire Maurier.
Speaking of directors who use film as a therapeutic medium to interrogate their own childhoods, another must-see is François Truffaut's The 400 Blows. The French New Wave director's debut film often isn't everyone's first choice when showing off his filmography — that honor usually goes to the more divisive Breathless —but The 400 Blows remains his most personal. A raw and wry portrait of Parisian adolescence, The 400 Blows eschews much of what audiences until then knew of the City of Lights. Instead, we get to know a troubled young delinquent named Antoine Doinel (Jean-Pierre Léaud), who lashes out against apathetic parents by skipping school and running from home. The 400 Blows is an unflinching semi-autobiographical film from Truffaut, who manages to deliver an honest and heartbreaking ode to childhood without an ounce of nostalgia. But it wouldn't work without the funny and natural performance from Jean-Pierre Leaud, who would go on to reprise the role of Antoine Doinel four (!) more times in feature and short films, becoming the face of the widely influential French New Wave.
Watch This If You Like: Stand By Me, Boyhood, The Outsiders, eating baguettes and smoking to pretend you're in a Paris cafe.
Nights of Cabiria
Country: ItalyGenre: DramaDirector: Federico FelliniCast: Giulietta Masina, François Périer, Franca Marzi, Dorian Gray, Amedeo Nazzari.
Like many an Italian neorealist film, Nights of Cabiria is kind of a strange one. The Federico Fellini film opens on a naive prostitute, Cabiria, (Giulietta Masina) getting pushed off a cliff by her boyfriend, who steals her purse and disappears without a trace. Heartbroken, Cabiria returns to the prostitution trade, while dreaming of settling down with the perfect (rich) man. The film follows one night in the short, scrappy, and often volatile Cabiria's life as she wanders the streets of Rome looking for work, occasionally stumbling into surreal and unworldly shenanigans or displays of wealth. Nights of Cabiria is a lonely, bitter, beautifully hopeful film centered around a flawless performance by Giulietta Masina, whose radiant innocence shines through even as she slogs around the destitute outskirts of Rome.
Watch This If You Like: La Strada, Far from the Madding Crowd, thinking La Dolce Vita is fine.