'Gladiator' Sequel Moving Forward With Ridley Scott Directing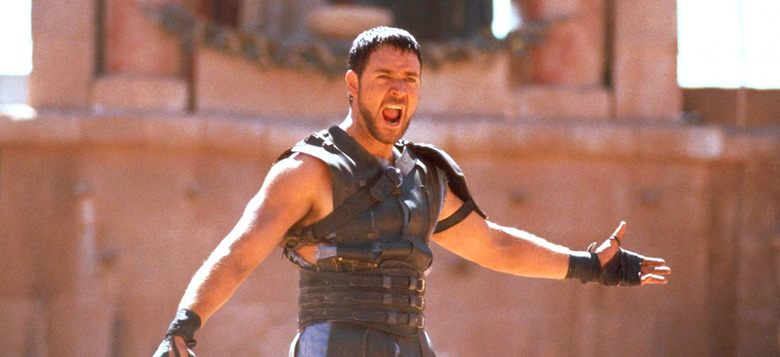 Ridley Scott wants to return to ancient Rome with a Gladiator sequel. A potential sequel to the Oscar-winning 2000 film has been rumbled about for years, but now it appears Scott is finally moving forward with the project, with hopes to direct. The sequel will follow Lucius, the nephew of Joaquin Phoenix's character from the first film. The original film featured Russell Crowe as a former Roman general who becomes a gladiator after being betrayed.
Deadline says Ridley Scott is finally planning on getting his Gladiator sequel back into the colosseum. Since Russell Crowe's Maximus died at the end of the first Gladiator, the sequel will need to focus on new characters. Per Deadline's report, "Gladiator 2 will follow the continuing story of Lucius, the son of Lucilla (Connie Nielsen), The youth was the nephew of Commodus (Joaquin Phoenix), the weaselly son of Roman leader Marcus Aurelius who murdered his father seized the throne and wound up in the gladiator ring with Maximus, who though mortally wounded, skewered the emperor before fading into the great beyond to reunite with his slain wife and son."
A Gladiator sequel has been a dream project of Scott's for years, and the concept of Gladiator 2 has gone through several incarnations. At one point, goth rock troubadour and screenwriter Nick Cave wrote an absolutely batshit crazy and awesome-sounding sequel in which Crowe's Maximus goes to hell and back, and deals with the gods and other paranormal forces. "[He] goes to purgatory and is sent down by the gods, who are dying in heaven because there's this one god, there's this Christ character, down on Earth who is gaining popularity," Cave said. "And so the many gods are dying, and they send Gladiator back to kill Christ and all his followers....The main guy was [Maximus'] son, so he has to kill his son and he was tricked by the gods. He becomes this eternal warrior and it ends with this 20 minute war scene which follows all the wars in history, right up to Vietnam and all that sort of stuff."
I love this idea, but sadly, it was too weird and wild for Hollywood to produce. Instead, we'll have to deal with Lucius. This idea has come up before. In fact, it was DreamWorks' original idea for a sequel – showing Rome evolving with Lucius as the new main character. At the time, Scott said he thought the idea was too complex, but he's apparently changed his mind. In Cave's now-abandoned script, the adult Lucius was the villain, having grown as evil as his uncle.
DreamWorks is no longer involved with the film. Instead, Paramount is developing, with Universal possibly co-financing. Scott has several projects in the works at the moment, including the TNT series Raised By Wolves, so it's unclear when he'll get to work on Gladiator 2. But Scott loves to work, and work fast. After all, he was able to undergo the major reshoots on All the Money in the World in 9 days.