'Frozen 2' Says "Let It Go" To Its Original Release Date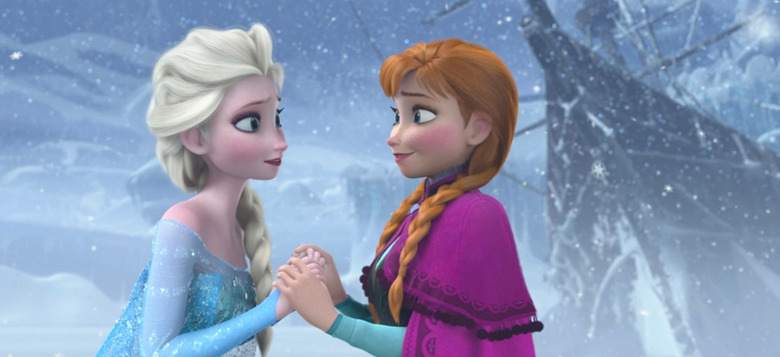 Good news for people who have been waiting a very long time for Frozen 2: you'll get to see it slightly sooner than expected. The animated Disney sequel has bumped its release date up a week, which isn't really the biggest release date change, but it's better than nothing. The film follows the smash 2013 animated hit Frozen, which lodged the song "Let It Go" in everyone's brains like a parasite.
According to Variety, Frozen 2 will now open November 22, 2019, instead of its original release date of November 27. So change your plans accordingly. The Frozen sequel was officially announced in 2015, which seems like a very long time ago (even though it isn't). Kristen Bell and Idina Menzel will return as sisters Anna and Elsa, while Josh Gad will once again voice Olaf the snowman and Jonathan Groff is back as Kristoff.
New cast members include Evan Rachel Wood and Sterling K. Brown in undisclosed roles. Not a whole lot is known about the sequel, but directors Chris Buck and Jennifer Lee are back once again, with Lee writing the script with Allison Schroeder.
"We have two very strong female leads in Frozen," Buck told MTV. "We will keep that going in the next one. We will tackle other issues that, I think, are out there today that boys and girls, men and women, are dealing with...I think we're very aware of what is happening in society. I don't think any of us take [them] lightly, even though they can be very funny and entertaining, the messages that our movies have and the influence they can have on young people. When the kids [watch] them, they watch them over and over again, and if we don't have a decent message in there, I think we've missed an opportunity."
"I know the songs, I know the story—it's very good. I can't say much more than that or I'll get in trouble," star Kristen Bell said in a separate interview.
Frozen was a monster hit, earning $1.276 billion worldwide and ranking as the highest-grossing animated film of all time, the 13th highest-grossing film of all time, the highest-grossing film of 2013. Since its release, it's spawned short films, video games, and a Broadway adaptation. I haven't watched the film since its release, but I enjoyed it when I first saw it – although I think it lost some of its luster in the second half. It will be interesting to see if the sequel will end up being as big of a hit as the first.