'The Hitman's Bodyguard' Sequel Is Officially Happening, Original Cast Set To Return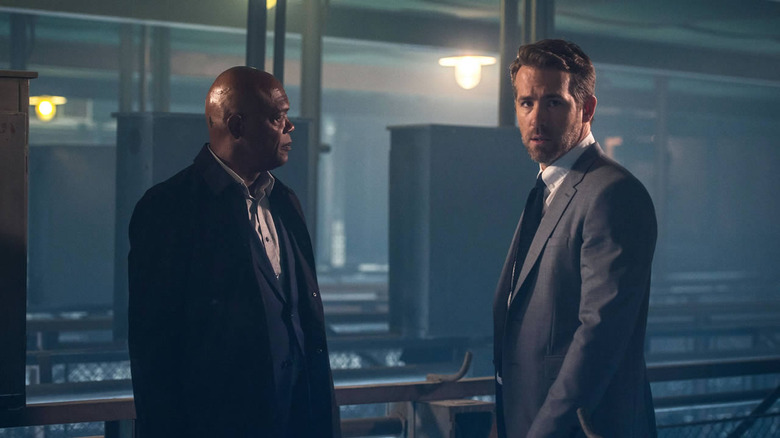 We heard that it was in development a few months ago, but now it's official: Lionsgate has greenlit a sequel to The Hitman's Bodyguard, which has been given the even clunkier title, The Hitman's Wife's Bodyguard. Returning as all of the titular characters are original cast members Ryan Reynolds, Samuel L. Jackson, and Salma Hayek.
There are three title characters in The Hitman's Wife's Bodyguard and all three are returning to the sequel of the 2017 sleeper hit. Variety reports that Ryan Reynolds, Samuel L. Jackson, and Salma Hayek are set to reprise their roles as the bodyguard, the hitman, and the hitman's wife, respectively.
Lionsgate announced Thursday at the American Film Market in Santa Monica, California that the studio will release The Hitman's Wife's Bodyguard in U.S. markets, while production company Millennium Films will handle sales.
Made on a modest $30 million budget, The Hitman's Bodyguard was released in late summer 2017 and went on to gross $75.5 million stateside and more than $180 million globally. The action comedy rode the wave of goodwill following Reynolds' starring turn as the foul-mouthed mercenary superhero in 2016's Deadpool, basically drawing in audiences with the premise: what if Ryan Reynolds and Samuel L. Jackson were in a movie together and said the word "fuck" a lot? It's a simple premise, but it worked — now a sequel is on the way and Reynolds' brand as a foul-mouthed wild card is stronger than ever with the success of Deadpool 2. Though not as strong as as Jackson's brand, of course.
The sequel will follow Reynolds' bodgyguard Michael Bryce as he's enlisted by Jackson and Hayek's characters on a mission along the Amalfi Coast, according to Variety. Patrick Hughes returns to direct a script by Brandon and Phillip Murphy. Production is expected to start in March.