'It's A Wonderful Life' Is Finally Streaming, Just In Time For The Holidays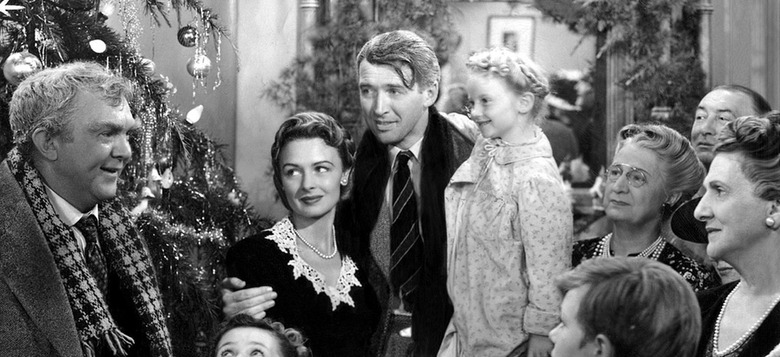 Halloween is over, which means it's now officially Christmas time. And Amazon has a very special gift to kick off the holiday season. Frank Capra's classic It's a Wonderful Life is now streaming on Amazon Prime Video, marking the first time the film has ever been available to stream. Now, anyone with an Amazon Prime membership can stream the touching tale of a man who tries to kill himself on Christmas!
It's A Wonderful Life
When It's a Wonderful Life arrived in theaters in 1946, it underperformed at the box office. And yet, over the years, Frank Capra's holiday-tinged melodrama has become an immortal classic. Even though a large chunk of the movie doesn't take place during Christmas, repeated TV viewing around Christmas time turned Capra's film into a popular holiday staple.
Despite the film's popularity, it's never been available to stream – until now. Starting today, It's a Wonderful Life is exclusively available on a subscription basis on Prime Video. Sure, it's a bit early for Christmas, but if you're anxious to get a jump on the holiday season, here's your chance. And really, Capra's film is worth watching any time of the year – there's a lot more here than holiday hijinks.
In It's a Wonderful Life, George Bailey (Jimmy Stewart) is in such dire straits he considers killing himself on Christmas. Things change, however, when an angel comes down from above and shows George what the world would look like if he had never been born. While this eventually leads to an uplifting, heartwarming ending, It's a Wonderful Life goes to some very dark places, which helps elevate it above the usual treacly holiday movie mish-mash. As the dark, dreadful year that is 2018 draws to a numbing, merciful close, It's a Wonderful Life is just the type of film worth revisiting. A reminder that good things will, on occasion, rise up from the darkness.
"It's a Wonderful Life sums up my philosophy of filmmaking," Capra once said. "First, to exalt the worth of the individual. Second, to champion man – plead his causes, protest any degradation of his dignity, spirit or divinity. And third, to dramatize the viability of the individual – as in the theme of the film itself...there is a radiance and glory in the darkness, could we but see, and to see we only have to look. I beseech you to look."