Dispatches From The Brooklyn Horror Film Festival: Five Movies To Watch Out For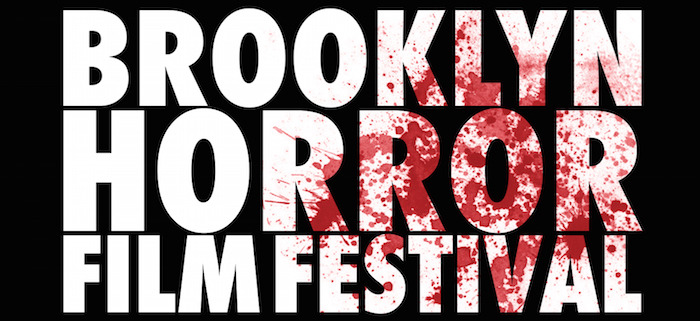 Truly a neighbourhood film festival, the Brooklyn Horror Film Festival takes place at independent cinemas, bars, and venues all over Brooklyn. The majority of films screen at the Nitehawk Cinema, one of many cinema businesses going all-out with in-theatre food and beverage service; other screenings take place at the IFP Made In NY Media Centre, the Wythe Hotel's underground screening room, or the popular Videology bar, among others. And that doesn't even include the numerous sites selected for after-parties and the like.This means that a visiting guest, such as myself, gets to visit a wider sample of the area than if it were in a single location. The variety of venues – and venue types – paints a flattering picture of Brooklyn's cinema scene, full of people overcoming limited resources with sheer passion.The flip side of that, of course, is that a scattered array of venues makes scheduling difficult. Travel times must be factored into one's plans, and given Brooklyn's less-than-ideal subway coverage, that can rule out certain combinations of films entirely. What's more, every film plays exactly once, which further complicates things. Two movies you want to see playing at the same time? Tough, no second chances for you. Out of 45-plus sessions on the schedule, it's only realistically (or at least, reliably) possible to attend around a dozen. Scheduling festivals is difficult, and must take into account venue restrictions, distributors' wishes, and more. But film festival attendees often want to see a bunch of movies, and that just isn't possible at Brooklyn Horror in its current incarnation. The festival's still in its early years, though; perhaps once Nitehawk's larger second venue opens, a more achievable schedule can be arranged.The key thing, though, is that BHFF's organisers and staff truly believe in what they're doing, and managed to put together a pretty strong slate of horror films and events for the city. Many of the films had played other significant genre festivals – Fantasia, Fantastic Fest, SXSW, FrightFest, Sitges – but none had played locally, and as a distinctly local festival, that's what counts.Those films – like the exquisitely-crafted 16mm possession movie Luz, the supremely kinky would-be murder thriller Piercing, and the surreal and nightmarish camgirl psychological horror (and audience award-winner) Cam – have received plenty of column inches around the horror press. I want, instead, to highlight five films that brought something unique and unexpected to the proceedings.
For New Experiences: KNIFE + HEART
It's rare that you see erotic thrillers in cinema today, but opening night film Knife + Heart, directed by Yann Gonzalez, is a proud and boldly original resurrection of the genre. A crazed mixture slasher movie, art film, and doomed romance set in the French gay porn industry of the 1980s, it's one of the more unique films to hit the genre scene this year. It's led by a strong lead performance from Vanessa Paradis as porn producer Anne Pareze, whose actors keep getting stabbed to death by a mysterious killer wielding a bladed dildo. The "pornography" sequences are chaste and jokey to the point of parody, while the death scenes are bloody as hell – but the overall tone follows neither direction. Rather, it's got a dreamlike quality to it, with everything lit in stark blue and red, its leatherclad characters gaining an otherworldly and visceral sort of glow. Given their other work, it's absolutely unsurprising to see Bertrand Mandico (director of The Wild Boys) and Noe Hernandez (star of We Are the Flesh) involved in this production. With a synth score from M83, Knife + Heart is a true feast for the senses and emotions – pretty much all of them.
For Atmospheric Chills: POSSUM
Garth Marenghi's Darkplace co-creator Matthew Holness' feature directorial debut was one of my favourites of the lineup. Its unique tone differed from the rest of the programme as much as it does the hyper-comedic Darkplace: it's an extraordinarily grim and distressing psychological horror, with barely any dialogue, dealing with trauma in ways I'd not really seen before. Sean Harris (the baddie from the last two Missions: Impossible movies) won a Best Actor award for his haunted, haunting disgraced puppeteer turn, while Under The Shadow director of photography Kit Fraser took away the Best Cinematography award for his bleak compositions of decaying rural England. Getting under the skin through its performances, its singularly creepy puppet, and its tone of absolute hopeless despair, its horror is altogether unlike that of most films in the genre. There's not much story to this one, but it's got buckets of atmosphere; if you're anything like me, you'll shudder at the mere thought of it.
For Dystopian Dread: LEVEL 16
Danishka Esterhazy's Level 16 is a classic low-budget success: a film with a limited scope but clever execution and good acting, making the most of a single location repeatedly redressed, Cube-style, to represent multiple areas. Telling the story of an institution, closed to the outside world, that raises girls to be perfect images of femininity, obedience, and sweetness, it's a feminist dystopia akin to The Handmaid's Tale, but with an even more (literally) cutting nightmare at its heart. Not everything about the movie makes sense, and its Big Reveal inevitably can't live up to the horrors we've imagined for ourselves. But if you experience it in the moment, it's a strong sister film to Get Out or Sorry To Bother You – a film about the expendability of the underprivileged, and the evils of the overprivileged. Isn't that what dystopias are all about?
For Close-To-Home Horror: HOLIDAY
Winner of the Best Cinematography award in the festival's "Head Trip" section, comprised of films that fit the horror genre in unconventional ways, Isabella Eklöf's Holiday has no monsters, no ghosts, and very little bloodletting. Plot-wise, it's barely even a thriller, following young ingenue Sascha (Victoria Carmen Sonne) through a summer on the Turkish Riviera, where she lives in luxury as a gangster's trophy lover. Luxury, at least, on the surface, as Sasha's beau (on whom she is completely financially dependent) displays all the instability and brutality, sexual and otherwise, that his occupation would suggest. Despite the inclusion of a truly harrowing, numbly uneditorialised rape sequence, it's primarily a film about rape culture, both in terms of brutal male privilege and socially conditioned subservience. It's a movie where the bad guys don't get their comeuppance, and where a character set up to be a "white knight" turns out to be just as bad as the man in the black hat. In many ways, Holiday makes for an intriguing counterpart to Coralie Fargeat's similarly-themed Revenge. But where that film has its protagonist claim vengeance in a satisfyingly bloody fashion, Holiday's ending, upholding and even bolstering the status quo, is far more unsettling, and in a way, more horrifyingly realistic. Holiday might not be a conventional horror film, but Eklöf's final composition – with Sascha symbolically posed as the masthead on her abuser's yacht – is one of the most chilling of the year.
For A Blast From The Past: BLOOD HARVEST
Brooklyn Horror also plays host to numerous retrospective screenings and events, as any self-respecting film festival should. /Film's own Matt Donato hosted a successful drinking-game screening of Return of the Living Dead, while the fest's second night was taken over almost entirely by a series of classic slashers, from The Burning to My Bloody Valentine to Sleepaway Camp. But the highlight for me, at least, was Vinegar Syndrome's new restoration of Bill Rebane's little-seen (though not quite underseen) Blood Harvest. Previously only available on VHS, the 1987 film is making its Blu-Ray debut this year, and it's exactly the kind of horror weirdness one would expect from Vinegar Syndrome.Six Feet Under's Peter Krause made his feature debut in the film, but the movie's really all about the marquee performance of musician Tiny Tim in his only film role, as the bizarre clown lifestyler The Marvelous Mervo. Tiny Tim brings his entire vocal range and flamboyant physicality to the role, turning an unremarkable slasher flick into a truly and often unbearably odd experience. He's not even the main character, but whenever he's onscreen, he might as well be. A must-see for fans of the stranger side of trash cinema.
***
There was much more to be seen and done at Brooklyn Horror – 45 films, shorts programmes, events, lectures, book launches, and more. I never would have expected, for example, that I would spend an evening watching a lecture using Ken Russell's The Devils to advocate for women's masturbation. And again, it wasn't physically possible to experience everything on offer. But with passionate staff and a receptive audience, the festival can only bolster its strengths from here. And you can only wait with anticipation for the above films to be released.