'The House That Jack Built' Trailer: Lars Von Trier Is Back With A Serial Killer Drama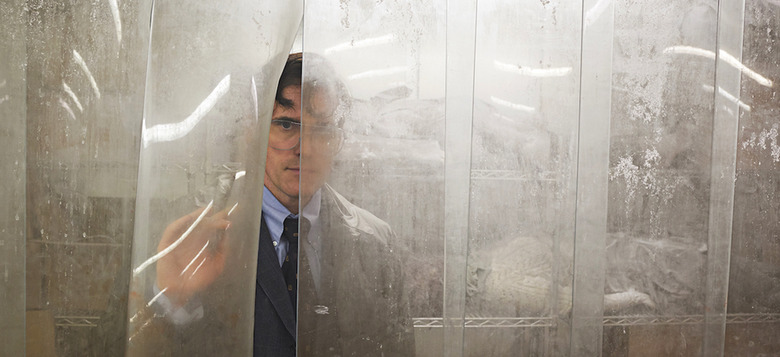 The director's cut of Lars von Trier's already controversial serial killer film The House That Jack Built is receiving a special one-night-only theatrical screening this month, before releasing an R-rated cut in December. Ahead of those releases, a new trailer has arrived, offering exactly the sort of footage you'd expect from a Lars von Trier serial killer movie. Watch the House That Jack Built trailer below.
The House That Jack Built Trailer
Will The House That Jack Built be any good? Reviews out of Cannes have not been kind. Reviewing for /Film, Andrew Todd wrote: "The House That Jack Built is so very nearly a terrific, smart black comedy about death, art, and morality. But it descends so completely into self-centered masturbation (or more of a cry-wank) that the ultimate takeaway is what a dick the director is." I can't say I'm surprised at that excerpt – it's exactly the type of work I've come to expect from von Trier.
When it comes to von Trier's work, I will freely admit I like (or perhaps the correct term is appreciate) his Antichrist and Melancholia. The rest of his films? They're not for me. But the buzz – negative and otherwise – around The House That Jack Built has me intrigued. So does the cast here: Matt Dillon, Bruno Ganz, Uma Thurman, and Riley Keough. 
The House That Jack Built director's cut will play in select theaters on November 28 only. The R-rated cut will arrive in theaters and on VOD December 14.
THE HOUSE THAT JACK BUILT takes place in 1970s USA. We follow the highly intelligent Jack (Matt Dillon) through 5 incidents and are introduced to the murders that define Jack's development as a serial killer.  We experience the story from Jack's point of view. He views each murder as an artwork in itself, even though his dysfunction gives him problems in the outside world. Despite the fact that the final and inevitable police intervention is drawing ever near (which both provokes and puts pressure on Jack) he is – contrary to all logic – set on taking greater and greater chances. Along the way we experience Jack's descriptions of his personal condition, problems and thoughts through a recurring conversation with the unknown Verge – a grotesque mixture of sophistry mixed with an almost childlike self-pity and in-depth explanations of, for Jack, dangerous and difficult maneuvers
THE HOUSE THAT JACK BUILT stars Matt Dillon, Bruno Ganz, Uma Thurman, Siobhan Fallon Hogan, Sofie Gråbøl and Riley Keough. It was produced by Louise Vest, Jonas Bagger, Bettina Brokemper, Madeleine Ekman, Lizette Jonjic, Tine Grew Pfeiffer and Marianne Slot . The film is a Zentropa Entertainments31, Zentropa Sweden, Slot Machine, Zentropa France and Zentropa Koln Production.